Nature quest
Madan Tak gives birth in captivity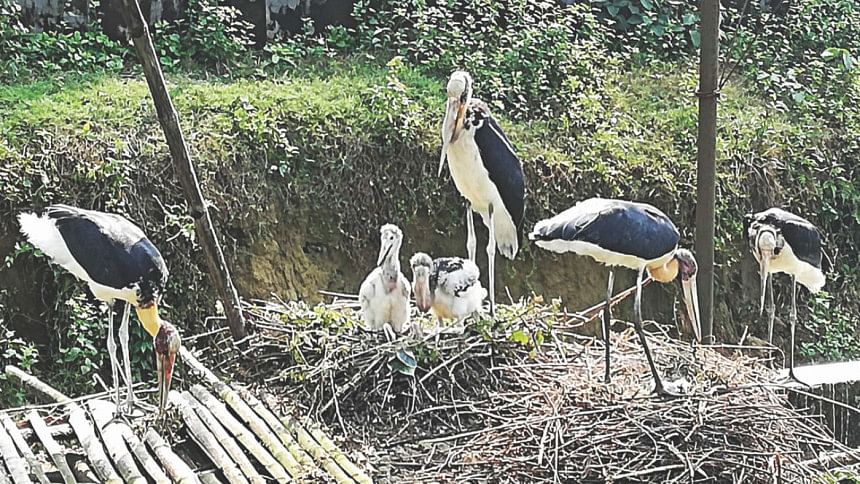 The birth by a Madan Tak (Lesser Adjutant Stork) to four hatchlings over the past two months has elated officials and employees of Bangabandhu Sheikh Mujib Safari Park in Gazipur.
This is the first instance of the bird giving birth in captivity.
More reason for the joy is that the Madan Tak is officially listed as a highly endangered species of bird, considered to be vulnerable in the IUCN Red list. 
Wildlife inspector at the Safari Park, Anisur Rahman, said that when the park opened, it had six such birds.  The birds finally gave birth to two chicks in November and two more during the current month.
Visitors to the Park are also showing great interest in the new guests who are being cared for by their parents.
At present, the number of Madan Taks in the Park stands at 10.
The lesser adjutant are generally found around wetlands feeding mainly on fish, frogs, reptiles, large invertebrates, rodents, small mammals and rarely also on carrion.
Except during the mating season, the lesser adjutant storks are known as solitary creatures. They build nests on the branches of big trees from November till January and lay eggs there.  The female Madan Tak lays three to four eggs at a time. The eggs take 28 days to hatch.
Though the species are no longer seen in different areas of Bangladesh, they are still found in the Sundarbans.  The bird has already become extinct in Singapore and China.
In the Safari Park, the birds are fed on a diet of nola and puti fish.  Water reservoirs have also been built near their enclosures and fish are being released there so that they can feed naturally.
 Prof Dr Monwar Hossain of the zoology department of Jahangirnagar University said, as the birds' habitat and source of food have been destroyed, and due to climate change and problems in the ecosystem, the birds have become endangered and are on the brink of extinction. He said initiatives have to be taken to increase their population and protect the bird.
Acting officer of Bangabandhu Sheikh Mujib Safari Park Abdul Motaleb said the births Madan Tak is a happy news. He said if they breed at this rate the birds will be saved from extinction.