Taslima Nasreen moved to US amid death threats: CFI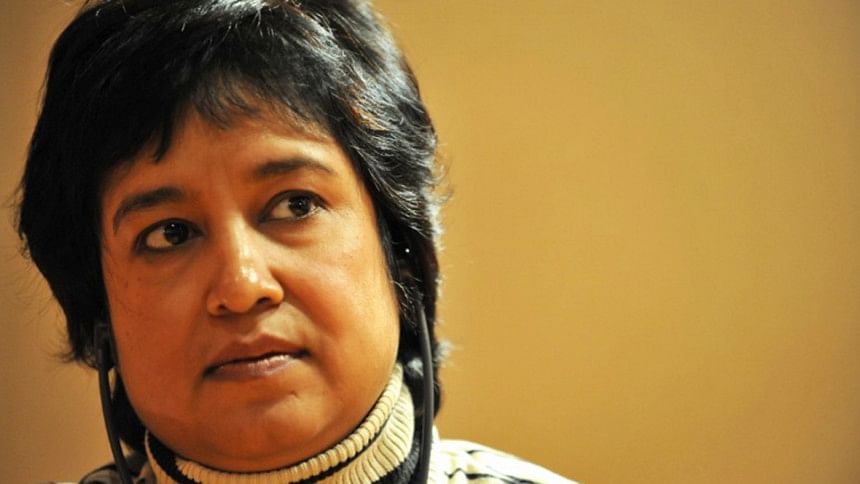 Bangladeshi writer Taslima Nasreen has been moved to the United States by the Center for Inquiry (CFI), a New York-based advocacy group, which said that she had received death threats, reports The Huffington Post.
Nasreen's relocation comes after the murder of three secular bloggers by Islamic extremists in Bangladesh, this year.
CFI, which appealed for funds to support Nasreen's stay in the US, said on its website on Monday that she had been "named as an imminent target by the same extremists responsible for the murders of Avijit Roy, Washiqur Rahman, and Ananta Bijoy Das."
Al-Qaeda claimed responsibility for Roy's murder.
CFI said that Nasreen arrived in the United States, last week.
Bangladesh govt should take action against the killers, and provide security to atheist writers/bloggers who are threatened by Islamists.

— taslima nasreen (@taslimanasreen) June 2, 2015
Islamists kill atheists each month in B'desh.Ananta Bijoy was hacked to death in May.Time has come for another atheist writer to get killed.

— taslima nasreen (@taslimanasreen) June 2, 2015
"Nasrin was recently named as one of the next targets for murder by Al Qaeda-linked extremists, prompting CFI to assist in transporting her safely to the US, alleviating the immediate threat to her life," the group said. "Her safety is only temporary if she cannot remain in the US, however, which is why CFI has established an emergency fund to help with food, housing, and the means for her to be safely settled."
Help Taslima Nasrin: Secular Activist's Life Threatened by Islamic Radicals Donate to Freethought Emergency Fund http://t.co/ernPtz13Su

— Center for Inquiry (@center4inquiry) June 2, 2015
The author of 'Lajja' has been tweeting from the United States.
CFI said that any money raised in excess of what is necessary for Nasreen's cause will be used to rescue other "atheist, humanist, and secular activists under threat."
"Taslima is a truly international role model, as her work and her courage inspire people of all ages to question tradition, challenge dogma, and fight for human rights," said Ronald A. Lindsay, president and CEO of the Center for Inquiry.


"We could not stand by while her life was in danger, nor will we turn our backs on the other brave freethinkers in fear for their lives. I know our community will make a strong show of solidarity and give generously to this emergency fund," he said.