Blogger killed again
Ananta, member of Mukto-Mona blog, hacked near his house in Sylhet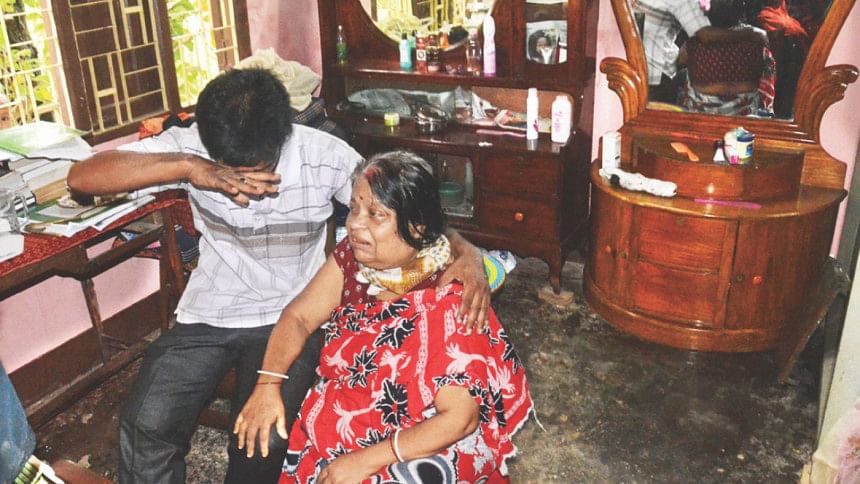 Blogger Ananta Bijoy Das had been in a state of dread since the brutal murder of Bangladesh-born US writer and blogger Avijit Roy on February 26.
Frustrated with the lack of progress in the Avijit murder case, the 32-year-old had posted a status on Facebook on March 15: "If the killers are not tried, it is understood that they will hone another machete for another strike!"
His trepidation turned true yesterday morning when Ananta, known for advocating science and secularism, was viciously hacked to death by a group of masked men in Sylhet city, in a continuation of attacks on free thinkers.
An organiser of local Gonojagoron Mancha, which champions the call for maximum punishment for war criminals, he was on his way to work when the attack happened around 8:45am. He died on the spot, police said.
An official of Pubali Bank's Jauwabazar branch in Sunamganj, Ananta is the third Bangladeshi blogger killed in less than three months in a similar fashion. He used to blog for Mukto-Mona, or free mind, the site Avijit Roy had launched. In many of his blogs and Facebook posts, he wrote against religious fundamentalism.
Barely a month after Avijit's murder on the Dhaka University campus, blogger Oyasiqur Rahman was stabbed to death on March 30 in the capital's Tejgaon in broad daylight.
Religious fanatics have been blamed for both the murders.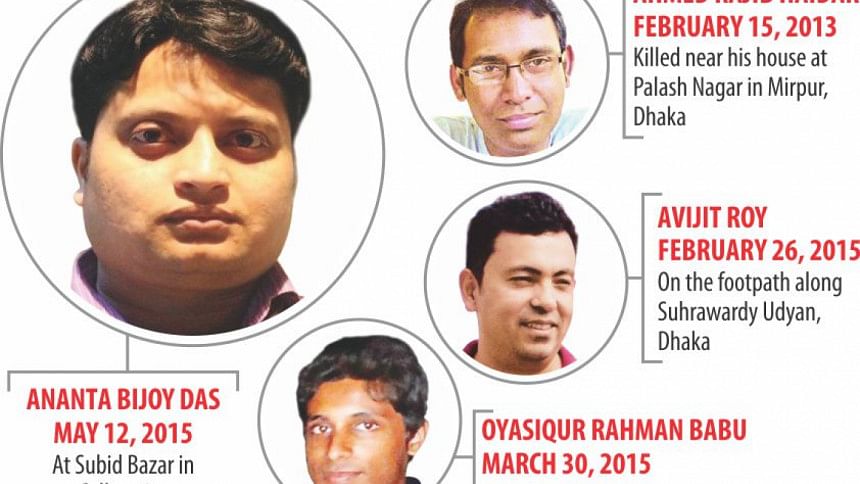 MILITANTS AGAIN?
Within hours of Ananta's murder, Ansar Bangla 8 on its Twitter account posted photos of his body and said: "Alhamdulillah, All the Brothers of Operation team are safe.
"For Journalists: Use#AQIS [Al-Qaeda in Indian the Sub-Continent] while reporting about the killing..Don't use Ansar Bangla 8 again."
The same page later claimed: "Al-Qaeda in Indian Sub-Continent (#AQIS) claimed responsibility of [sic] killing #AnantaBijoy in #Sylhet."
Following the murders of Avijit and Oyasiqur, Ananta had reached out to the International Humanist and Ethical Union (IHEU), a global umbrella organisation embracing humanist, atheist, rationalist, secularist, sceptic, freethinking and similar organisations worldwide.
According to a statement of the IHEU, he wrote to the organisation: "It seems to me I am one of the targets. I am not sure how long I will hide myself. But I am sure if they find me, they will do what they did to Mr Avijit Roy. My life is seriously unsecured [sic]. I am not sure how can I protect myself & my family."
Earlier, he got an invitation from Swedish PEN to speak about the threat to atheists in Bangladesh, but he was refused visa last week by the Swedish embassy in Dhaka, on grounds that he might seek to remain in Sweden, said IHEU, an international NGO with representation on various United Nations committees and other international bodies.
"Each of these murders is a crushing loss to the humanist and secularist communities of South Asia and the world," said the IHEU statement released after Ananta's murder.
Just last week, the IHEU was helping Ananta in seeking to gain asylum in Europe, an effort which ultimately failed, said the British Humanist Association.
Recently, Ananta, who also penned several books, applied for a fellowship in journalism in Norway and made Avijit's father Prof Ajoy Roy one of his referees.
"I called him on Monday to tell him that the reference has been sent to the fellowship authorities," Prof Ajoy told The Daily Star yesterday.
Ananta and Prof Ajoy had known each other for the last several years and alerted each other of possible danger.
CHASED DOWN AND KILLED
Yesterday, Ananta got out of his Subid Bazar home around 8:15am. Finding no rickshaw, he walked to Subid Bazar main road, around 250 yards from his house, said witnesses.
All of a sudden, four assailants, all masked and wearing black sunglasses, came from behind and one of them hacked him in the head with a cleaver.
Hit, Ananta started running back towards his house. But the attackers, who had trousers and half-sleeve shirts on them, chased him down and encircled him near a pond known as Dastidardighi.
This time, they hacked him indiscriminately, leaving gaping holes in his head and other parts of the body.
The attackers fled through Bankalapar Road, while Ananta lay on the scene in a pool of blood for about half an hour until locals called his family, said Abdus Sobhan, a tea seller who witnessed the murder from a close distance.
His family took him to Osmani Medical College Hospital in Sylhet where doctors said he was dead already.
Sobhan said he was making tea for two customers at his stall, around 10 yards from the killing spot, when he saw four men slash Ananta, whom he knew.
The assailants had their faces covered with black cloths, he added.
Sheikh Md Yasin, a sub-inspector of Airport Police Station, who prepared the inquest report, said they found at least 14 severe stab wounds in Ananta's head, neck and back. Several stab marks were also found in other parts of his body.
Parts of his brain came out and one of his index fingers was cut off, he added.
ON THE HIT LIST
Members of Police, Rapid Action Battalion and Criminal Investigation Department have visited the spot and collected evidence.
Pankaj Kumar Dey, assistant superintendent of police of Rab-9, said the murder seemed to be pre-planned and bore the hallmarks of the murders of Avijit and Rajib Haider (a blogger, who was killed in February 2013).
Ananta was among the 84 people on the hit list of militant outfit Ansarullah Bangla Team, Bangla daily Jugantor reported on March 7. Hefajat-e Islam had given the same 84 names to the home ministry, claiming they were anti-Islam.
Debasish Debu, a friend of the victim and chief of Gonojagoron Mancha's Sylhet unit, said Ananta had long been receiving threats from different fanatic groups for his writings, more so since Avijit's murder.
The body of Ananta, the youngest of four siblings, was taken to his Subid Bazar home around 4:00pm where his ailing parents saw him for the last time.
Prof Muhammad Zafar Iqbal of Shahjalal University of Science and Technology, his wife Prof Yasmeen Haque and Awami League lawmaker Amatul Kibria Keya Chowdhury visited the house.
"I believe the government can catch them [the culprits] if it tries, and tries sincerely.... I urge the government to do something before another young boy or a young girl gets killed so that we don't have to see this in our country anymore," he said after the visit.
PROTESTS
Protesting the murder, activists of Gonojagoron Mancha and Chhatra Union Sylhet units brought out a procession in Sylhet city.
They also held a rally in the hospital area where the protesters alleged Ananta was killed in a planned way for his write-ups on the Mukto-Mona blog and Facebook.
Ananta would not have been killed had the trials of previous murders been held, they said.
Progressive Student Alliance and Gonojagoron Mancha's Sylhet units called a half-day hartal in Sylhet city today.
The activists of Gonojagoron Mancha in Dhaka also brought out a procession and held a rally at Shahbagh in the afternoon.
[Our Moulvibazar correspondent Mintu Deshwara also contributed to the report.]