Fahmida Nabi's album launched at Bengal Boi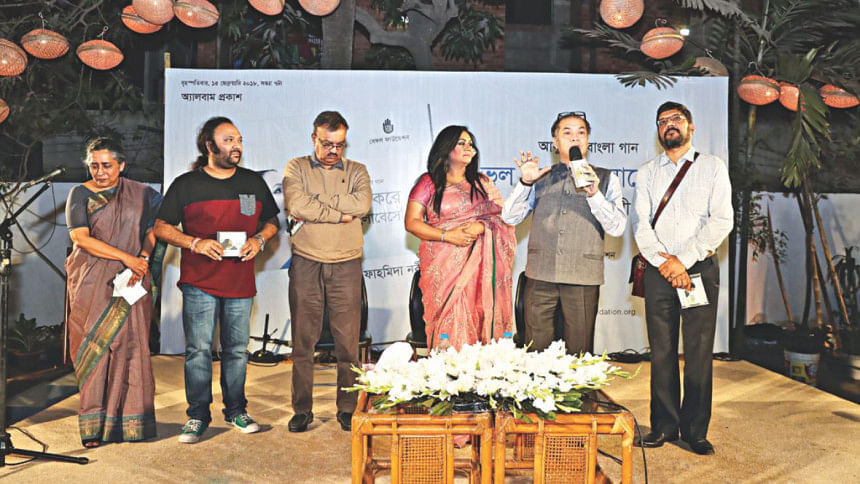 Popular singer Fahmida Nabi's latest music album "Bhul Kore Bhalobeshechhi", produced by Bengal Foundation, was launched at Bengal Boi premises in Dhanmondi, Dhaka. Unveiling the album, renowned singer Subir Nandi said, "Fahmida has a distinctive voice that has won the hearts of audiences."
In the second half of the programme, Fahmida Nabi performed songs from the album. She started off with the song "Ke Tumi". She later rendered the song "Bishonnota", composed by Lucky Akhand along with several other songs like "Bhul Kore Bhalobeshechhi", "Joto Katha" and "Bhalobasha Morey Gelo" from the album. The singer also performed her popular songs from other albums. Luva Nahid Choudhury, DG, Bengal Foundation, hosted the programme.
Fahmida Nabi, daughter of the legendary singer Mahmudun Nabi, was passionate about music from her early childhood and took lessons on music from her father.
Fahmida Nabi started off her musical journey in 1978 and has been dominating the music arena over the last three and a half decades. "Tumi Tulonahina" is her first music album. In 2006, she released her first duet album "Ek Mutho Gaan-1' with popular singer-musician Bappa Mazumder. They later released the sequel of the album "Ek Mutho Gaan-2" on Valentine's Day in 2010.
Bengal Foundation released her solo album "Dupurer Ekta Pakhi" in 2005. She won the National Film Award for the song "Lukochuri Lukochuri Golpo" in 2007. Fahmida also received Lux Channel-i Performance Award (2008), Meril-Prothom Alo Award (2009) and Citycell-Channel i Music award (2013).