Playback singing is a syndicate: Fahmida Nabi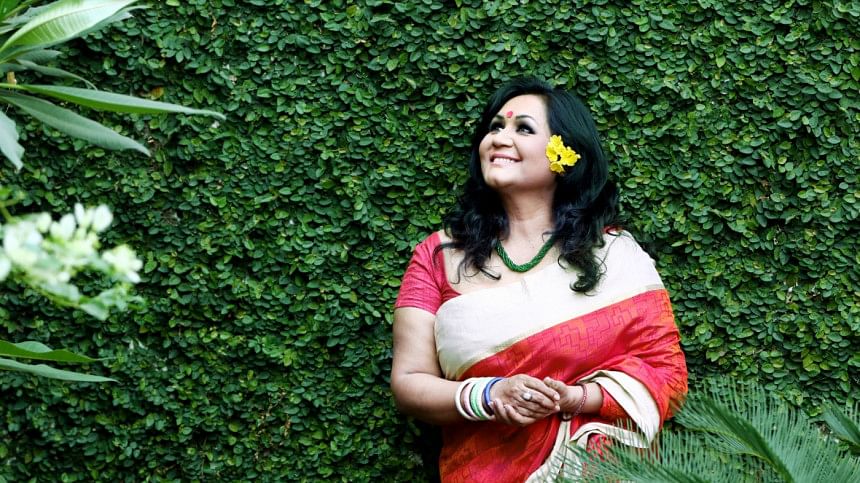 National Award winning singer Fahmida Nabi has captured a place in the audience's heart with hits like "Ek Mutho Gaan", "Dupure Ekla Pakhi","Lukochuri Golpo", "Tobu Brishti Chai" and many more. She has collaborated with many notable artists and has lent her voice to many creations. She has recently released two new songs titled, "Jonaki Ahare" and "Shohor Chere".
She sat down with The Daily Star to discuss her new music and her thoughts on playback singing in film.
You've recently released new music. Could you tell us more about that?
I'm a quiet and reserved person, I don't announce releases anymore. So far I've been trying to do more modern Bangla songs. I feel like one day my songs will remain even when I leave. Thus, these two new songs were released. "Jonaki Ahare" was written by Hosne Ara Jolly and "Shohor Chere" has been penned by Sultana Nurjahan Rosy, composed by Sajib Das.
Once upon a time, a new release meant an album, containing 10 to 12 songs. That doesn't happen anymore, now only singles are released. What do you think about that?
Everything changes with time, it is imperative to accept that change. Looking back, there used to be a time when musicians, lyricists and producers would work together in the studio to create an album. There was a lot of work, but also enjoyment involved in the process. That isn't there anymore and I find it saddening. However, like I said, it is important to change, that's the wisest thing to do. What remains, is to see if I have changed as well. From that perspective, I believe that I am still the same. 
In 2007, you received the National Film Award for Best Female Playback singer, for Enamul Karim Nirjhar's "Aha!", where you sang "Lukochuri Lukochuri Golpo". After that you weren't seen in the playback scene as much. Why was that?
Playback singing is a syndicate. Our names are removed from the credits, without any reasoning. My father, Mahmudun Nabi also drifted away from playback singing after he received his National Film Award. I have come to terms with it now, what pains me is that because of such syndicates, the audiences cannot enjoy good songs in films anymore.
Have you ever wanted to pursue anything other than music?
I have only ever wanted to sing my whole life. Since my childhood, me and Shoma (Samina Chowdhury) had been asked what we wanted to be. She would answer that she wanted to be a doctor, while I have always said that I wanted to be a singer. I have fought to be here. Musicians have no retirement or breaks. A true artiste devotes their whole life to their art and its pursuit. There is no senior or junior in music, you just simply have to create. I want to create music and pursue it forever.