Trump vows 'America first' foreign policy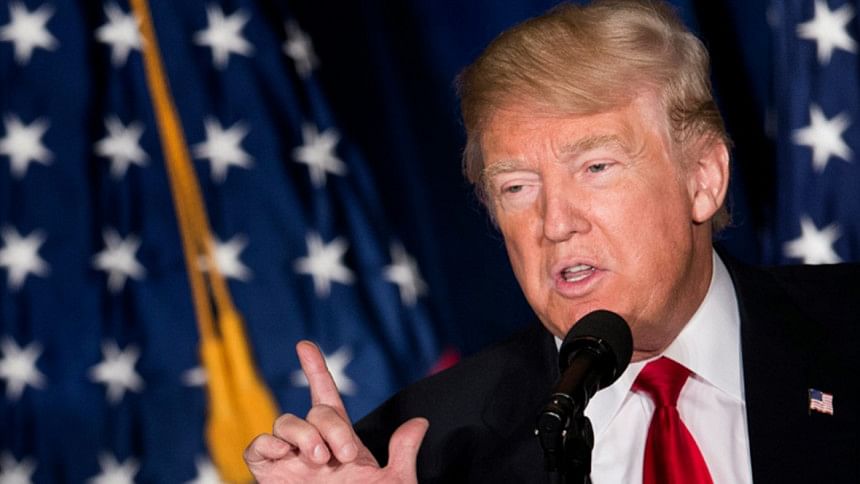 Republican White House frontrunner Donald Trump promised a top-to-bottom overhaul of US foreign policy Wednesday to put "America first" and make its allies pay up.
In a major foreign policy speech short on specifics that left Washington experts scratching their heads, Trump warned that Europe and Asia may have to defend themselves.
He vowed to tear up trade deals, retool NATO to oppose migration and "radical Islam" and put US national interests ahead of all other considerations.
"'America First' will be the major and overriding theme of my administration," Trump told supporters, co-opting the slogan of America's pre-World War II isolationists.
The speech had been billed as a chance for Trump, the runaway leader in the race for the Republican presidential nomination, to win over a skeptical foreign policy establishment.
"Our foreign policy is a complete disaster," the billionaire businessman said, dismissing the record of all presidents since the Cold War, both Republicans and Democrats.
"We're rebuilding other countries while weakening our own," he said, decrying nation-building missions in the Middle East and the US trade deficit with China.
"Our allies are not paying their fair share," he warned, pointing the finger at NATO and close Asian allies such as Japan and South Korea.
"The countries we are defending must pay for the cost of this defense. And if not, the US must be prepared to let these countries defend themselves."
'Not good'
But in an apparent contradiction, the 69-year-old Trump, buoyed by his latest big win in the polls, also attacked President Barack Obama -- accusing him of abandoning US allies like Israel while reaching out to Iran.
"We picked fights with our oldest friends and now they're starting to look elsewhere for help. Remember that. Not good," Trump said.
He was clear, however, on where the greatest threat to the United States lies, accusing Democratic frontrunner Hillary Clinton of a refusal to name it.
"Containing the spread of radical Islam must be a major foreign policy goal of the United States and, indeed, the world," he said.
David Pollock, a former senior State Department advisor and now Washington Institute fellow, told AFP: "It seemed to be a more appealing presentation of Trump's themes in a softer and smarter way, but left many questions unanswered.
"And a key test of that will be what kind of new advisors he can find who will publicly side with him and join the team."
Trump has been mocked for failing to secure big-name foreign policy endorsements and relying on a coterie of right-wing fringe figures.
But he defended his team, slamming the available talent in Washington circles as tainted by the chaos unleashed in Iraq under President George W. Bush.
"My goal is to establish a foreign policy that will endure for several generations," he said.
"That's why I also look and have to look for talented experts with approaches and practical ideas, rather than surrounding myself with those who have perfect resumes but very little to brag about except responsibility for a long history of failed policies and continued losses at war."
Confronting allies
But many experts noted that Trump was announced at the podium by one of Bush's closest advisors on the Middle East, former ambassador Zalmay Khalilzad.
This was seen as a sign that as Trump's nomination appears more likely, more leading Republicans would come to his side.
Tom Wright, director of The Brookings Institution's Project on International Order and Strategy, said Trump remains far from the Republican mainstream.
But the speech may provide a "comfort blanket" for non-foreign policy specialists who want to believe he can mount a credible campaign come November.
"He said he wanted to be a reliable ally, that he was focused on American interests but that America had a role to play," he said.
"But then he also said that if the allies didn't pay for a large proportion of the cost... then he would walk away."
For Wright, smoother presentation aside, nothing in Trump's address will reconcile him with the conservative foreign policy establishment.
Trump failed to mention Ukraine and suggested he could negotiate a new relationship with Russia.
He also discussed China's power as an economic challenge, not a geopolitical one.
"There'll be a lot of concern that he wants to cut a deal with our rivals," Wright noted.
Michael Pregent, former intelligence advisor to Iraq war commander general David Petraeus and a fellow of the Hudson Institute, called the speech "disjointed."
And he expressed concern over the presence of Khalilzad, recent author of an op-ed entitled "The Neoconservative Case for Negotiating with Iran."