Taiwan investigates quake-hit building
Two more rescued; Death toll raises to 35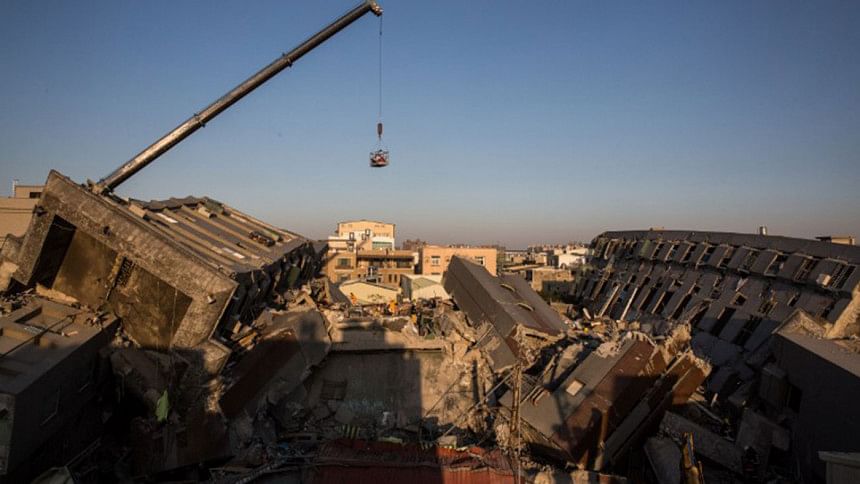 An investigation has been launched into the construction of a Taiwanese apartment complex toppled by Saturday's earthquake.
At least 35 people died in the magnitude 6.4 quake, most of whom were inside the Weiguan Jinlong building in Tainan City.
Mayor William Lai said survivors had reported legal "violations" in the building, but gave no further details.
Officials said late on Sunday that 310 people had been rescued, with 100 of them taken to hospital.
Nearly 500 people in total were injured, and a further 121 are still unaccounted for.
Woman and man rescued from collapsed building
Two people, a male and a female trapped at different sides of the building, were reported to be talking to rescue workers.
Huang Kuang-wei, 20, was rescued early on Sunday, but a six-month-old baby girl pulled alive from the rubble a few hours later died in hospital.
Hundreds of soldiers are involved in the rescue effort, with the help of hi-tech equipment, sniffer dogs and cranes. Shelters are being set up for those who have lost their homes in the city of two million people.
One woman at the site said her son had been found dead but she was hoping her daughter-in-law and two grandchildren would be rescued alive.
"I won't give up hope, I will wait here until I see them come out safe," she said.
Su Yi-ming, 48, who lived on the sixth floor of the complex, told AFP news agency that he was rescued after tapping on a wardrobe that was trapping him.
"I knocked on the closet to get the attention of rescuers who broke the window to get me," he said.
The quake was shallow, meaning its effects would have been amplified, the US Geological Survey said.
There were also at least five aftershocks. The quake was felt in the capital Taipei, 300km away.
Taiwan lies near the junction of two tectonic plates and often sees tremors.