An ominous sign: 34 quakes in 2 months
Experts warn of a big one coming, stress need for preparedness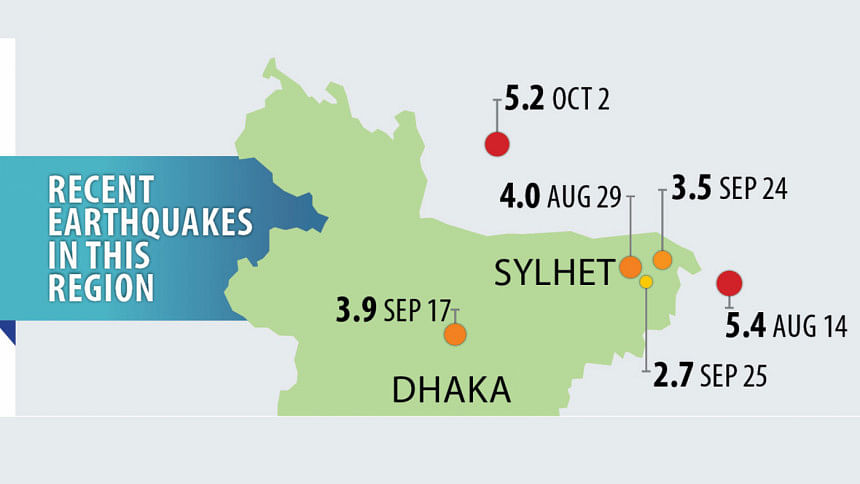 At least 34 mild quakes in and around Bangladesh within the last two months is a worrying sign, experts said.
They said the frequency of such earthquakes increased, which indicates the big one is in the offing.
"A big earthquake can hit Bangladesh anytime and if it happens, rescuing people from the rubble will be a big challenge," Prof Mehedi Ahmed Ansary of Buet's civil engineering department told The Daily Star yesterday ,citing data from the United States Geological Survey (USGS) and India Meteorological Department.
He said that of the 34 minor earthquakes in this region, a handful were felt by people in the country. These foreshocks are indications of a major earthquake.
Earthquakes of 7-magnitude or above usually hit Bangladesh or its surrounding areas every 150 years, give or take a few years, the experts said, adding that the big one is pending.
Around 6:45pm yesterday, an earthquake of 5.2 magnitude hit India's Assam and was felt in Bangladesh.
The epicentre was around 24km south of Goalpara and over 100km west of Guwahati at a depth of 10km, according to the USGS.
Experts said the epicentre is close to the epicentre of the 1897 earthquake of 8.7 magnitude.
A joint research by Buet and the history department of Dhaka University found that the epicentre of the 1897 earthquake was 250km away from Dhaka but still 10 buildings, including Ahsan Manjil, were damaged.
Experts said there are a number of faults in Bangladesh. The Dauki fault is very active and dangerous. A 62,500 sqkm subduction zone (where two of the planet's tectonic plates collide and one dives beneath the other) between Chattogram and Sylhet is very active, they said.
"The amount of energy stored in the subduction zone is so much that it could potentially trigger to a major earthquake in Bangladesh. The mild earthquakes are warning us," Syed Humayun Akhter, a former DU professor of geology, told The Daily Star yesterday.
He said, "… a major earthquake in Bangladesh is certain but we don't know the time."
Experts said unplanned urbanisation in Dhaka city and too many buildings built violating the national building code risk turning the capital into a pile of rubble in the event of a major earthquake.
"There is no time left to make people aware. It is time to fix the faulty buildings to save lives. Rajuk needs to take a leading role," Ansary said.
Humayun, however, said the government should put emphasis on making people aware and identifying safe places so that people can take shelter in the event of an earthquake.
He stressed the need for holding regular earthquake drills and developing mobile apps to make people aware.
"But unfortunately, we found that our government's focus is post-earthquake recovery," he said.
Anisur Rahman Miah, chairman of Rajdhani Unnayan Kartripakkha (Rajuk), said under two projects 1,200 engineers were trained on building structures and inspecting buildings.
"Obviously these are not enough. We are working with two professional bodies to appoint a third party to check the old buildings in Dhaka and figure out how to retrofit those," he said, adding that after the earthquake in Turkey, they have expedited all activities keeping in mind a possible earthquake in Dhaka.
According to a survey conducted by Rajuk, some 865,000 buildings may collapse in the capital in the event of an earthquake of 6.9 magnitude originating from the Madhupur fault in Tangail.
Some 2.10 lakh people may perish and another 2.29 lakh may be injured if it happens during daytime.
The survey was conducted on 1,528 sqkm area of Dhaka city between 2018 and 2022 as part of the Urban Resilience Project.