A disaster waiting to happen
Building codes have no value without an authority to enforce them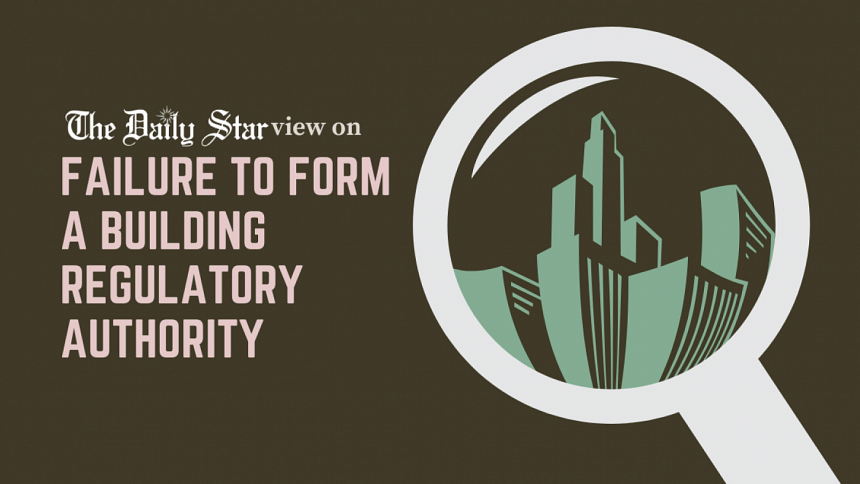 Are buildings in Bangladesh immune to disasters? One would certainly assume so from the government's lack of initiative to form a body to enforce the Bangladesh National Building Code (BNBC). The gazette for the BNBC was issued two years ago. It mentions that the government must form a separate agency called the Bangladesh Building Regulatory Authority (BBRA) to enforce the code. Fast forward two years, and we still don't have any such dedicated authority. What was the point of the revised building code then? Was it so that the authorities could simply pretend that they did something to ensure proper building safety? Or was it to actually ensure that building safety is maintained in our country? If it was the latter, then the authorities have done an atrocious job at it.
Urban planning expert M Abu Sadeque, who was in the team that formulated the revised BNBC, said the revised code is a complete set of rules to ensure safe construction of buildings, use of quality materials, accountability of professionals, and conservation of the environment. But in the absence of a regulatory body to implement it, loss of lives and properties continue to happen in various building disasters. Fire safety measures are being largely ignored during building construction across the country. And such negligence makes high-rise buildings particularly vulnerable to fires, as we very recently saw in Gulshan, Dhaka.
Following the devastating FR Tower fire in the capital's Banani area in 2019, the Rajdhani Unnayan Kartripakkha (Rajuk) carried out a field survey on buildings that are 10 storeys and higher, and found 475 of them to have been constructed without its approval and 1,343 others with more floors or floor space than approved by Rajuk. Fire escape, fire alarm system, fire suppression system, and fire safety drills are almost non-existent in high-rise buildings in Dhaka and other urban areas of the country, according to experts.
Complying with the building code will ensure that a life-saving system is in place in buildings with enough fire-safety measures and earthquake resilience. Yet, in spite of the disasters that have take place in our country in recent times, and even the devastating disasters that we have seen occurring elsewhere – the recent earthquakes in Turkey and Syria, for example – the authorities seem to be least concerned about enforcing the necessary safety measures that could make the difference between life and death for hundreds of thousands of people.
Such attitude on the part of the authorities is not only unacceptable, but it is criminal. They are literally putting hundreds of thousands of lives at risk on a daily basis. There is no reason for the authorities to be arrogant enough to believe that sooner or later Bangladesh, too, would not be a victim of a serious natural disaster such as an earthquake. In fact, it is almost guaranteed that it eventually will be. Are we to hold our breath and hope that the authorities will come to their senses before that?
The authorities need to realise that waiting and hoping in this case is a recipe for disaster. The government should urgently form the BBRA, and work on enforcing the BNBC for all our sakes.