Drastic action is a must to reduce fire risks
Bangabazar fire serves as a reminder that many markets and buildings remain at risk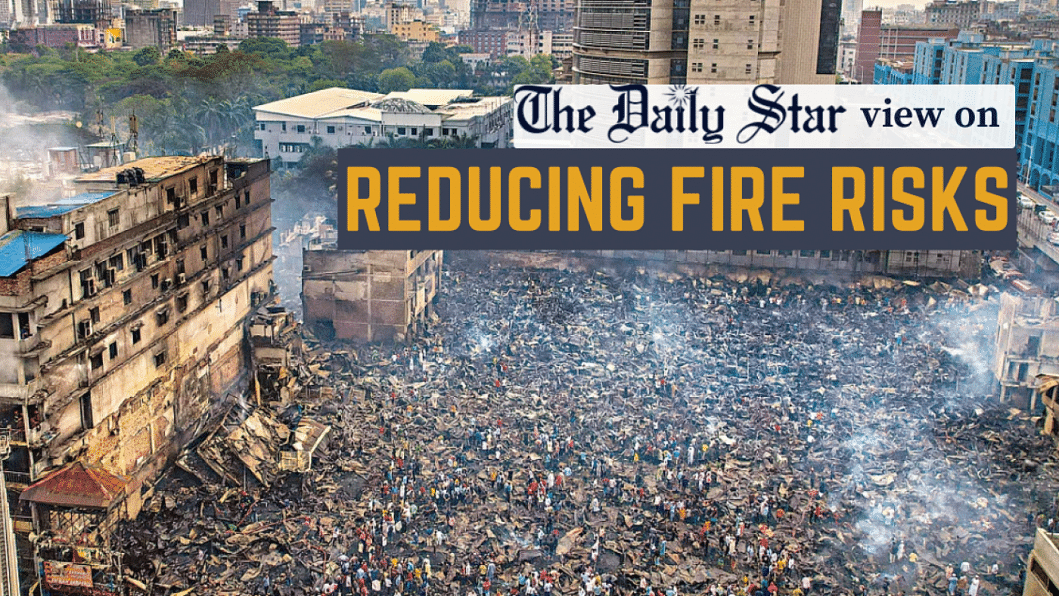 Tuesday's devastating fire at Bangabazar was not the first such incident recorded there, nor was it the only one of this scale. But it serves as a reminder – if new reminders were at all needed – that safety risks are built into the very model of urbanisation followed by Bangladesh, where building codes and fire safety regulations are seldom enforced. For example, before the Bangabazar market fire, which gutted nearly 3,000 shops full of clothes, building authorities were sent notices on 10 occasions over the last four years. The fire safety department also put up a banner there with warnings of fire risks. But business interests triumphed over safety requirements, to disturbing consequences.
In 2019, the fire service department carried out a survey on 3,786 institutions and establishments across the country, and found that 541 shopping complexes and markets were at high risk. Bangabazar was one of them. It is not just markets and commercial establishments, but a large number of residential buildings in major cities are also believed to be at high risk of accidents because of their lack of structural and electrical safety – either they were not constructed following buildings codes, or are poorly maintained, or have no fire safety system in place. The possibility of building fires or collapses literally lurks at every corner, as some of the recent incidents have shown.
The Bangabazar incident serves up several other lessons as well. For example, the risk of dilapidated buildings. Reportedly, a six-year-old city corporation initiative to build a 10-storey shopping mall at Bangabazar never saw the light of day because of disagreements over rehabilitation of traders for the duration of the construction work. The Dhaka South City Corporation had apparently finalised the design and even hired a contractor. But construction couldn't begin because of a stay order from the High Court. Had this issue been resolved and traders were rehabilitated to make way for the new building, Tuesday's tragedy could have been certainly averted.
Another issue brought forth by the Bangabazar fire is the declining number of ponds and wetlands in major cities, especially in Dhaka. While urban water bodies are filled to construct buildings and marketplaces, their absence is most acutely felt when there is a fire in one of those buildings and there is no water nearby to douse it, as it happened in case of Bangabazar. The irony of the situation is inescapable. Ponds not only play a vital role in dousing flames but also create a healthy atmosphere and ease waterlogging. Unfortunately, there are few ponds left in central Dhaka, which is an issue that will continue to put us in trouble if not addressed urgently.
Having witnessed the consequence of inaction or delaying action in case of fire safety, we really have no alternative but to act immediately. We urge the authorities to prepare a comprehensive work plan to address the safety of buildings and markets identified as risky by Rajuk and the fire department. They must try to find a way to overcome legal and logistical issues that are working as impediments. The safety of citizens must be prioritised.