How many more will die in fires?
Factory fires continue as a result of lax safety standards and apathy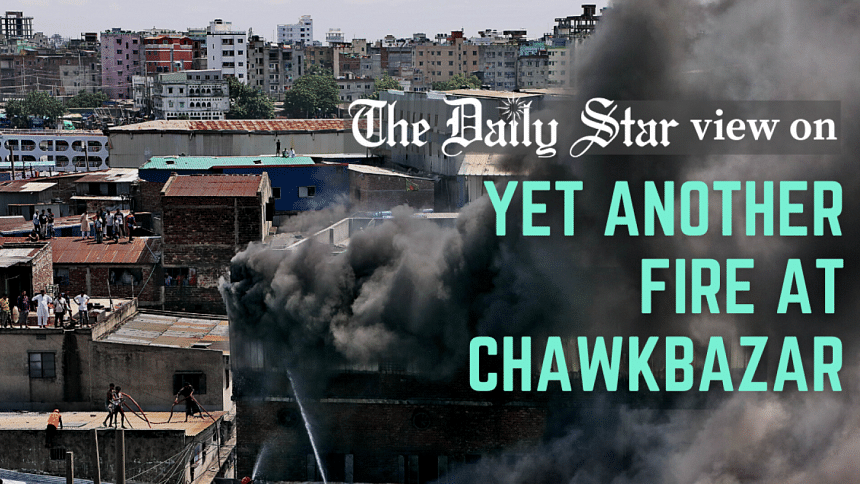 March 18: A fire broke out at a plastic factory in Dhaka's Bangshal area; no reported casualties.
April 15: A fire broke out at a plastic factory in Dhaka's Lalbagh area; no reported casualties.
May 30: A fire broke out at a plastic factory in Konapara; there were no reported casualties.
August 15: A fire broke out at a plastic factory in Dhaka's Chawkbazar area. Six bodies were recovered by fire officials. Employees of a hotel on the ground floor, the deceased were sleeping in a break room after having worked all night. Only one person has been identified. The nature of their injuries mean the other five cannot be recognised, even by their own families.
Can we continue to call these accidents? A cursory look through the last few months' news makes it clear that it was only a matter of time that people would end up being killed. And these are only the fires in plastic factories. There have been many more incidents of other factory fires, such as in a garment factory in Gazipur in early June, and a printing and packaging factory in Narayanganj in early July. The running theme is a complete lack of safety standards in workplaces that puts lives in danger, and total apathy from the relevant authorities, including the government, in bringing about change.
The fact that this most recent fire occurred in Chawkbazar raises a number of red flags. We all remember the deadly fire that originated from a chemical warehouse in Chawkbazar on February 20, 2019, killing 67 people on the spot. It is impossible to forget the images of distraught family members lining up to hear about their loved ones, many of whom could only be identified through DNA evidence. At the time, our reporters found that in 2017, Dhaka South City Corporation fined several chemical and plastic warehouse owners for not moving out of the area, yet they continued to operate there. Again, in 2019, a task force was formed to eject the factories from this congested part of Old Dhaka. Yet here we are again, reading about more deaths from factory fires.
To only add to the horror, our reporters also found that nine female workers were locked inside a plastic godown opposite this most recent blaze. This was done by the owner to ensure that nothing was stolen, although he "reassured" the workers that if the fire came too close, they would be let out. We are reminded of how this same line of thought meant that when the Hashem food factory caught on fire in July last year, 49 workers, many of them minors, burnt to death because the only exit was locked.
We can talk about criminal liability. We can ask for justice, or at least for compensation. We can talk about safety standards, and about probe committees and task forces that ultimately do nothing. But today, the only question we want to ask the government is, why do the lives of our underprivileged workers have so little value in this country?