We should stop calling acts of corporate manslaughter 'accidents'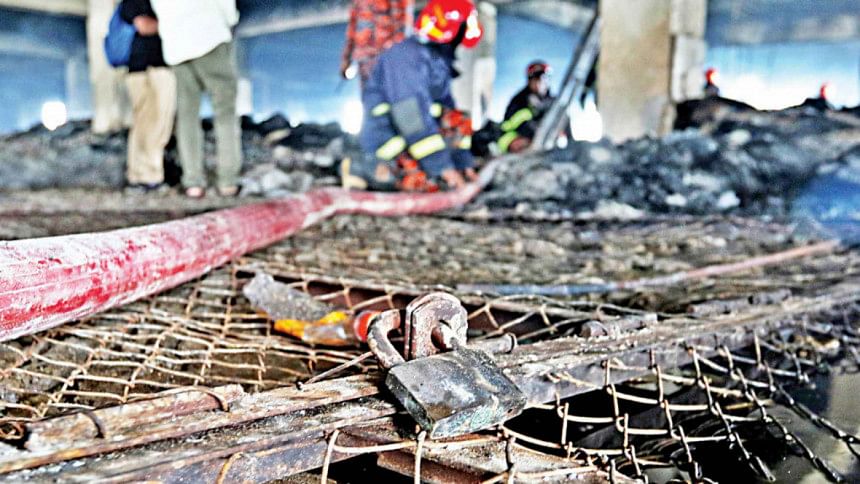 For almost 24 hours last week, the Hashem Food factory in Naryanganj, where hundreds of workers are employed, was up in flames. The bodies of 49 workers have been found so far, while 24 other workers are wounded. Forty-nine humans went in for a day's work in the middle of a national lockdown, but would go back home in body bags—burnt beyond recognition. Three workers who had leapt out of the building in an attempt to save themselves from the fire also died, bringing the current death toll to 52.
Some of the workers who were able to escape the fire told reporters that the building had no proper fire safety measures in place. They also alleged that the front gate and only exit of the factory had remained locked at the time of the fire. Additionally, Mohammad Saiful, one of the factory workers able to escape the fire, told Al Jazeera "On the third floor, gates on both stairwells were closed".
Fire service officials remarked that if the workers of the third floor were not locked up, they could have had the chance to escape to the roof and be rescued by them, as workers from the other floors had been. Dinu Moni Sharma, head of the Dhaka fire department, explained that the fire broke out because highly flammable chemicals and plastics were kept stockpiled inside.
The story is one we have seen time and time again. Greedy corporations store hazardous and extremely flammable materials in extremely large quantities inside factories, without investing a penny in mandatory fire safety measures, putting workers lives at acute risk. When the risk finally and inevitably materialises, workers are kept locked inside—prohibited from exiting the sweatshop where they spent most of their days oiling the engine of economic growth, even if it means they will literally be burned to death.
When the Tazreen Factory Fire in 2012 burnt 117 workers to death and injured 200 more—workers whose employers padlocked the exits so they could not "steal time from their shift" and thereby caused them to burn to death—we as a nation said "never again".
Yet less than eight years later, here we are again, witnessing the same kind of greed induced corporate barbarity, disposing workers' lives with as much ease as ever before.
Before the bodies of 52 workers could even be identified (much less buried), and before the agonised family members could even know whether their loved one is dead or alive, the corporate behemoth who owns the factory that caught fire did what corporations do when a preventable catastrophe exposes the extent of their labour rights violations: denial, blame shifting and invoking the "accident" card.
Speaking to The Daily Star, Md Abul Hashem, Chairman of Sajeeb group of companies said: "Building an industry is one of the greatest mistakes of my life. If there is an industry, there will be workers. If there are workers, then there will be work, and if there is work, there can be fire.. Am I responsible for this? It is not like I went and set the fire. Neither did any manager of mine do so… The fire may have been a result of workers' carelessness. Maybe some worker did not put out his cigarette before throwing it."
Of course Hashem shaheb—let us devalue workers' lives to the point where deadly fires are treated as a necessary component of our industrial production—let us continue to treat the preventable killing of workers as "accidents", because God forbid we even think about your duty to ensure workers' safety by investing in fire safety measures that prevent such deadly fires from breaking out or, even when they do, that loss of human lives is minimised.
Why were there no investments in fire safety when the factory housed copious amounts of flammable materials? Where were the fire alarms, fire sprinklers, fire extinguishers or fire exits? Why were the exits on the third floor locked, which caused workers to be trapped inside to be burnt to death? These preliminary findings all indicate that this fire was no "accident". This was clear corporate manslaughter—a crime where a business or organisation is held to have caused a person's death, which may be alongside individuals, such as the company directors or employees, also being held liable.
Our continued tendency to treat or label the killing of workers by greed induced corporations as "unfortunate accidents" is what allows corporations putting workers' lives at risk to evade liability. We should start terming the mass killings of workers in incidents like the Tazreen Factory Fire and Hashem Food Factory Fire as acts of corporate manslaughter, and stop calling them "accidents". Notably, the police have filed a case under three sections of the Penal Code 1860 against Hashem and seven others: Section 302 (murder), Section 307 (attempt to murder) and Section 326 (voluntarily causing hurt to constrain to an illegal act). However, the concept of corporate manslaughter suggests that not only should individuals be tried for committing the offence of killing, but also corporations.
Registered corporations or companies, such as Hashem Foods Ltd, have legal personality, which means that they are seen to have a separate existence from their owners in the eyes and for the purposes of the law. Legally speaking, humans are "natural persons" while corporations are "juristic persons". While human offenders can be punished through both imprisonment and fines, non-human offenders such as corporations are usually punished through the imposition of strict fines. Bearing this distinction in mind, prosecuting companies that caused the death of people for corporate manslaughter is especially important for at least two reasons.
Firstly, we know all too well that even when powerful individuals like Hashem Ali are arrested in connection with a criminal case, they can eventually remain effectively unpunished, such as by being granted bail once the initial outrage mellows down. By contrast, a fine imposed on a corporation, if realised immediately, becomes irreversible—and sends a strong signal to all companies that there may be a sizeable price to pay if they cause the deaths of their workers (or even others, for that matter). Secondly, our criminal courts can convert the amount of fine realised from corporations into an award of compensation to be paid to those victimised by corporate manslaughter, such as family members of the workers killed.
While we do not have an offence called "corporate manslaughter" per se, prosecuting Hashem Foods Ltd for death related offences under the Penal Code 1860, such as causing death by culpable homicide or negligence, could have the same legal effect as holding them accountable for committing corporate manslaughter. Holding companies criminally responsible is not a wholly alien concept in Bangladeshi law. In fact, companies can be prosecuted for dishonoured cheques under the Negotiable Instruments Act 1881 by aggrieved creditors. So why should corporations who kill workers not be prosecuted for corporate manslaughter too?
Taqbir Huda is a Research Specialist at Bangladesh Legal Aid and Services Trust (BLAST) and coordinates Justice for All Now (JANO, Bangladesh). Email: [email protected]