Bangabazar fire: Another avoidable disaster
Will we ever see any accountability for these endless tragedies?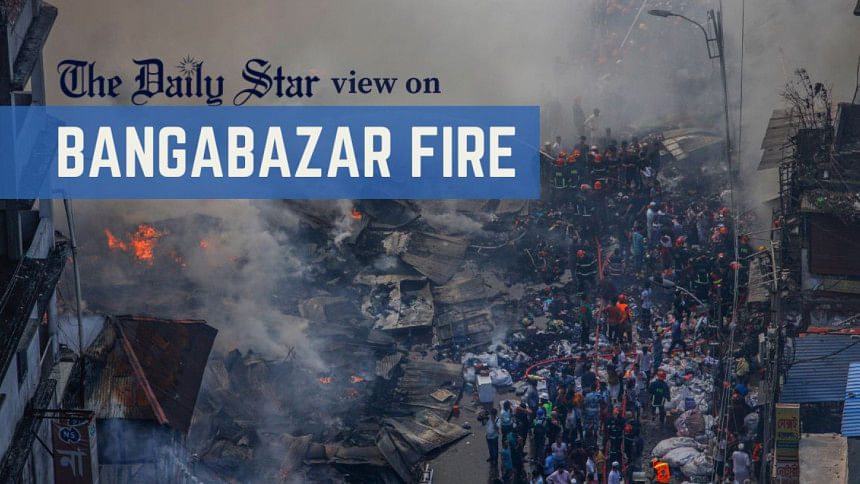 We are deeply troubled by another major fire incident that originated in a shop at the Adarsha market in the Bangabazar Shopping Complex and spread to the nearby markets, according to witnesses. There were around 2,500 shops at the complex, most of which have been burnt to ashes. It took around 50 firefighters' units around six and a half hours to bring the fire, which started at around 6:10am, somewhat under control. And although no lives have been lost, at least 12 people, among whom eight are firefighters, have reportedly fallen sick because of the smoke from the fire.
The fire caused enormous losses for shop owners and businessmen, most of whom had stored up huge amounts of goods prior to Eid. Many of them claimed to have borrowed heavily to invest in clothes and other items, expecting to repay their loans after profiting from the biggest shopping festival ahead of Eid-ul-Fitr. According to the president of the Bangladesh Dokan Malik Samity, it is estimated that the fire may have burnt more than Tk 1,000 crore worth of investment into ashes. Some shop owners have even alleged that there was foul play involved, as certain quarters have been looking to evict the shop owners in a bid to occupy the area. Clearly, this needs to be properly investigated. 
Nevertheless, it is important to remember that as with most markets in Dhaka – and other major cities – the Bangabazar Shopping Complex barely had any proper fire safety measures in place. The fact that, despite numerous fire incidents in recent times, the authorities have hardly taken any measures to rectify this overall situation is simply shocking.
Over the last few months, we have seen major fire outbreaks all over the country – from high-rise buildings to industrial buildings, from container depots to commercial buildings. And these have only shown how badly building construction codes and fire safety measures are implemented across the country.
On the same day that the Bangabazar Shopping Complex was burnt down, this newspaper reported that the Rajdhani Unnayan Kartripakkha (Rajuk) had found 683 buildings in eight zones of Dhaka using their basements to store flammable items, violating building construction rules. However, this situation has only come about because of Rajuk's own failure to properly monitor and enforce the said rules.
After every major fire outbreak, we see the authorities scrambling to form probe committees, which give various recommendations that are never properly implemented. Until and unless this changes, fire outbreaks will continue to devastate and destroy property and, as we have seen in many previous cases, lead to unnecessary deaths. It is high time the authorities stopped treating human lives and their properties with such disrespect.