In Sitakunda, a Nightmare Comes True
Deadly depot blast exposes the poor state of industrial safety in Bangladesh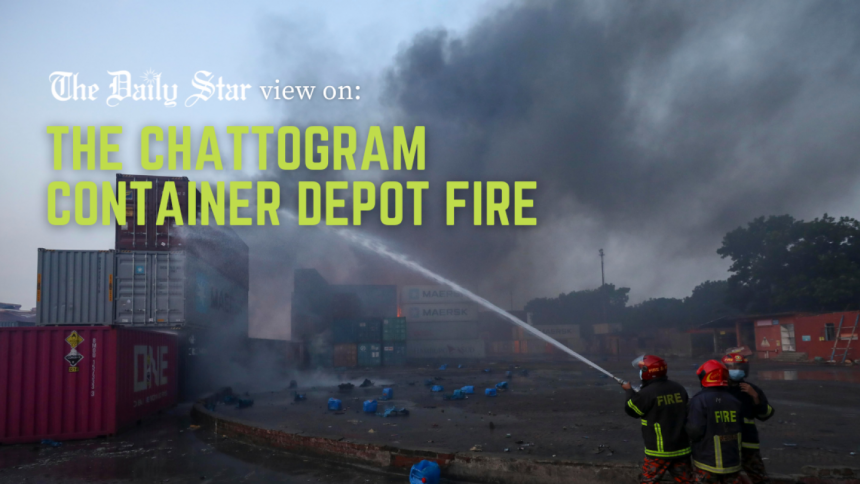 We're outraged by the news of a deadly blast that occurred at the BM Inland Container Depot in Sitakunda, Chattogram, killing at least 49 people (as of Sunday 7pm) and injuring hundreds. The sheer ferocity of the fire and subsequent explosions that swept through the facility since Saturday night can only be rivalled by the sheer meaninglessness of the tragedy that followed. The fire, which couldn't be fully doused even after about a day, is the latest in an ever-growing list of tragedies that put Bangladesh's appalling industrial safety record once again under the spotlight.  
The death toll will no doubt rise as many of the injured are said to be in a critical condition. Horrifying scenes of panic and devastation have been reported both on the spot and at the hospitals. Some of the explosions – there were many – were so large that their sound could be heard several kilometres away. One eyewitness described seeing "fireballs falling like rain". The challenge for the firefighters and military rescuers, who joined them later, has thus been quite daunting as they struggled to bring the fire under control and pull charred bodies from the debris. At the hospitals, the air is thick with grief and anxiety.
What caused the fire? We don't know yet. But there were reportedly containers with chemicals in the depot, including a huge quantity of hydrogen peroxide – an oxidising chemical – which can intensify fire and is a major fire hazard when combined with other chemicals and substances. Apparently, the fire service wasn't informed of the unauthorised storage of chemicals (leading to at least nine firefighters being killed). This—in a depot containing millions of dollars of garments—will likely be a central focus of the investigation. Whatever caused the fire and subsequent explosions, we hope that investigators will find out soon and that those responsible will be held accountable.
The Sitakunda blaze is the biggest disaster in the 24-year history of the container depot industry in Chattogram, and the first likely caused by chemicals. Unfortunately, such disasters are becoming quite common in Bangladesh. The poor infrastructure and institutional preparedness for industrial safety – which the ILO called "nascent" earlier this year – makes such fire incidents almost inevitable. Ultimately, it is the workers employed in these hazardous places who have to pay the high price for that.
We urge the government to properly investigate this tragedy and undertake necessary reforms to prevent its recurrence—in the depots and all such industrial settings. It must ensure that all the survivors are accounted for and properly treated and rehabilitated, and that the bodies of the dead are quickly handed over to the grieving families. The loss they suffered is irreparable. The government must do everything to ensure it was not for nothing.