Tragedy upon tragedy in Sitakunda
Why is industrial safety still ignored in the country?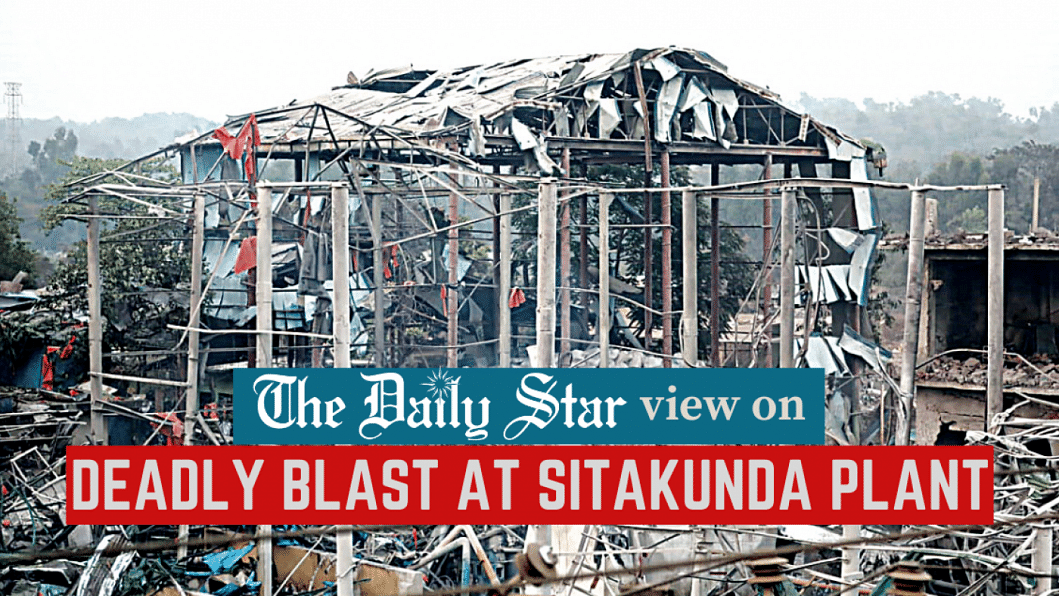 We are alarmed by the repeated incidents of fire and explosion in Chattogram's Sitakunda upazila, where hundreds of small, medium and big factories as well as industries have been set up without maintaining standard safety measures for the workers. The latest explosion took place on March 4, at an oxygen plant in Sitakunda's Keshabpur area, which has killed at least 7 people and injured 30 others. Only nine months ago, another deadly fire followed by explosions at a container depot in the same upazila had killed a total of 51 people, including nine firefighters. Both incidents have revealed how workers' safety is often grossly ignored by the authorities of factories.
Reportedly, on Saturday, the explosion at the Seema Oxygen Plant blew off its entire roof, while large chunks of steel and iron flew in all directions damaging numerous buildings and vehicles. The explosion was so powerful that flying metal objects killed two people who were about half a kilometre away from the explosion site. While the entire neighbourhood is reeling from the shocking experience, the suffering of those who lost their family members is indescribable. Among those injured, many are in critical condition.
The question is, why do industrial accidents keep happening in our country? How can such hazardous plants be set up so close to residential areas? Do such factories have permission or clearance from the relevant authorities? How will the authorities explain the occurrence of an explosion mere months after the deadly fire in BM Inland Depot? Clearly, they had done little after that. Clearly, industrial safety is still largely ignored, not just in Sitakunda but other places as well.
Sadly, it is not just the industrial units that are at risk of fire accidents; often residential buildings also catch fire for not complying with the proper safety standards. Before we could learn about the details of the tragedy that unfolded on Saturday – cause of the blast, who was responsible, etc. – news came of an explosion and fire at a building in Dhaka's Science Lab area, which claimed three lives, on March 5. Such incidents have become so common in the country that it often seems as if there are no authorities anywhere to stop them. Holding those responsible for such tragedies to account is something that almost never happens. And this is precisely why they keep happening.
We urge the government to ensure that all the factories in Sitakunda and other places have proper safety measures in place. In case of factories like oxygen plants, steel re-rolling mills, and shipbreaking yards, optimum security must be ensured. We hope the committee that has been formed to investigate the oxygen plant incident will be able to unearth the real reasons behind it, leading to meaningful preventive actions. Those responsible for the tragedy must be brought to justice.