Don't normalise risky living
Dhaka's unsafe buildings pose too great a risk to be left unaddressed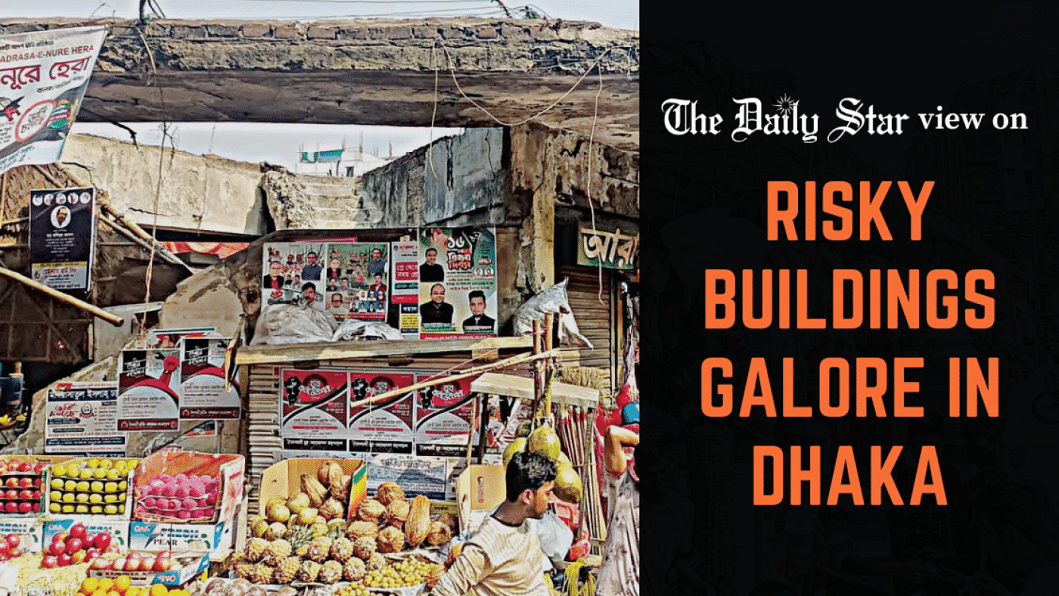 Given how vulnerable the majority of buildings in Dhaka are to fires, explosions or collapses because of their questionable construction and maintenance practices, it seems almost natural that residents would go on reeling from one disaster to another. The question is not whether a tragedy will strike again, but how soon. Only the other day, we drew attention to the fact that three accidents took place in rapid succession – first in Gulshan, then near Science Lab intersection, and then in Gulistan, the latter killing 23 people so far. And now there is news of yet another tragedy, in Savar this time, where almost the entire roof of a 10-storey government building collapsed, injuring at least 16 workers. While the cause of the incident is yet to be determined, there is no doubt that questionable construction practices had some role to play in it.
Unfortunately, it's not just residential/commercial buildings that are at risk of accidents. As per a report by this daily, many of the city's kitchen markets are also in danger. Over the last two decades, a total of 19 kitchen market buildings were identified as risky, yet those continue to be in operation. Of them, nine are under the DNCC, and 10 under the DSCC. Despite promising to phase them out and relocate shops to new buildings, the city corporations have done little so far beyond putting up signboards. Millions continue to visit these establishments at great personal risk. Whose fault will it be if any of those buildings collapse or meet any other tragedy? Why do city authorities continue to ignore the red flags? Such reckless negligence is totally incomprehensible.
Risky living, risky shopping, risky breathing, risky commuting – there seems to be no end to the destructive potential of this city, just as there is no end to the mismanagement perpetuating these risks. Just imagine: There hasn't been a single conviction in any of the cases related to major fire incidents over the past decade. Owners of factories or establishments who should have been held responsible for criminal negligence are dodging justice, with their businesses operating as before. More alarmingly, institutions whose corruption and negligence are allowing dangerous construction and maintenance practices are never held accountable either, although doing so is key to reverse the situation. Reportedly, there are 54 agencies under 11 ministries to ensure governance in the capital. And if they were held accountable for every fire or blast or collapse, along with the unscrupulous owners of buildings, the risk factor could have been largely neutralised.
All this points to the significance of enforcing existing building, construction and safety regulations, and of establishing accountability for any violation regardless of the individuals and institutions culpable. Some urgent reforms are in order. We urge the government to immediately demolish the dilapidated kitchen markets of Dhaka and other at-risk residential and commercial establishments. Those at risk of fires, explosions or collapses as a result of weak foundations or earthquakes should also be fortified. Recent events have shown the urgency of decisive actions to improve building safety. The authorities must not fail us again.