When justice becomes a cruel joke
Stop treating human lives so callously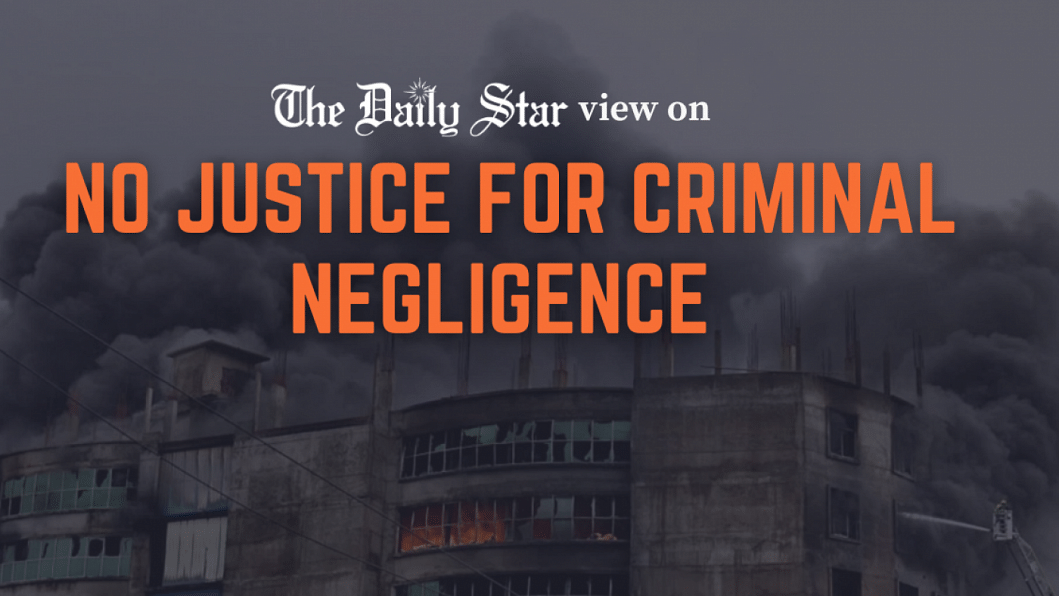 When disasters take place that were easily avoidable if laws were followed and monitoring systems were in place, can we really call them accidents? And if they are not accidents, but murder at worst and manslaughter at best, who really should be punished for justice to be ensured?
According to primary investigation, the greed and negligence of the building owners and the shop in its basement led to the explosion at Siddikbazar in Gulistan that took at least 22 lives. The basement in question was supposed to be used as a car park, but the owners rented it out, violating the building code. The trader who rented the space, meanwhile, enclosed the basement with glass, closing off air ventilation, and installed two heavy-duty air conditioners that have not been serviced since 2010. Rajuk, on the other hand, still cannot confirm whether the seven-storey building was constructed as per the approved design.
The two owners have been arrested for now, but if past cases are any indication, nothing conclusive will come out of the arrests or the investigations. According to a report by this daily, there has not been a single conviction in any major fire incident over the past decade. Owners of factories or establishments who should have been held responsible for their criminal negligence are now out on bail, with their businesses operating as before, without so much as a slap on the wrist. The cases have been indefinitely prolonged, with investigators failing to submit probe reports on time or the prosecution failing to produce witnesses to the incidents. In many cases, witnesses are intimidated and/or bought off, while victims or their families, too, eventually give up, seeing no visible progress on their cases. Given how powerful – both financially and politically – most of the owners are, it is unfortunately all too easy for them to "manage" the cases. 
Two years since the fire at Hashem Foods and Beverages Ltd in Narayanganj killed at least 51 people, of whom at least 20 were children, investigators still haven't managed to file a report. It has been confirmed by multiple independent investigations – including by this newspaper – that the devastating incident took place due to indifference, negligence and greed of the owner and that the gates of the factory were locked from the outside, turning it to a death chamber. A decade since the Tazreen factory fire, which claimed at least 117 lives and in which the owner(s) were widely documented as having been culpable, justice is as elusive as ever, with the prosecution failing to produce witnesses year after year.
As for the public authorities who failed to monitor the gross violations of laws and safety codes and have not shut down such unsafe buildings, it is safe to surmise that no one has to answer for their part in the crimes. When this is the status quo, what else can we expect except unnatural and preventable deaths? We urge the authorities – futile as our appeal may be – to stop treating human lives with such disrespect.