Building fire hazards: A city strewn with ticking time bombs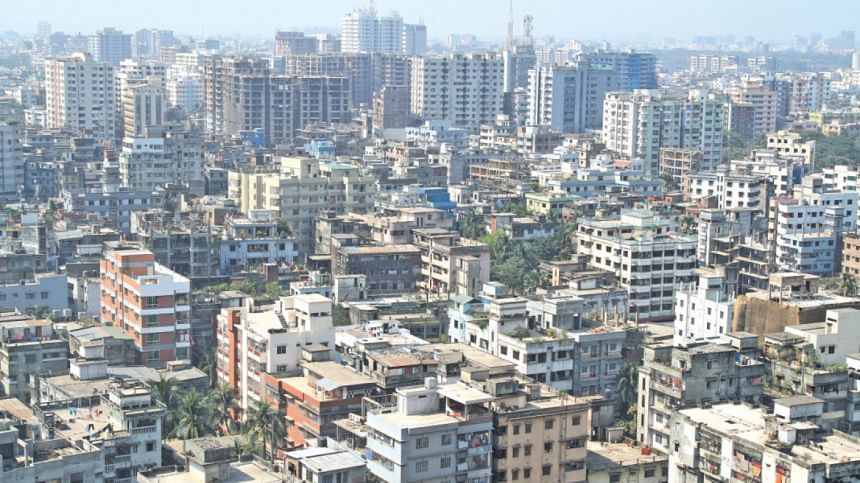 The risk of explosions and fires lurks everywhere in the megacity of over two crore due to unplanned urbanisation, blatant violations of building codes, and a lack of fire safety awareness.
Within a few weeks, three such incidents have claimed at least two dozen lives -- one fire in a posh area, one in a commercial area, and the latest in a crowded area in Old Dhaka -- suggesting that the problem is not confined to some neighbourhoods.
And things are getting worse.
In 2018, there were 19,642 fires. The number rose to 24,102 last year, fire service data shows.
The recent incidents are similar to other cases seen over the years. The causes were electric short circuit, accumulation of gas in a confined space, and poorly maintained air conditioning units.
"We don't follow anything. We don't care about the rules and regulations. We just scream after every incident, yet we don't try to ensure that we never need to cry for the loss of our loved ones," Brig Gen Md Main Uddin, director general of Bangladesh Fire Service and Civil Defence, told The Daily Star yesterday.
"We are only to blame for such tragedies -- from Rana Plaza to the FR Tower fire, from the Nimtoli inferno to Churihatta blaze, and the explosion in Gulistan area on Tuesday, which has so far claimed 20 lives.
"Almost all of them are man-made disasters and could have been averted. But it seems we are careless and that's why we are paying the price."
Experts said the greed of building owners is a key reason for such disasters.
Many of them take advantage of poor monitoring by the authorities concerned and often change the approved design to make profits. Some even turn a residential building into a commercial one without following the necessary safety measures, they said.
Town planner Khandaker Niaz Rahman, who was the deputy team leader of the newly approved Detailed Area Plan, said different zones of the capital have exceeded the population density threshold, considering the infrastructure and social services available there.
"That is one of the major reasons for the frequent accidents and disasters in Dhaka," he said, adding that the sheer negligence towards regulations was also a factor.
Two people died and several others were injured after a fire broke out at a multi-story building in Dhaka's Gulshan on February 19. Both of them died after they had jumped off the building.
Within two weeks, three people were killed and around 50 others injured in an explosion at a building in Science Laboratory area on March 5.
Two days later, at least 20 were killed and over 100 others injured in an explosion in Siddikbazar area.
Many believe the explosions at Science Laboratory and Gulistan were due to accumulated gas.
Mehedi Ahmed Ansari, professor of civil engineering at Buet, said even though Dhaka's vulnerability is multifaceted, the authorities remain virtually inactive.
"After big incidents -- from the Rana Plaza tragedy to the Churihatta blaze -- a number of recommendations were made by experts. But none of those were implemented till now."
He said every building's fire safety, electrical safety, and structural safety must be inspected before issuing the occupancy certificate, which has to be renewed by the building owner every five years.
"To check those, Rajuk [Rajdhani Unnayan Kartripakkha] can give the task to a third party. If those are inspected and measures taken based on the inspection, the risk of accidents will come down drastically," he said, adding that coordination among government agencies is key to improving the situation.
"We have been making recommendations since 2010 but the process is yet to start. It's time to start right away."