Science Lab, Gulistan blasts
Lives cheapened by negligence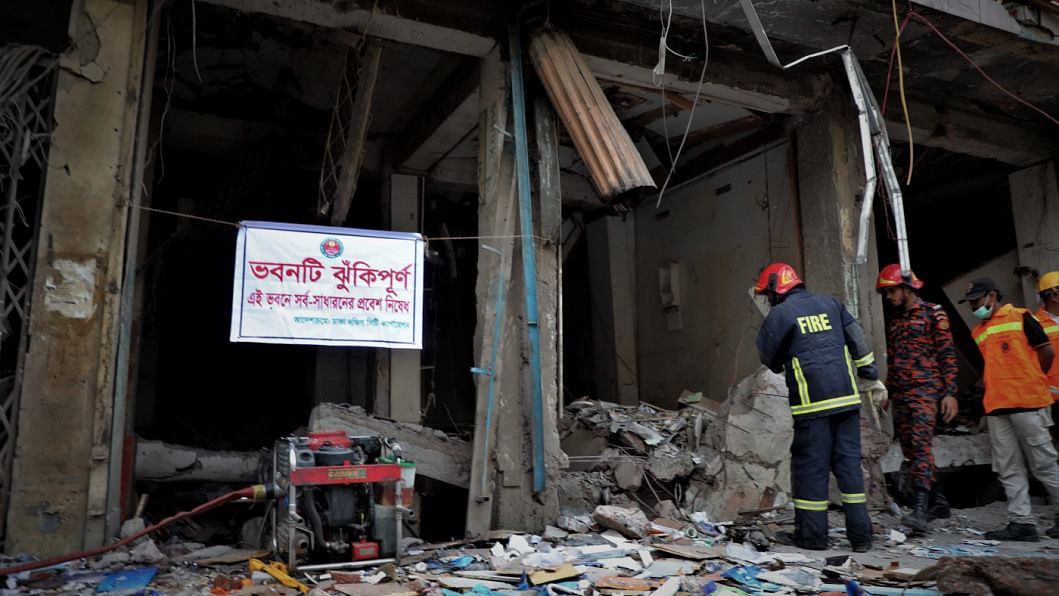 Last week, I had a meeting in Dhanmondi for which I had to take the Science Lab road. As everyone was running late, I was browsing through my phone when the news popped up: an explosion had taken place on the road I had just passed, killing three people on the spot and injuring 40 others. I heaved a personal sigh of relief. The accident, however, added to the growing sighs from which there seems to be no relief.
Two days after that, there was another explosion at a building in a busy old part of town in Gulistan. The death toll has risen to 22 (as of 8pm, March 9), with many others in critical condition. The building housed an illegal basement market of sanitary items with the branch of a reputed corporate bank above. On the eve of a holy night, many people were on the streets buying savoury items from that area, which is famed for its traditional delicacies. There were people waiting in line at a bus stop nearby. The explosion changed it all.
Different threads of stories are beginning to unravel. A young man went there to get food for his mother who was fasting. He never returned. Two brothers went to buy some bathroom fittings from a shop in that building. One left a bit early as he was not feeling well, while the other remained inside to collect the receipt of their purchase. Little did he know that the memo was his last. A witness who was driving by recalled how a body flew out of nowhere and landed on his car bonnet; he tried to lay the victim aside to flee the area when he saw that part of the skull had been blown off by the blast. There are many other sad, gory accounts.
Accidents, by definition, are unintended and unfortunate incidents that cause harm. Then again, questions must be asked when these unfortunate events occur as the result of negligence on part of the authorities or agencies concerned. In the absence of regular monitoring, regulations or upgrading of the systems, we have allowed our operating system to be vulnerable. A culture of impunity has further made this system corrode, if not collapse.
An explosion in a city is like the rupture of a blister. Just like our skin accumulates fluids in a blister to suggest infections within and then bursts open to announce that something is not right in the body, these explosions signify a sick city. When gas gathers in old pipes, when cheap and spurious items are used in air conditioners, when low-grade electricity cables and equipment are used, and when regular servicing of utilities is not done, it is hard to call these incidents accidents. These are deliberate, caused by human errors or oversight. Someone must be held responsible. Handcuffing the building owners after the event is not the solution. The smart thing to do in a planned smart city is to routinely intervene and monitor.
Let's not forget that the utility services of a city are true indicators of the economic, social, and environmental performances of modern life. The network of water, waste, electricity, gas, and telecommunication systems forms the infrastructure conduits that allow modern cities to operate. The nature of service is fast growing in complexity, making its vulnerability both imminent and evident. And there is no option but to upgrade for the new changes and challenges.
Three different agencies are investigating the accident spot in Gulistan. The Titas Gas authority washed their hands of the accident, saying that the surviving riser on their gas pipes suggests that the explosion is unlikely to be gas-related. Forensic experts of the police are hinting at a gas deposit in a septic tank that was not cleaned for a long time. The outdoor units of the air conditioners in the void between the buildings can be another source of the explosion. The fire department confirmed that, given the extent of the explosion, this accident was not electricity-related. The entire building has caved in and declared unsafe.
All these resources that have come together to do a post-mortem of an exploded building could have very well been used for regular monitoring instead. There is no glory in giving sagacious comments over the dead. The challenge is to keep the city alive before you make it smart.
The plain and staid utilities of the present time are completely inadequate and inefficient for our future growth. Many people who are moving to the capital are unaware of their civic responsibilities. Many don't even know how to maintain utilities in a manner that is safe for them and others.
Without collaboration and community engagement, service providers can never ensure the functionality of every piece of equipment that is being used. In most households, for instance, gas cylinders are stored side by side, making them a ticking time bomb. Private companies are supplying these cylinders, which remain outside the purview of state agencies. Local authorities can initiate community awareness meetings to protect the safety of these cylinders. Utility experts and city officials can come together to undertake a pilot programme to ensure a resilient service network. Retired officers can volunteer to form local monitoring teams to check the equipment that is being used.
Let's relieve the city of its illness by having preventive measures.
Dr Shamsad Mortuza is a professor of English at Dhaka University.