Govt agencies must be held accountable
Experts say building owners alone not responsible; lax monitoring key factor behind frequent fire, blasts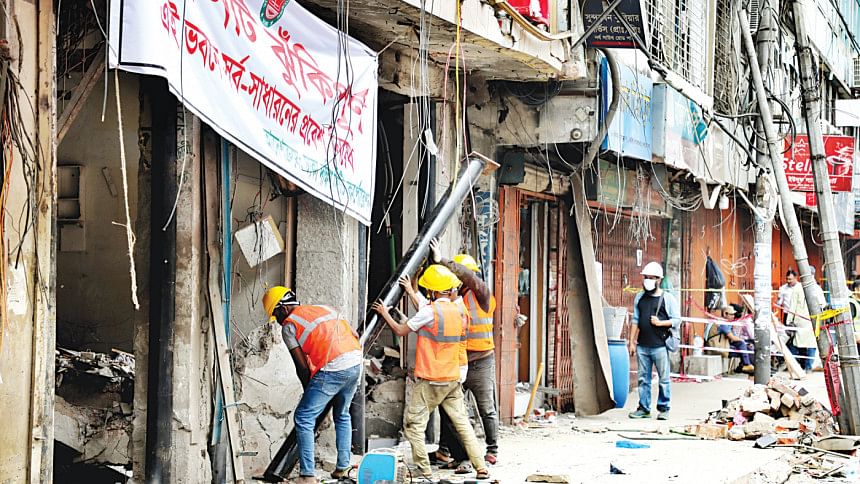 After every fire and blast incidents, all fingers are pointed at the building and factory owners. Experts, however, say the government agencies responsible for looking after the safety of establishments should be held equally accountable for their failure to monitor those.
They say that holding government officials responsible for such incidents is crucial to improving the situation.
There are enough rules and regulations to ensure safety of establishments, but fires and blasts are taking place one after another due to a serious lack of enforcement of the rules and regulations, and monitoring by government agencies, the experts observed.
This is ultimately causing serious harm to the people's lives and properties.
There are 54 agencies under 11 ministries to ensure governance in the capital, and if they do not carry out their duties properly, the city would remain vulnerable to such disasters, experts warned.
"After an incident, we only blame the owners of a building or a factory. But the government agencies must be held responsible," Mehedi Ahmed Ansari, professor of civil engineering at Bangladesh University of Engineering and Technology, told The Daily Star yesterday.
Ansari, who worked for many probe committees formed after fire and blast incidents, said he didn't see a single incident of a government agency being held responsible.
"But in developed countries, it is the government agencies who are held accountable for their failure to prevent such incidents."
The Dhaka city's vulnerability to fires and blasts came to the fore once again after three recent incidents within a span of weeks.
The latest one, an explosion in a seven-storey building on North South Road at Siddkibazar on March 7, claimed the lives of at least 22 people.
Iqbal Habib, an architect and urban activist, said the 54 government agencies must be held responsible.
"It should start with Rajuk and the related approval or licensing authorities. But most of these bureaucratic organisations are strong and influential, and they never hold each other responsible. That's one of the most important reasons why we can't address the problem."
He said innocent people are paying a heavy price due to a nexus between a section of corrupt officials of different agencies and law-violating establishment owners.
"After every incident, it is said that awareness is the key and that people must be aware of safety. But for me, this is said to cover up the failure of the agencies," Habib said.
Between 2020 and 2022, there were 13,726 fires in industrial and commercial establishments. The number includes cases of fires caused by boiler explosions or gas leaks.
At least 256 people died in those incidents, and of them 13 were firefighters killed in industrial fires. The fires also caused losses worth at least Tk 291 crore.
Town planner Khondker Neaz Rahman, who was the deputy team leader of the Rajuk's newly approved Detailed Area Plan, said Rajuk must be held responsible primarily, and then comes the city corporations, fire department and other related government agencies.
"During the DAP survey, we found that 94 percent houses in the Rajuk area were built without an approved plan. As the houses don't have plans from Rajuk, those cannot have utility connections from Wasa, Titas and Desco. So, the problem starts with Rajuk," he said.
The 21 lakh houses include five lakh buildings. Many of those houses were built even before the Rajuk was founded.
Anisur Rahman Miah, chairman of Rajuk, said the probe committees will identify who are responsible for fire and blasts.
He said that Rajuk is not giving clearance to any building without proper architectural designs and documents.
Anisur said zone-based committees have been formed by Rajuk recently to identify risky buildings, and they have been asked to submit reports within 15 days.
"After getting the reports, we will take decisions on those risky buildings. If needed, structures will be knocked down," he added.