How prepared are we for a major earthquake?
Listen to the experts and implement the guidelines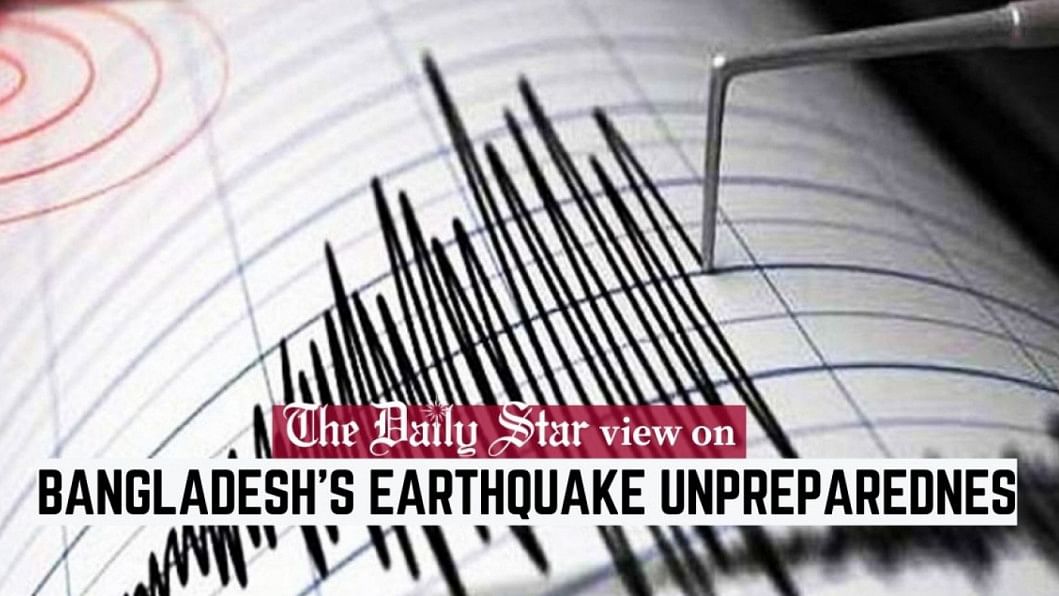 The two earthquakes with epicentres close to Dhaka, in a span of 11 days, have certainly caused many citizens to fear what may happen next. And their anxiety is justified as leading experts are also concerned and have given rather ominous indications of the possibility of a major earthquake happening "anytime". What they are most worried about is the unbelievable level of unpreparedness for such a petrifying disaster. So why have the authorities not been jolted into action?
The Daily Star's report informs us that in the last month we have already had 14 earthquakes within 300 km radius of Dhaka according to the National Center for Seismology of India. Research by experts in Bangladesh has found that these foreshocks could indicate a major earthquake, which would cause the entire capital to crumble. Unplanned urbanisation over the last few decades has led to a chaotic, congested concrete jungle where most of the buildings are not earthquake-proof. A survey by the Rajdhani Unnayan Kartripakkha (Rajuk) has predicted that around 865,000 buildings may collapse in an earthquake with a magnitude of 6.9 originating in the fault line in Tangail. The death toll has been estimated to be around 210,000, with 229,000 sustaining injuries if the disaster happens during the daytime. The survey was done between 2018 and 2022.
We have very recently seen the horrific consequences of major earthquakes in Turkey and war-torn Syria this February that killed more than 20,000 people. After knowing all this, what have we been doing? The answer is, not enough. It's true the government has carried out risk assessment and mapping for earthquakes in major cities such as Dhaka, Chattogram and Sylhet, as well as set up more earthquake observatories and specialised equipment to detect tremors in vulnerable locations. It has a National Earthquake Contingency Plan that includes anticipating future risks and disaster management after a major earthquake. The government is supposed to have trained 62,000 volunteers.
This is all impressive. But the government needs to make sure that in the event of a major earthquake these measures actually work on the ground. Experts have given many recommendations regarding how we should prepare. The overall message is to have extensive awareness and practical training. This includes regular drills in schools, offices, departmental stores, etc., retrofitting risky buildings, enforcing earthquake safety technologies in new buildings and implementing the government's guidelines on how to deal with the aftermath of an earthquake.
We must build capacity for prompt response, rescue and evacuation operations and treatment facilities in hospitals. Volunteers need refresher courses. The Fire Service has to be equipped with sophisticated machinery and trained personnel for rescue operations.
It is virtually impossible to predict when exactly a major earthquake will occur. The only thing to do is to be as prepared as we can be. The government must now consult with our local and international experts and start implementing a strategy that will work to reduce as many casualties as possible, in the event that the earthquake nightmare comes true.