China favours permanent solution of Rohingya crisis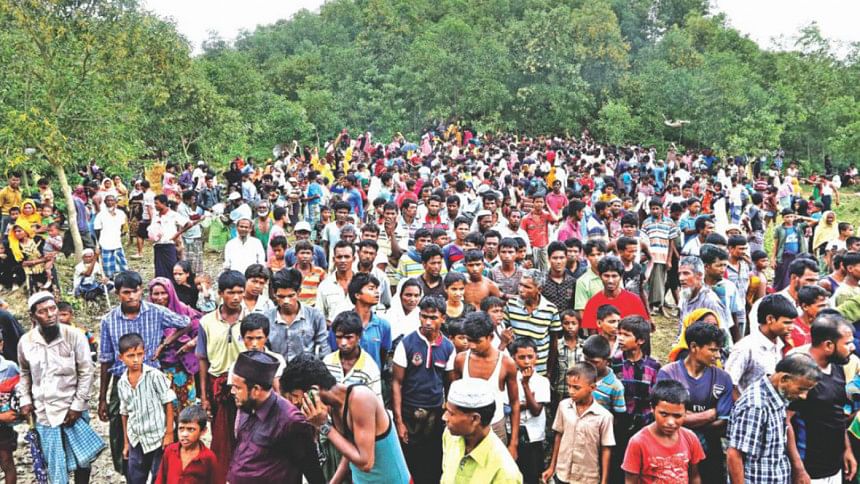 The Communist Party of China (CPC) today assured Bangladesh of convincing Myanmar government to resolve the Rohingya problem permanently.
The assurance came from a meeting in Beijing between the CPC and visiting 18-member Awami League (AL) delegation headed by its presidium member Lt Col (retd) Faruk Khan.
"China will convince Myanmar government for holding talks with Bangladesh as we think the permanent solution to the Rohingya problems is a must for ensuring peace in the rejoin," said Li Jun, vice-minister of International Liaison Department of CPC.
Deputy office secretary of the AL and member of the delegation Biplab Barua confirmed the matter over telephone from China.
The assurance came as AL joint general secretary Dr Dipu Moni sought an effective role of the Chinese government in solving the Rohingya problem after describing the inhuman torture on Rohingyas that forced them to flee the Rakhine state to Bangladesh.
In reply, Lee June said, "We are well aware of the Rohingya crisis and we have already talked about the matter with Myanmar government to find a peaceful and permanent solution to the matter," he also said.
He added that China will play a positive role in the international arena for the repatriation of Rohingya to Myanmar.
"We are respectful to the AL government's humanitarian behaviour towards the Rohingya and we will send relief which includes blanket and tent on September 27 in response to the initiative of Prime Minister of Bangladesh (for Rohingyas)," he said, adding that the assistance will be continued.
The delegation includes AL's cultural affairs secretary Ashim Kumar Ukil, information and research secretary Afzal Hossain, legal affairs secretary SM Rezaul Karim, forest and environment affairs secretary Delwar Hossain, international affairs secretary Dr Shammi Ahmed, deputy office secretary Bilob Barua, and central committee members Nazibullah Hiru, Riazul Kabir Kawsar, Dipankar Talukder, and vice-principal Remon Areng and lawmaker Habibe Millat.