Bangladesh boxing poised for growth spurts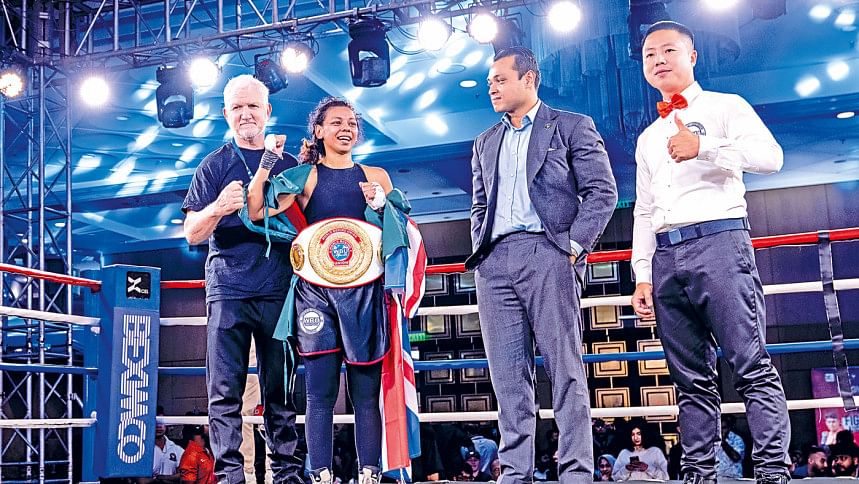 The Beximco XBC Fight Night in Dhaka had recently created some buzz among the ones fascinated with professional boxing.
Undoubtedly, the participation of London-born kickboxer Ruqsana Begum -- the former Muay Thai world champion who made her transition into the world of boxing -- whose first appearance as a boxer playing in her country of origin was the main catalyst behind the uprising of interest.
The 39-year-old Ruqsana made her debut in Bangladesh and came out victorious but young local boxer Tanjila Tanjila pushed her to the limit in a captivating 10-round fight to bag the WBU Intercontinental Championship title in the flyweight category.
Adnan Harun, chairman of the Bangladesh Boxing Foundation (BBF), was oozing with optimism regarding the refreshing development and its potential impact in the local circuit.
"You know India started professional boxing six to seven years back while Pakistan also made their journey at the same time. The popularity of professional boxing has been gaining a much better pace in Pakistan due to Amir Khan, who is a British boxer but of Pakistani origin. We also believe Ruqsana's participation will garner more interest among our young generation," said Adnan.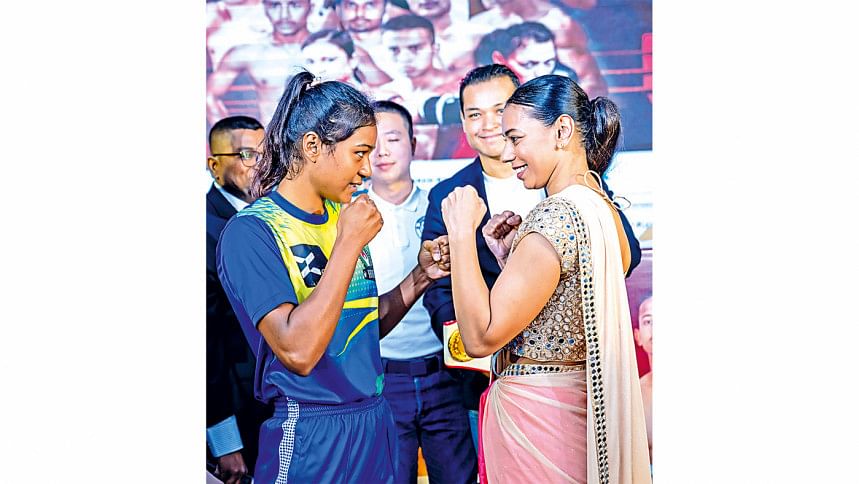 Professional boxing is a fresh venture in the country and, of late, it has moulded into a concrete form with two recent international events, garnering attention among sports enthusiasts, especially with successes of boxers Sura Krishna Chakma and Mohammed Al Amin in the first-ever professional boxing tournament in Bangladesh last year.
"We just started our journey only one-and-a-half years back and we already have 25-30 male and 10-12 female professional boxers, so the number is encouraging. And I must say, the success of our first-ever grand-scale professional event, which was telecasted live for the first time in the country, will change the scenario of professional boxing in our country," the BBF chairman added.
He further informed the federation had only been focusing on grooming boxers for light-weight categories due to physical limitations.
"In reality, we are not in a position to develop good heavyweight boxers due to our natural physique," Adnan said.
There were seven fights featuring 14 male and female boxers from around the world who participated in the recent event, where Sura Krishna knocked out Anan Pongkhet of Thailand in the lightweight division.
At present, a seven-member ad-hoc committee of BBF is pinning hope on Sura Krishna to bring professional boxing in further limelight.
"Sura Krishna is a natural talent. I can tell you, he will become Asian champion within a very short period of time. And his success along with other new talents will definitely usher new hope among young participants," Adnan went on.
"Apart from some minor events, we are planning to organise one or two international events every year. And alongside developing young talent, we are focusing on rankings because without good rankings you will not get any invitations from global promoters and, thus, cannot boost your financial strength. And that's the reason we are not unnecessarily going for heavyweight boxers.
"You know, Sura Krishna is also a lightweight boxer and he has got all the potential to become the country's icon."
The BBF chairman put forth further optimism while acknowledging a talented boxer like Abu Talha Hridoy -- who had given Bangladeshis a big reason to cheer as he defeated Indian boxer Ashish Kumar in a Bantamweight clash -- and Utshob Ahmed.
A big stepping stone in Bangladesh professional boxing came to fruition as the country hosted, for the very first time, the WBU Female Intercontinental Championship with the belt at stake.
In a recent interview with The Daily Star, Ruqsana revisited her inspiring journey as the empowered athlete looks to inspire Bangladeshi boxers.
Many sportswomen in Bangladesh can relate to the obstacles that she had to face in the UK, so it is understandable to any Bangladeshi woman how big the challenge to flourish is, especially in a sport like boxing.
Ruqsana, however, addressed encouraging growth in changing attitudes towards female sports in the UK, resonating with Adnan who witnessed positive vibes among the Bangladeshi female boxers.
"I think there were definitely so many obstacles, going into a male-dominated sport. You know, even if you look at the women's football team in the UK, it's only now they're getting the platform and the recognition that they deserve, and they're excelling. You know, the country's media is behind them … the pay gap has been closing, which is excellent for the sport," said Ruqsana.
In Tanjila, Ruqsana faced a fierce competitor who is 20 years younger than her but displayed a lot of nerves and steel at the beginning as she punched above her weight throughout the fight to bring the best out of the world kickboxing champion.
While Sura Krishna is making the stride for a better future, promising aspects like Tanjila are providing the new sporting venture in the country hopes aplenty.
The BBF chairman concluded, "I also believe our female participants are getting the platform to excel. I'm really hopeful they will bring laurels for the country in the very near future."