'Always a fighter' Tanjila packs a punch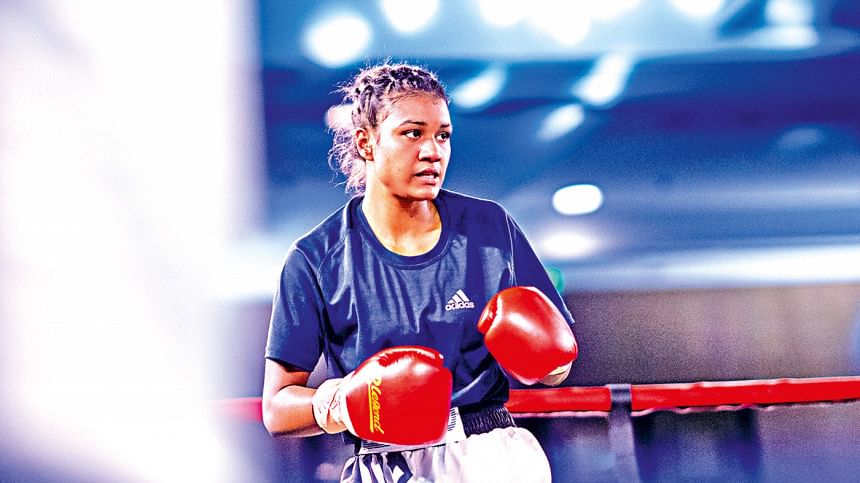 "Yes, my name is Tanjila Tanjila," the rookie boxer only laughed when asked about why she lacks a conventional surname.
Tanjila, who recently hogged the spotlight with her spirited show against a vastly superior counterpart in Ruqsana Begum, shares a common narrative when it comes to the struggle sportswomen from all spectrum of life face in Bangladesh and beyond.
"Actually, I'm very introverted in nature and may not be able to explain everything to you," a soft-spoken Tanjila told The Daily Star.
"I started boxing five years back but, unfortunately, I was out of boxing for nearly two years as my father and elder brother were not interested in making boxing a profession. People in our locality also made many negative remarks, often telling me that it's not good for a girl to play such a sport," the girl from Jessore continued.
"My mother, however, encouraged me from the beginning and it was all down to her support that I could return to the ring again. I always love to fight."
Asked what got her to venture into boxing, Tanjila informed, "I live in Jessore and I often had gone to watch a boxing match with my friends and gradually the sport grew on me. Another reason is, I'm not a fan of team games … which was another reason why I chose it."
Apparently, she was not well aware about Ruqsana's stature and had only received the brief about her opponent from her coach just a short while before the main event.
"Many had doubts about whether I could last 10 rounds and yes, I was initially a bit nervous. You know what my main strength is? I never underestimate myself in any sphere of my life," said Tanjila as she now has her focus reserved on training.