CAAB cannot just randomly fill up a water body
It is in clear violation of the conservation law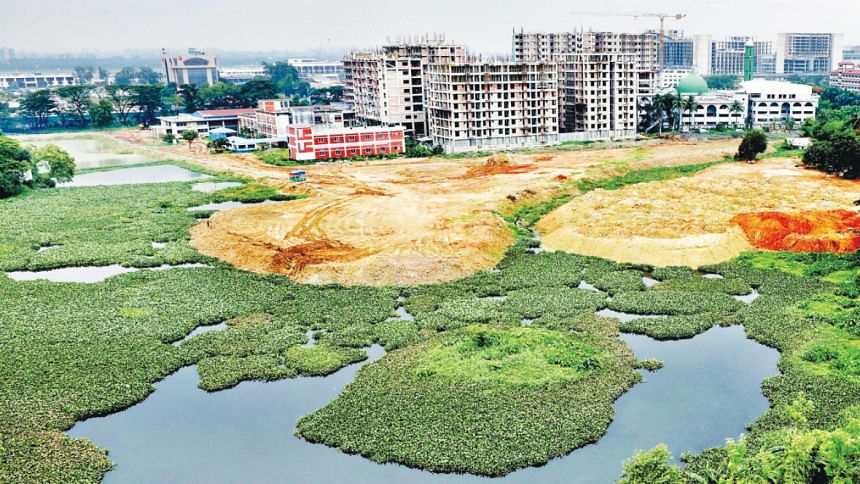 We are shocked to learn that the Civil Aviation Authority of Bangladesh (CAAB) is filling up a large pond at the capital's Ashkona area to build a housing project for its officials and employees, in clear violation of the conservation law. While the CAAB chairman claims that they are not violating any law as the land is owned by CAAB, not RAJUK, environmentalists say that the around-30-acre pond is clearly earmarked as a waterbody in RAJUK's Detailed Area Plan (DAP). Reportedly, the aviation regulator has also not taken any permission from RAJUK before starting to fill up the pond which has long been used as a water retention area for Ashkona, Uttar Khan and Dakkhin Khan areas. It goes without saying that, without the pond, the waterlogging problem in these areas will aggravate further.
Dhaka has already lost the vast majority of its ponds, canals and waterbodies due to unplanned development. A study by the Bangladesh Institute of Planners (BIP) in 2019 found that individuals, businesses, real estate developers, organisations, and even government agencies gobbled up 1,072 acres (57 percent) of the 1,879-acre flood flow zones in Dhaka metropolitan areas over the last few decades. The result is that city residents have been experiencing regular waterlogging during monsoon, with many residential areas and main thoroughfares going under knee-to-waist-deep water even after a moderate rain.
For example, waterlogging in the East Jurain area has now become a year-long affair, making the place almost unhabitable. Reportedly, the neighbourhood was developed on the flood flow zones and agricultural land, filling up a number of big canals. Since Ashkona, Uttar Khan and Dakkhin Khan are already suffering from regular waterlogging, filling up this large pond may also make this situation more permanent, which will eventually affect surrounding areas, too.
Against this backdrop, we think CAAB should immediately shun this project for greater public good but also because it is illegal. We hope the authorities concerned, including RAJUK, will take necessary measures to stop the project and recover the pond. We have already lost too many wetlands, and cannot afford to lose any more. Furthermore, CAAB authorities must be held accountable for taking this project without permission and for violating the law. If a government agency undertakes such a damaging project and goes unpunished, it will certainly embolden others to do the same.