Sony announces PlayStation Portal
The BDT 28,000 worth handheld device will allow players to stream PS5 games over Wi-Fi but won't support Sony's upcoming cloud streaming service.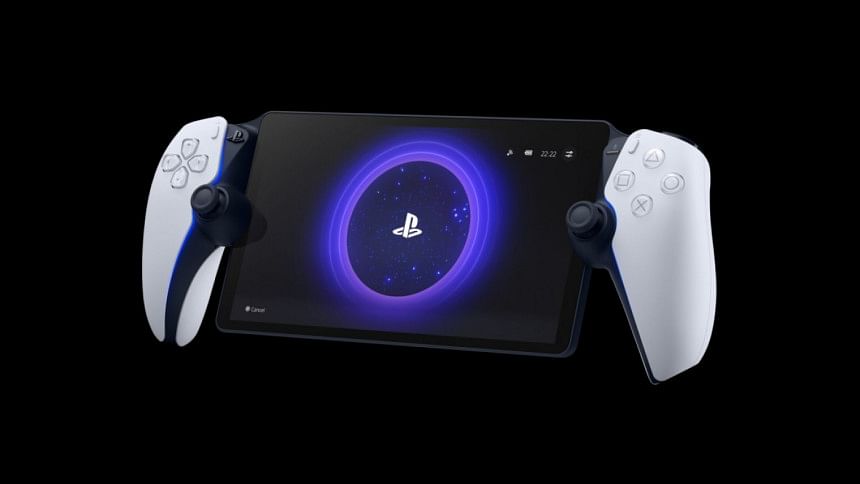 Sony Interactive Entertainment has officially unveiled its much-anticipated handheld gaming device, the PlayStation Portal, set to launch later this year. The device aims to extend the PlayStation 5 (PS5) gaming experience by allowing users to stream PS5 games over Wi-Fi to an eight-inch LCD screen with 1080p resolution at 60 frames per second.
The PlayStation Portal comes with built-in controllers on each side, closely resembling the PS5's DualSense controllers. These controllers will support adaptive triggers and haptic feedback, aiming to replicate the tactile sensations of playing on a PS5. The device will also feature a dedicated media section on its home screen, mirroring the PS5 interface. However, the device will not support local gameplay; users will require a Wi-Fi connection to stream games from their PS5 console.
Interestingly, the PlayStation Portal will not feature Bluetooth connectivity. Instead, Sony is introducing a new proprietary standard called PlayStation Link, designed to deliver low-latency, lossless audio. Sony will also be launching a wireless headset and earbuds that support this new standard. The device will include a 3.5mm headphone jack for wired audio options.
Tech editor Bo Moore from IGN, who had early access to the device, reported that he experienced no noticeable latency while using the PlayStation Portal. Sony recommends an internet connection with at least 5 Mbps speed, although 15 Mbps is recommended for optimal performance. As for battery life, Sony is targeting a range similar to that of the DualSense controller, approximately seven to nine hours, although the final specifications have not been confirmed.
The PlayStation Portal will not be compatible with Sony's upcoming cloud streaming service for PS5 games, which will require a PS Plus Premium membership. The device is primarily designed for streaming games already installed on a user's PS5 console.
Sony has not yet announced an exact release date but has confirmed a price point of £199.99, or nearly BDT 28,000. The device was previously known as Project Q and was officially announced in May, with rumours suggesting a November release date.