The Builder of Brands
A conversation with Sarah Ali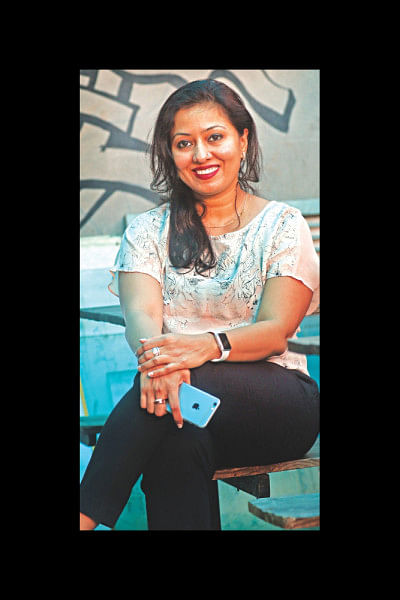 Photo: Prabir Das
In a society filled with leading brands, perfects taglines, products and consumers, a leading name in the field of advertising that comes to mind is Bitopi. And competing with all the top names is Sarah Ali, the Managing Director of Bitopi Leo Burnett, located in the Bashundhara area of the capital.
Over the years, both Ali and her agency have won many accolades. Apart from local awards at Brand Forum Commward, the team, under Ali's leadership, has been recognised within the Leo Burnett network (the global advertising network that Bitopi belongs to) for creating outstanding communication. "My biggest achievement comes from the fact that people still reminisce fondly some of our work many years later– Bata "hati hati pa", Raja, Maya, Djuice, Grameenphone, Bkash and so much more," says Ali.
Sarah Ali's personal involvement with Bitopi started from her school days, when she used to do summer jobs at the Dispatch Desk. "I would be a "fly on the wall" and sit through internal brainstorming sessions – one of the things I still love most in advertising -- coming up with ideas with fellow colleagues," she says. "That process of brainstorming and ideation is just magical - always unexpected and never repetitive or boring!"
As a businesswoman and an idea-person, Sarah herself has been recognised and awarded on many occasions. She was selected as the Honorary Consul of Peru in Bangladesh in 2012. "I was also selected by the United States State Department to participate in the International Visitor Leadership Program on "Regional Economic Integration Through Women's Empowerment" in 2013 and was among the few who represented Bangladesh on Women's Day in Islamabad in 2015," adds Ali. "I was also fortunate to be selected for the prestigious Capstone Course at the National Defence College in Bangladesh in 2016."
Growing up Shegun Bagicha, Dhaka, in a large ancestral home, Ali's childhood was filled with activities, fun and excitement, right next to the Press Club amd Dhaka University area. "I was not raised in any way that was different from my brothers – we were all treated as equals," she remembers. "While my father instilled a love for the outdoors from a very early age, my mother ensured that I was in touch with the Bengali culture making sure that I not only read English books but also Bengali literature and learnt singing and the piano." Even today, Ali's parents inspire her to reach her goals, to be a good human being -- to do her best in life.
When asked how she took the whole concept of competing against the men in this patriarchal society, not to mention the advertising field, Sarah Ali said that she probably had blinkers on! "Gender to me is not an issue," she says. "There will always be different points of view but I probably have blinkers on because I do not see, or even allow myself to see something that is biased by gender.  There has to be logic and reason behind taking decisions, otherwise it is null and void." Sarah Ali holds a Bachelors degree in Anthropology from Mount Holyoke college in the United States and a Masters degree in Media Ecology from New York University.
Advertising is definitely a lot of fun, but it is so much more than that, she adds. "Young men and women enter advertising thinking it is a lot of fun. There is a fun element to it but it is not all glitz and glamour. It is serious hard work and responsibility – we are assigned with tasks that impact the image of a brand and company. We get paid for our services and it is extremely important to be honest, truthful and thorough.
"As Uncle Ben in Spiderman said," adds Sarah Ali. "'With great power comes great responsibility!'"