A TRIBUTE TO COLUMBO SAHIB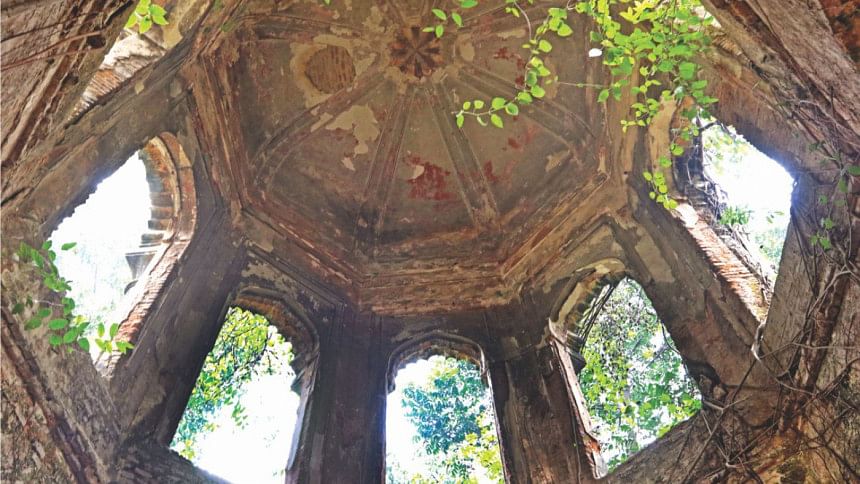 Photos: Prabir Das
Reginald Heber was a man who wore many hats. Born into an affluent family, the hymn-writer made a reputation as a poet while at Oxford University. The traveller and adventurer served as the 'Bishop of Calcutta'.
Bishop Heber, in 1824, visited Narinda Christian Cemetery in Dhaka to consecrate it. 
Today, the cemetery is at least 350 years of age. Being such an old burial ground, it contains within itself a vital part of the history of Dhaka - waiting to be unlocked by the curious visitor, but sometimes refusing to give away secrets it has chosen to hide.  
One such secret is the Tomb of Columbo. The grandeur of the mausoleum struck Heber, and he wanted to know who Columbo was. He could not find a satisfactory answer. And neither can we, till this date. Reading what Heber wrote almost two centuries ago - about his experience when visiting the mausoleum - points at the obscurity that still prevails. 
"…the old Durwan of the burial ground said, it was the tomb of a certain 'Columbo Sahib, Company ka nuokur;' Mr Columbo, servant to the Company; who he can have been I know not; his name does not sound like an Englishman's, but as there is no inscription, the beadle's word is the only accessible authority." 
If one visits the mausoleum today, like Heber, he would also be astonished by its magnificence. 
The bottom is a square structure; on it a splendid octagonal building rises up, boasting a beautiful dome as its crown. If this description does not suffice, we can always refer to the bishop's portrayal: 
"Some of the tombs are very handsome; one more particularly, resembling the buildings raised over the graves of Mussulman saints, has a high octagon gothic tower, with a cupola in the same style, and eight windows with an elaborate tracery."   
To comprehend the grandiosity better, one may walk inside and look up, to witness the eight large windows at each side of the octagon.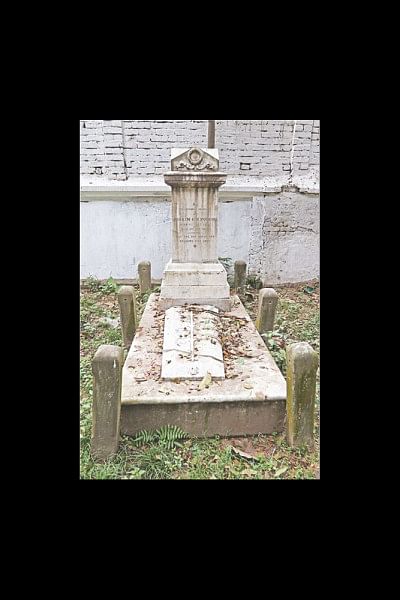 There are some gravestones attached to the walls. But nobody really knows where their graves actually are. To add another twist, nobody even knows exactly where the grave of Columbo is!
The building, at present, is shredded in ruins, and trees have taken over it. The structure still remains, crying for conservation. 
Close to the monument is a lavish, white gate built during the Mughal era. 
Although Columbo Sahib looms over as a mystery, many of his neighbours are known to us. An exquisite statue of Madonna towers over the grave of Elizabeth, the wife of the Armenian Marcar David, the 'Merchant Prince of Bengal'. Jane Rennell, the daughter of James Rennell, also lies here. James Rennell was the pioneer of oceanography and his map of Bengal is an invaluable source of information for historians. The cemetery is also the final resting place of JGN Pogose, who died in 1876. He is the founder of Pogose School. 
The cemetery features a wide plethora of structures, from domes to obelisks. 
Wilderness was all around when Reginald Heber visited Narinda Christian Cemetery, and the poet was indeed fascinated by the place:
"… the whole had so wild and characteristic an appearance, that I regretted that I had no time to make a drawing."  
Source: 'Narrative of a Journey through the Upper Provinces of India, From Calcutta to Bombay, 1824-1825' by Reginald Heber