Mash gets AL ticket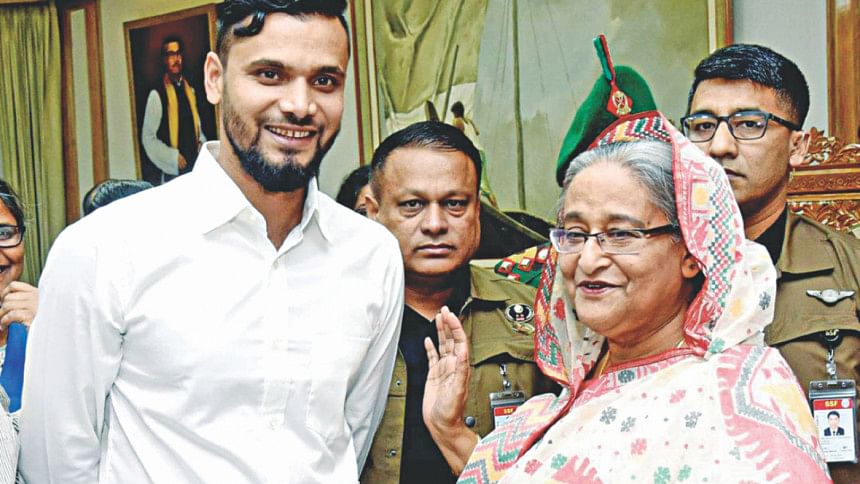 Bangladesh ODI captain Mashrafe Bin Mortaza yesterday received confirmation from ruling Awami League to contest the seat from Narail-2 in his home district.
Afterwards, Mashrafe finally clarified why he has become involved in politics through a Facebook post.
The full post is below.
"In the year 2001, I started my journey as a cricketer. Now it's 2018. For the past decade and a half whenever I played cricket I gave my whole life to it. I'd like to continue in the same manner till the next World Cup. Rest depends on Allah.
"I have always had the desire to be in politics. I always believed that a country's development is not possible without politics. I have received all of your love while playing cricket. Without that love my career would have stopped way back in 2011. This very Mashrafe would not have survived for this long. The love I received in 2011 has helped me to continue for the last seven years. Now I have got the opportunity to do something for the people of this country. I don't know what awaits me after the World Cup. So I valued time because I believe that one needs to do the right thing at the right time.
"Although I never had the fortune of seeing Bangabandhu, I grew up knowing his work and realising his contributions. I have him in my heart through things I have read and heard from people. I have the spirit of independence instilled in my flesh and bones and in my heart and soul as a family trait. I want to do something good for my locality being a part of Sheikh Hasina's development program. I would feel that I could not do justice and deprive the people of my area if I cannot do this. I think what I did for society as a part of my social responsibilities while playing cricket is not enough. I have always wanted to find a way to do something for people on a large scale, and politics has presented me with that opportunity.
"I do not intend to enter politics to hurt any person or any party. All I want is for everyone to live according to their ideals, be tolerant to each other's brotherhood and have a co-operative political culture prevailing in the society.
"Many raised questions regarding my entry in politics. The truth is that even I don't know what kind of a person I am. The identity as me being a good human being that has spread all around also makes me question why am I a good person? If taking a couple of wickets and hugging my fans is what makes me a good person to people then I never intended to be such kind of good person. I believe the way to determine whether I am a good person or not is in the coming days. My works for my country will decide if I am a good person or not, provided if I win in the coming election and if my party forms the government.
"I know it is harder and also a challenge to realise with my words through action. But I never backed away from taking this challenge. If I wanted I could have stayed in my comfort zone. But I dream that the people of my area will take a step further in the development wave. Let the light of development be shed on Narail's inhabitants. I want a developed Narail. I will always be with the people of Narail on the pursuit of this very dream, regardless of the struggles I face.
"I took my daughter to Bangkok's largest hospital weeks before I bought the nomination papers. Allah has provided me with that ability. But I also thought about that person who is suffering from a more critical disease but is not getting required treatments. I thought about those talented underprivileged kids living in a 'mufassil' town who are not getting the opportunity for a higher education. I thought of those hard working people who could not make a proper living even after working day and night.
"I believe that every conscious, able and good person should join politics. Many people may never make time to join for different reasons or due to mental limitations. I thought that the mental barrier needs to be broken. So I myself took the initiative to fulfil my inner urge. Many may question the stature I built in the past one-and-a-half decades of my cricketing career due to my decision to join politics. But I am truly fascinated by the initiation of something new. I hope to do something looking up to which many more Mashrafes will step forward in the future.
"I am stating this again that I do not intend to hurt any person or any party. I am just trying to fulfil what the time demands. I hope that all of your love in this innings of my life will carry me forward. I expect your love and support.