Cops foil demo for fresh polls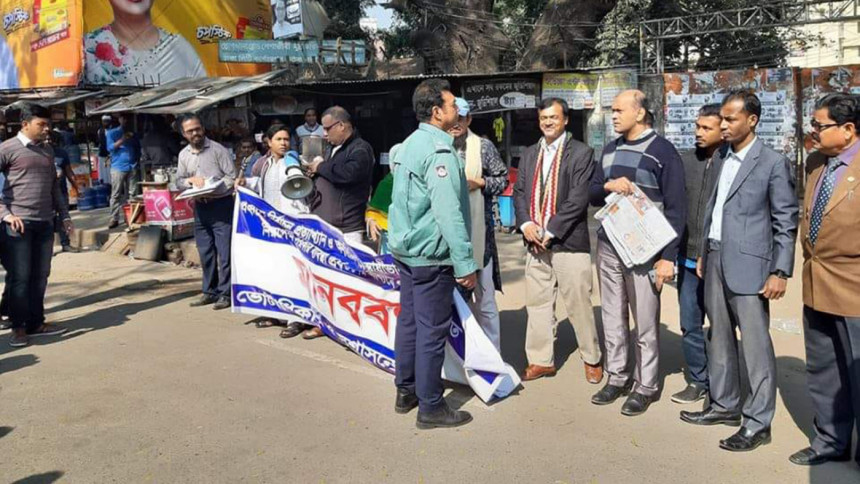 Police evicted protesters demanding fresh election under a non-partisan caretaker government in front of Jatiya Press Club this morning.
Around 40 to 50 people under the banner of 'National Unity for Franchise and Good Governance' formed a human chain around 11:00am demanding re-election under a neutral caretaker government, our staff correspondent reports from the spot.
However, police evicted the protesters soon after they gathered there and snatched their banner, said ABM Mostofa Amin, the convener of the platform.
"We cannot accept the kind of rigging that took place in the 11th parliamentary elections. We demand a fresh election be held under a non-partisan caretaker government immediately," he said.
He alleged that police foiled their peaceful demonstration with a "logical demand".
THE ELECTION RESULT
The Awami League-led Grand Alliance secured a landslide victory in the national election held on Sunday, December 30, winning in 288 out of 300 seats in the Jatiya Sangsad.
HOW WAS THE ELECTION?
Voting for the 11th parliamentary election ended peacefully in Dhaka; but was tainted with violence elsewhere across the country and cost the lives of at least a dozen people.
Reports of casualties came in from Cumilla, Chattogram, Sylhet, Rajshahi, Dinajpur, Rangamati, Cox's Bazar, Bogura, Noakhali, Narsingdi and Gazipur.
Allegations of vote rigging, election clashes, intimidation and irregularities came in from several other constituencies and capital Dhaka city.
Also, the election saw opposition candidates boycotting elections in at least 43 constituencies; 42 of who were Jatiya Oikyafront runners.