Using sport against child marriage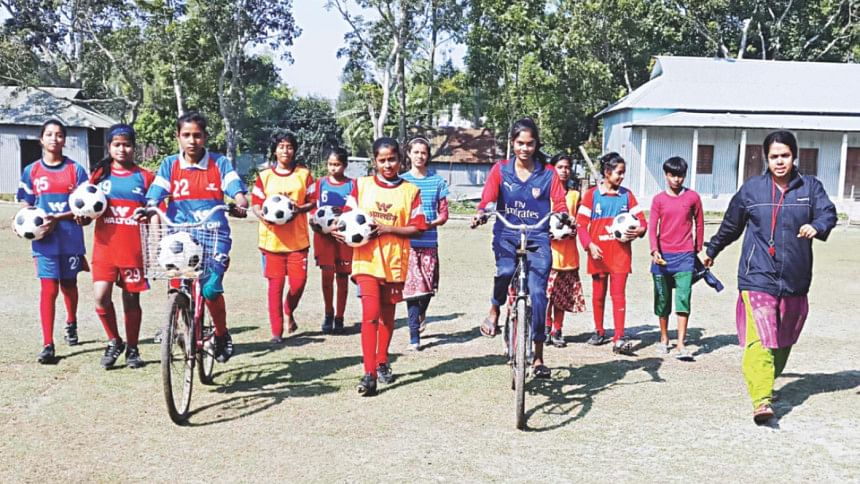 Despite social and family barriers and financial hardships, the Tangail's girls' football team, comprising of 17 players, is moving forward thanks to team manager Kamrunnahar Munni's intensive efforts.
Munni, an assistant teacher at a government primary school, is working with the girls with the aim of preventing child marriage.
"Child marriage is driven by poverty and has many effects on girls' health," Munni said. "Sport makes a girl conscious physically and mentally and a physically and mentally conscious girl cannot be accepting of child marriage.
"Sport also raises a girl's confidence level and makes her aware of her future. Moreover, when a girl is engaged in sports after overcoming all barriers, the people who have the mentality to marry children do not want to marry such an open-minded girl who has already got a taste of freedom," Munni said.
Munni first got the chance to engage with football when the school authority gave her the responsibility of making a team comprising of school girls to take part in the Bangamata Fazilatunnesa Mujib Football Tournament on 2011.
Later, after observing Munni's keen interest in football, Mokhlesur Rahman -- then the additional deputy commissioner (education) in Tangail -- requested her to take charge of the girls school team that eventually became district champions in 2016.
Afterwards, Munni was made manager of the U-17 girls' football team in Tangail in 2017 and the team went on to win the Jubo Games the same year. Another Tangail team, also under Munni's guidance, became champions in the JFA U-14 Women's National Football Championship on 2018.
"Munni madam gives me support like a mother when I practice with the team. She said that I could be a good player, I would get honour from both society and my family. She also inspires me by saying I can make a brighter future for myself through sports and get jobs in the government force or an organization as a good player," said Rupa Khatun, a player of the team from Sakhipur upazila.
"My family had taken away me from the camp a couple of months ago due to criticism from villagers. However, Munni madam brought me back after convincing my parents," Rupa added.
"Most of the girls in my team come from poor families. Their parents are also less interested in allowing their daughters to play football," Munni said. "I convince the parents to allow their daughters to play, assuring them that it will make their children physically and mentally strong. And a mentally and physically strong girl can make a future on her own."