'They're posting old photos': Jamal denies signing for Argentine club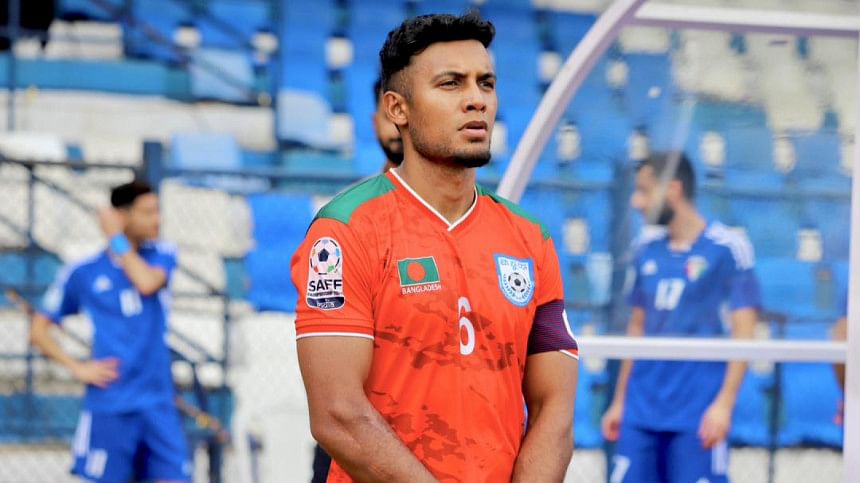 Bangladesh national football team's captain Jamal Bhuiyan denied reports of his ties with Sol de Mayo after the Argentina's third-division league club's official social media page claimed on Wednesday that Jamal reached Argentina to play for them.
"No, they are posting old photos. I'm in Holland (Netherlands) now," Jamal replied to The Daily Star over message to clear confusions about his move to Sol de Mayo, who later removed the relevant post from their social media handle.
The 33-year-old midfielder, however, was offered to play for Sol de Mayo last February. Jamal had sought release from his employer in the middle of last season but Bangladesh Premier League (BPL) club Sheikh Russel KC refused to release him, citing a shortage of players.
During two FIFA friendly matches against Seychelles in late March in Sylhet, Jamal told The Daily Star that he would again attempt to get permission from Sheikh Russel in the latter part of BPL. This time, Sheikh Russel refused to release him before the season's completion.
Following the opening of BPL transfers' window for 2023-24 season from August 1, it was reported that Jamal signed for Sheikh Russel but he did not admit to signing for either Sheikh Russel or Sol de Mayo.
However, Jamal informed that he and two of his friends were invited to play a friendly match in Argentina but he is yet to make a decision.
The Bangladesh captain later took to Facebook to make his position clear to the public.  
"Heey guys. I didn't sign any contract or anything. Everyday I see people post different photos of me, posting I'm going different places. I'm currently spending my vacation with my family."