Cabrera looks for 'perfect preparation'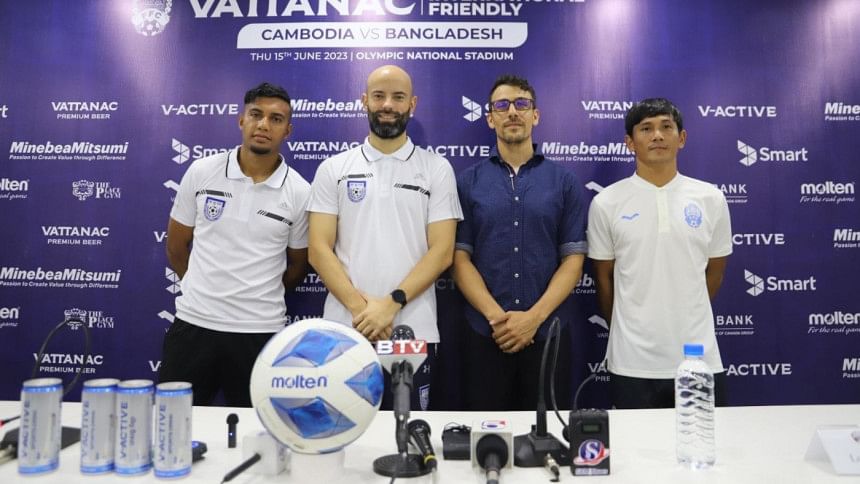 Bangladesh head coach Javier Cabrera will make his last attempt to figure out the right combination and fine-tune playing eleven before the upcoming SAFF Championship when his charges take on hosts Cambodia in Phnom Penh today.
The FIFA friendly match will get underway at 6:00pm BST.
"We are getting ready for the SAFF Championship here. We know we have tough competition tomorrow (today) but we are excited because it's going to be a great atmosphere against the quality of Cambodia. It will be a perfect preparation for us," Cabrera told reporters at a pre-match conference yesterday.
The Spaniard added that his charges would play the same way as they did against Cambodia last September, where a Rakib Hossain strike separated the two sides in a FIFA friendly encounter.
Before the main practice match against Cambodia -- an opponent who have not beaten Bangladesh in previous five meetings -- Cabrera tried all of the available 21 players, except Rakib Hossain, during a 1-0 win against a Cambodia premier league side, Tiffy Army FC.
Captain Jamal Bhuiyan said, "Our main target is the SAFF Championship. We played a warm-up match against a local team, which was a good test for us but tomorrow (today) is the main test. I'm sure it will be a good match because Cambodia have some quality players. We are looking forward to the match."
Cabrera will now have more options to assess as defenders Bishwanath Ghosh and Isa Faisal joined the squad after the first warm-up match. The 37-year-old Spaniard will definitely want to stabilise his backline through today's match, in order to start the SAFF Championship on a good note.
The men in red and green have been in Cambodia as part of their second phase of preparation for the regional football extravaganza, scheduled to commence on June 21 in Bengaluru, India. They will be off to India tomorrow following the Cambodia fixture.