Lebanon, Kuwait show makes Jamal hopeful for future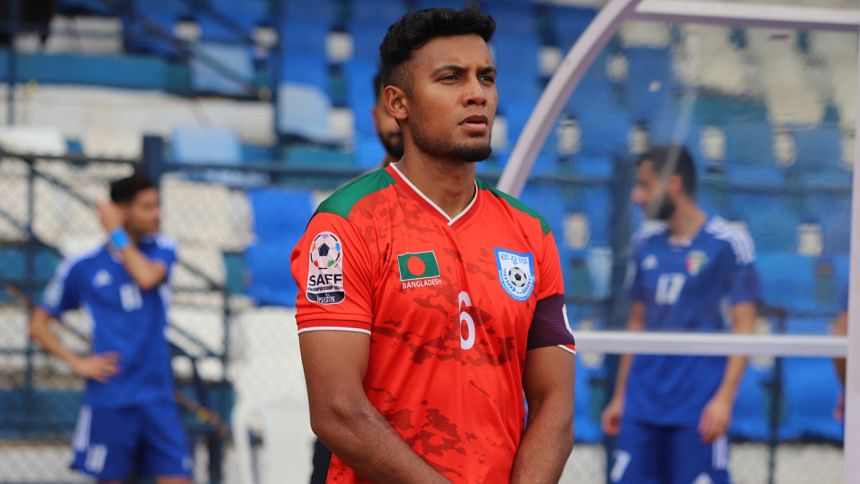 Jamal Bhuiyan has been a part of the Bangladesh national team since 2012 and he has already participated in five editions of the SAFF Championship. The 33-year-old captain, who has worked under different foreign and local coaches and seen the ups and downs of the team, spoke elaborately regarding the difference from the previous campaigns to the recent one and what he feels should be the ideology for the team going forward. Excerpts of the interview, taken by The Daily Star's Anisur Rahman, are as follows.
The Daily Star (DS): It was the fifth SAFF Championship campaign for you and the team got out of the group stages to reach the semifinals for the first time in 14 years. How do assess the current squad as the team's captain?
Jamal Bhuiyan (JB): I think the squad was different from before and the preparation for the SAFF Championship this time was also good. We played two practice matches in Cambodia before starting our main campaign. Considering everything, it was a good team effort with players having a lot of meetings among themselves, which did not happen in other SAFF Championships where we hardly talked to each other. The most important thing in this campaign was the bonding among the players. Everybody felt for each other with no groups within the squad.
DS: Bangladesh were also close to qualifying from the group stage in the last two SAFF Championships, but eventually could not do that. That must be a great boost of confidence for the team.
JB:  If you look back, Lebanon and Kuwait were very strong teams compared to the nations of South Asia. If we keep this squad and tempo of the performance, then I think we can go up in ranking.
DS: Bangladesh have not followed a particular style of football for long. They have played in different styles under different coaches. What should you think be Bangladesh's playing style?
JB: The formation changed this time around. We used to play with two wingers and a number nine, but this time we played with four midfielders in a diamond shape midfield. We played 4-1-2-1-2, which was effective for the team performance and we scored six goals in two matches which I can't recall the last time we did. I think the coach will stick to this formation and playing style because this is the best strength of our team because we don't have box-to-box players and genuine number nines.
DS: Do you feel there is a lack of quality players in the reserve bench compared to the starting eleven?
JB: Many people raised the same question to me that the players at the bench have are not as strong as the ones in starting eleven. However, those who are coming as substitutes are trying their level best.
DS: How much contribution do you think the Bangladesh Premier League makes to advance the country's football at international level?
JB: Of course, it does. The clubs who are taking part in BPL also have responsibility. For the last 13 years, BPL has been going on well but of course we can do better. We can look at India, where they took their league to another level and we can do the same.
DS: Is it possible to carry the performance to the next assignment in coming days?
JB: We have to do the same that we did for the SAFF Championship. We have to take good preparation and training and ensure facilities like good ground and others. If the federation ensures those things, I believe it is possible to perform well again.
DS: You have played under different coaches at national team. What do you think sets Javier Cabrera apart?
JB: Cabrera has been a bit different and his preparation is much different from others. The others had their own styles and Cabrera has his own style, but he is well prepared for every match. Three to four days before the matches, Cabrera talks about the team, talks about how they (opponents) will play; how we should play, how should we attack the opponents and that is completely different from others. Cabrera is also keen to listen to the players. He calls me his right hand.
DS: After the SAFF Championship, another big task awaits Bangladesh in the World Cup Qualifiers. Can Bangladesh overcome the probable hurdles that may come in the form of Indonesia, Chinese Taipei, Singapore or any other big team?
JB: Of course we can but it's going to be difficult. I think we have a good chance, to be honest. If we can perform the way we did against strong teams like Lebanon and Kuwait, who are much higher than the teams we are supposed to face in the first round of qualifiers, I think we can do well.
DS: You are now 33. How long do you think you can serve Bangladesh team?
JB: I can play a lot more years. If you look at India, they have Sunil (Chhetri). If you look at Bangladesh, they have Jamal (Bhuiyan). So, yes, I can play for a lot of years.
DS: Where do you see Bangladesh in future?
JB: I just want Bangladesh to succeeded, nothing else.