'Happy with the win but need to improve'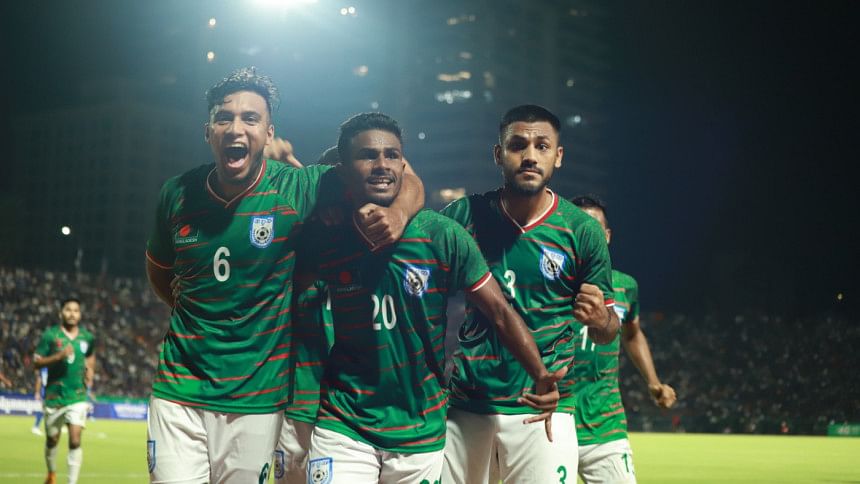 Bangladesh had a decent enough preparation for the upcoming SAFF Championship as the booters registered a 1-0 win over hosts Cambodia in a FIFA-friendly in Phnom Penh yesterday.
Winger Mojibur Rahman Jonny, who made his debut in March against Seychelles, netted his first international goal in the 25th minute to keep intact Bangladesh's unbeaten record against Cambodia, who suffered four defeats in five meetings against the booters.
With the focus on the SAFF Championship starting from June 21 in India, Spanish coach Javier Cabrera's main target was to figure out the right combination and fine-tune his playing eleven. The 38-year-old coach fielded almost the same eleven that beat Cambodian premier league outfit -- Tiffy Army FC -- during a warm-up game last Monday. Only two changes were made for yesterday's game, with Bishwanath Ghosh and Jonny replacing Rahmat Mia and Mohammad Ibrahim.
Cabrera was happy with the win that will certainly boost his charges before the SAFF Championship campaign but Bangladesh looked unimpressive throughout the match -- barring a few moves in the latter part of the second half.
"Obviously, we are happy with the win. But in terms of ball control and overall competency, we must improve," Cabrera said after the game.
Jonny's strike that came from a counterattack was against the run of play as the men in red and green looked unsteady throughout the first half.
Cabrera also handed debuts to attacking midfielder Sheikh Morsalin and winger Rafiqul Islam while goalkeeper Anisur Rahman Zico proved himself once again, parrying a number of shots from Cambodian forwards, who were guilty of squandering a handful of chances.
Bangladesh were reduced to 10 men in the final minutes when Tareq Kazi was sent off during the stoppage time in the second half.