Malaysia-Myanmar matches cancelled over Rohingya issue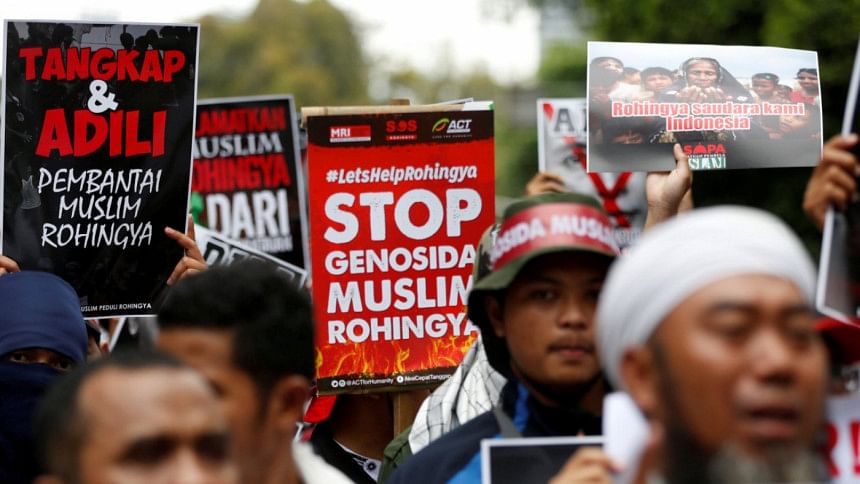 Malaysia's national soccer team has cancelled two friendly under-22 matches with Myanmar, in protest against the Southeast Asian nation's bloody crackdown on ethnic Rohingya Muslims, a team spokesman said on Thursday.
Muslim-majority Malaysia has been increasingly critical of Myanmar's handling of violence in northern Rakhine state that has sent hundreds of people fleeing across the border to Bangladesh, amid allegations of abuses by security forces.
The violence is the most serious bloodshed in Rakhine since communal clashes in 2012 that killed hundreds.
Referring to the cancellation of the games set for later this month, the spokesman told Reuters, "It was a political decision because of the Rohingya issue."
He declined to be identified because the topic is a sensitive one.
In a posting on social network Twitter on Wednesday, national football team Harimau Malaysia said, "International matches between under-22 Harimau Malaysia vs Myanmar, which were scheduled to take place on Dec. 9 and 12 in Yangon, have been cancelled."
Last month, Malaysia said it was considering pulling out of a regional soccer tournament co-hosted by Myanmar over the Rohingya crackdown, but ministers later decided against this.
Such a withdrawal from the ASEAN Football Federation's Suzuki Cup would have run counter to the 10-nation grouping's long-standing policy of non-interference in other members' affairs.
Myanmar's membership of the Association of Southeast Asian Nations should be reviewed because of the "cruelty" imposed on its ethnic Muslim community, Malaysia's sports minister Khairy Jamaluddin said on Wednesday.
Malaysian Prime Minister Najib Razak is set to attend a gathering on Sunday to express concern over the Rohingya issue.