Bangladesh seeks int'l support on Rohingya issue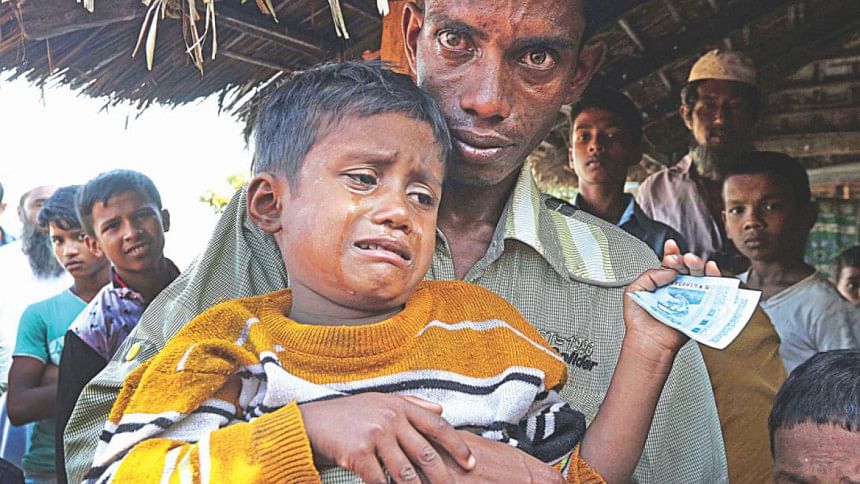 Bangladesh today sought support from international community to resolve the longstanding Rohingya crisis in Myanmar including the current situation.
Foreign Minister AH Mahmood Ali made the call this afternoon following a meeting with foreign diplomats over the rising crisis of Rohingyas who are trying to enter Bangladesh to avoid persecution in Myanmar.
READ MORE: HRW calls Bangladesh to protect Rohingya refugees
The international community has strongly supported to resolve the crisis through a dialogue between Bangladesh and Myanmar, the minister told the reporters.
"During the briefing, they (foreign diplomats) expressed that they strongly support to resolve the problem through dialogue between the countries," the minister said.
READ MORE: 107 Rohingyas, 7 boats pushed back
Highlighting the Bangladesh government's effort to strengthen the relationship with Myanmar, Mahmood Ali said: "We have strengthened our engagement with Myanmar since the democratic government assumed in power."
He also expected that the situation in Myanmar would be normalised soon and the people staying temporarily in Bangladesh would be able to return their homeland without fear and further violence and retaliation.
READ MORE: Refugees slipping in, getting help​
The hour-long meeting with diplomats began at the state guest house Padma in Dhaka around 5:00pm where ambassadors and high commissioners from different countries including USA, India, China and European Union were present.
Bangladesh is denying entry to the Rohingyas who are coming in from the Naf river and land ports along the Cox's Bazar coastline every day.
READ MORE: UN accuses Myanmar of Rohingya cleansing
Yesterday, Bangladesh's foreign ministry summoned the Myanmar envoy in Dhaka and expressed concerns over the issue. Dhaka also urged immediate steps to take back the Rohingyas.