REFUGEES slipping in, getting help
Myanmar's envoy summoned; OIC worried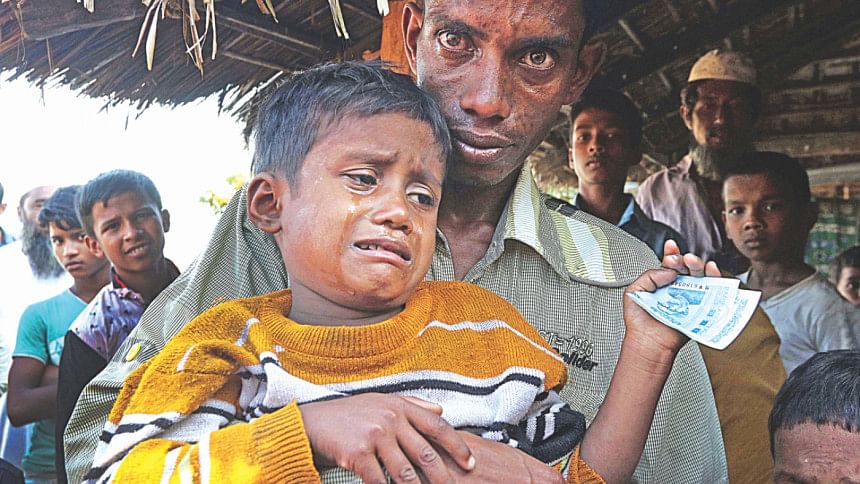 Wearing a burqa, Rashida Khatun was waiting in front of Lambabil fish market along the Cox's Bazar-Teknaf highway yesterday afternoon.
Two children -- both in tattered clothes -- and an elderly woman were with her. None of them was carrying any luggage.
They kept waiting for a three-wheeler or a bus to go to a slum near Kutupalong Rohingya refugee camp in Teknaf.
Asked, Rashida, who turned out to be a Rohingya from Myanmar, said she entered Bangladesh on Tuesday night by crossing the Naf river.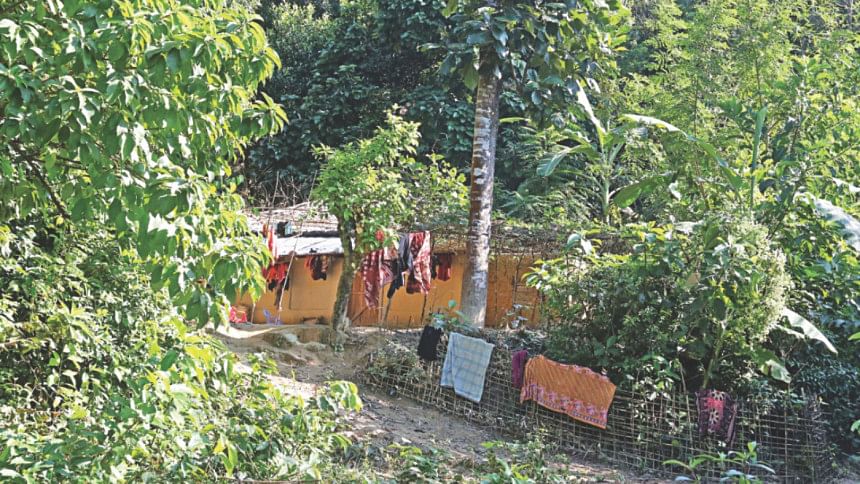 She and all her family members were together. But they had to split into small groups to enter Bangladesh illegally without being spotted by the border guards.
Like her, several thousand Rohingyas have entered Bangladesh over the last one week with the help of locals to escape persecution in Myanmar's Rakhine State, said locals in Teknaf.
Deeply concerned over the situation, Bangladesh foreign ministry yesterday summoned the Myanmar envoy in Dhaka, and asked him to tell his government to take urgent measures so that Muslim minorities in Rakhine State are not forced to seek shelter across the border. 
Meanwhile, the Organisation of Islamic Cooperation has expressed grave concern over reports of serious human rights violations against Rohingya civilians in the ongoing security operation in Rakhine State.
Talking to these correspondents, Rashida, who is from a village in Zambunia of Maungdaw, said she entered Bangladesh along with her eight-year-old brother Nur Alam and her relative's six-year-old daughter Nur Sahara.
After crossing the border, Rashida had luckily chanced upon her aunt Mubina Khatun, who was accompanying the three, near Lambabil earlier in the morning. 
Rashida and her family members reached the border four days ago. Later, they crossed the river by small boats and arrived at Hausher Dweep, which marks the Bangladesh border with Myanmar, on Tuesday morning.
But Border Guard Bangladesh personnel caught them along with 300 other Rohingyas.
"We spent the whole day at Hausher Dweep yesterday [Tuesday]. The BGB members gave us rice, banana and buns. Later, they pushed our boats into Myanmar territory in the evening. But after a while, we came back with the help of Bangladeshi fishermen," said Rashida.
She said they crossed the river around 11:00pm on Tuesday, and spent the night at the house of an unknown person in Lambabil, a village on the river bank.
Asked, her aunt Mubina, who was taking the three to the slum near Kutupalong camp, said she along with her husband and two children came to Bangladesh from Myanmar six years ago by crossing the Naf river.
Later, she gave birth to two children in Bangladesh.
Now they live in the slum near Kutupalong camp. Her husband Nur Basar works as a day labourer. Mubina also showed the ID card she got during the last Rohingya census.
About the turbulent situation in Rakhine State, Rashida claimed it all began last month when "party men attacked Myanmar military personnel". But she couldn't say more about these "party men" whom the locals referred to as members of Myanmar's separatist outfit Rohingya Solidarity Organisation.
"Later, military personnel came to our village by helicopters and set fire to our houses," she said, adding that the army men had been detaining and torturing Rohingyas since the incident last month.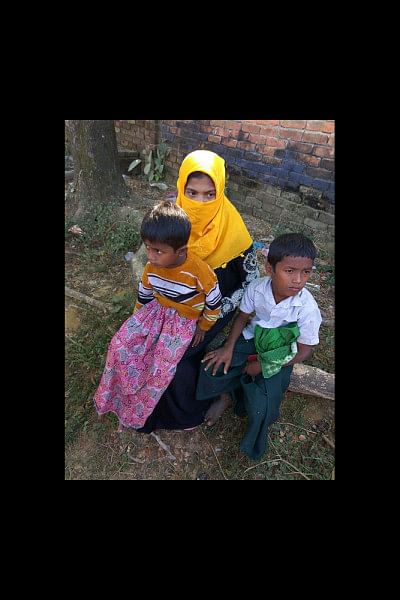 Locals said though the BGB is catching Rohingya trespassers and sending them back every day, many of them are coming back with the help of local fishermen and brokers.
These correspondents found 10 Rohingyas at the house of Shah Alam, an auto-rickshaw driver, on a hilltop at Lambabil village. They arrived there on Tuesday night.
Md Salim, one of the 10, said they entered Bangladesh with the help of fishermen around midnight after BGB men pushed them back from Hausher Dweep.
Eight more Rohingyas took shelter at Mina Bazar, which is close to Lambabil.
Md Harun, a local journalist from Lambabil, said, "On Sunday and Monday, at least  1,500 to 2,000 Rohingyas entered Bangladesh. But the number was comparatively low yesterday [Tuesday]."
It would not have been possible for them to enter the country without the locals' help, Harun said.
He mentioned that some brokers are active in the bordering areas and are taking money from Rohingyas to help them cross the border and take shelter at different villages.
Locals said Rohingyas are taking shelter not only at Lambabil and Mina bazaar, but also at other villages or slums.
Asked about the Rohingya trespassers, Md Ibrahim, BGB commander at Whykong Border Outpost, declined to comment.
Yesterday, BGB caught around 200 Rohingyas while they were trying to enter Bangladesh illegally. The BGB members held them till evening and then sent them back to Myanmar.
BGB held a meeting with Myanmar's Border Guard Police (BGP) in Cox's Bazar. The Bangladesh side was led by Brig Gen Khondoker Farid Hossain, commander of Chittagong Eastern Zone, while the Myanmar team was headed by Tu San Lin.
Briefing journalists after the meeting, Farid said the Myanmar representatives told them that some Rohingyas were trying to trespass on Bangladesh territory. "But they [BGP] are discouraging them [Rohingyas]."
MYANMAR ENVOY SUMMONED
Kamrul Ahsan, secretary (bilateral and consular) at the foreign ministry, summoned Myanmar Ambassador Myo Myint Than, and conveyed to the envoy the government's deep concern over the current situation.
At the meeting held at foreign ministry in the afternoon, Ahsan told the ambassador that desperate people from Rakhine State are entering Bangladesh, seeking safety and shelter across the border, said a ministry press release.
"Despite our Border Guards' sincere effort to prevent the influx, thousands of distressed Myanmar citizens, including women, children and elderly people, continue to cross the border into Bangladesh. Thousands more have been reported to be gathering at the border crossing," he said.
Ahsan urged Myanmar to help Bangladesh ensure integrity of its border and take measures to bring back normalcy in Rakhine State so that those who have already crossed border or are waiting to cross it can go back to their villages without fear.
He also called upon the Myanmar government to give due consideration to the demand from the international community to conduct impartial probe into the allegations of indiscriminate use of force and human rights violations in the ongoing military operation in Rakhine State.
Meanwhile, Bangladesh government has asked all its envoys around the world to brief the officials in their countries of stay about its position on the Rohingya issue and remove misunderstanding, if any, on why it doesn't want to host any more Myanmar citizens.
They have been advised to highlight that Bangladesh now hosts nearly half a million documented and undocumented Rohingya refugees since 1991 and has not deported any Rohingyas.
OIC WORRIED
The OIC has expressed grave concern at the deteriorating situation in Rakhine State and reports of serious human rights violations, including torture, rape and summary executions, against Rohingya civilians in the ongoing security operation.
It pointed out that destruction of homes and mosques has forced tens of thousands to flee their villages, and subsequent blockade in the region has created an acute shortage of food, water and essentials, according to a press statement on the OIC website.
OIC Secretary General Yousef A Al-Othaimeen called for an immediate cessation of violence and urged the Myanmar authorities to ensure that the security services act in full compliance with the rule of law.
He also urged the Myanmar government to abide by its obligations under international law and human rights covenants, and take concrete steps to prevent further deterioration of the crisis.