107 Rohingyas, 7 boats pushed back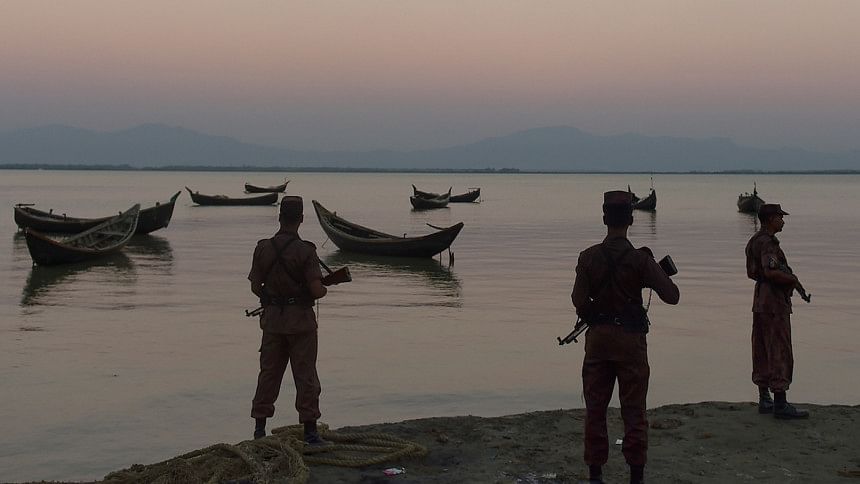 Bangladesh's border troopers have pushed back 107 more Rohingyas in land and seven boats on the Naf river in Cox's Bazar since last night until this morning.
Seven boats filled to the brim with Rohingyas trying to flee persecution in the Rakhine state of Myanmar and enter Bangladesh were turned back at dawn at Teknaf upazila, our local correspondent reports.
READ MORE: Refugees slipping in, getting help
Teknaf Border Guard Battalion-2 Captain Abuzar Al Jahid said his company troopers pushed back the boats along the Hoaikong-Jadimbura bank. He could not give a head count of the Rohingyas.
Meanwhile, the troopers sent back 107 Rohingyas, who were already inside Bangladesh, through Tongru border point in Naikhhangchhari upazila last night.
Cox's Bazar BGB Captain Lt Col Imranullah Sarkar said among them were 62 who were held by Teknaf police during a combing operation on the Teknaf-Chittagong highway yesterday.
Meanwhile, Teknaf police and Ukhia police held four people over allegedly helping the Rohingyas to enter Bangladesh, according to Ukhia Police Station Officer-in-Charge Md Abdul Majid.
Bangladesh yesterday summoned Myanmar envoy in Dhaka and expressed grave concern over the Rohingya issue. Also, Dhaka urged immediate steps to take back the Rohingyas.