Humiliation in Bhutan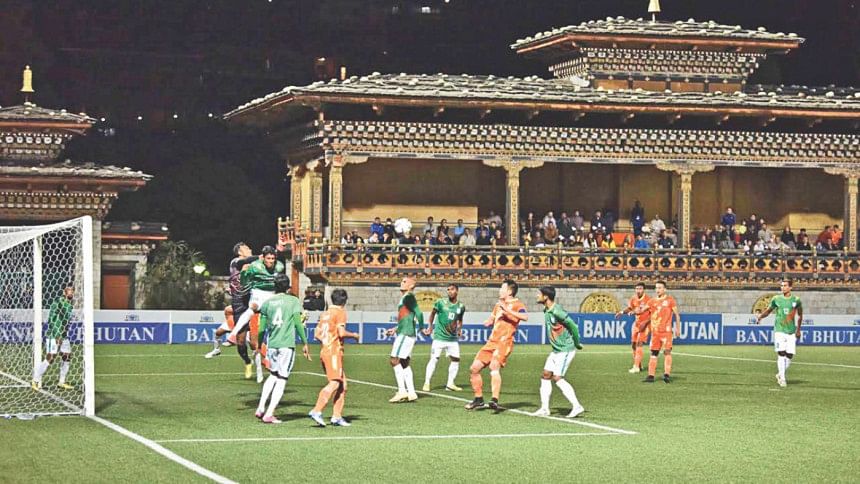 Bhutan played the proverbial last rite of Bangladesh football with a 3-1 defeat at the Changlimithang Stadium in Thimphu yesterday. The result in the Asian Cup Qualifying Play off means Bangladesh will not be a part of any AFC and FIFA sponsored events for the next two to three years until the launching of the 2022 World Cup and the 2023 Asian Cup qualifiers.
It is good news in the context that football fans in this part of the world will be spared of being witness to further humiliation of a team that reached its nadir with that defeat in Thimphu.
However, the embarrassment was not unexpected after Bangladesh's failure to score even a goal in their home leg match against the small hilly nation, whose first-ever win against Bangladesh guaranteed their rightful place in the 24-team Asian Cup Qualifiers.
Since the start of the joint qualifiers of the World Cup and Asian Cup in the middle of last year, Bangladesh have fared pathetically under four different foreign coaches. And the slide was never-ending for a team that simply lacked those basic ingredients to be competitive even at the regional level. 
Bangladesh's latest coach Belgian Tom Saintfiet called up veteran striking pair of Zahid Hasan Emily and Enamul Haque to salvage something out of the ordinary, but his ploy hardly worked on that artificial turf in high altitude.
Bangladesh's initial plan was to capitalise on the break but the early pressure from the hosts saw them conceding the first goal in the fourth minute with Tshering Dorji heading a corner with his marker, if there was any, not around. However, goalkeeper Ashraful Islam Rana was partially to be blamed for failing to react before the Bhutanese striker.
After conceding the goal, Bangladesh resorted to an attacking option but it only allowed the home team to hit back again from a counter attack. Chencho Gyeltshen doubled the lead in the 27th minute with a brilliant header after Bangladesh's equaliser from Tapu Barman was ruled out due to off-side in the 22nd minute.
Recalled captain Mamunul Islam reduced the margin in the 63rd minute with a free kick and it gave a glimpse of hope to a 2-2 draw when Hemanta Vincent Biswas, who was causing havoc down the left flank, providing a nice ball to substitute Emily, who however saw his close-range shot blocked by goalkeeper Hari Gurung in the 73rd minute.    
Chencho killed off the game in the 75th minute from a counter-attack as the speedy striker nutmegged central-back Mamun Mia to drive a powerful shot past goalkeeper Rana. It could have been worse had Rana not saved a late penalty awarded after defender Mamun Mia handled the ball in the forbidden zone.
"I'm still shocked. I don't know if I should protect the players because I think the first two goals were from huge mistakes, unacceptable mistakes. We gave presents to Santa Claus. Goalkeeper and central defender made catastrophic mistakes. It was my fault. I selected these players," said coach  Saintfiet after the defeat.
"In the second half they pushed. We had an opportunity to make it 2-2, if it was 2-2 I think we could have qualified. But immediately after that we conceded another goal: another defensive mistake, no chance for the goalkeeper. After that we tried with putting a defender up for the high balls, but my players started dribbling and playing short passes. I don't know why. I think some players wanted Bhutan to qualify and they didn't deserve to be in the team," the Belgian added.
"It was very bad for Bangladesh football. I think Bhutan showed that despite being a small nation, with good fundamentals and hard work, you can still reach somewhere. I think some well-paid Bangladesh players should start thinking if they are ready to play at this level. I would like to apologise to Bangladesh Football Federation and all the football loving people," said a frustrated coach.