Federer, Nadal, Djokovic advance to ATP Indian Wells 4th round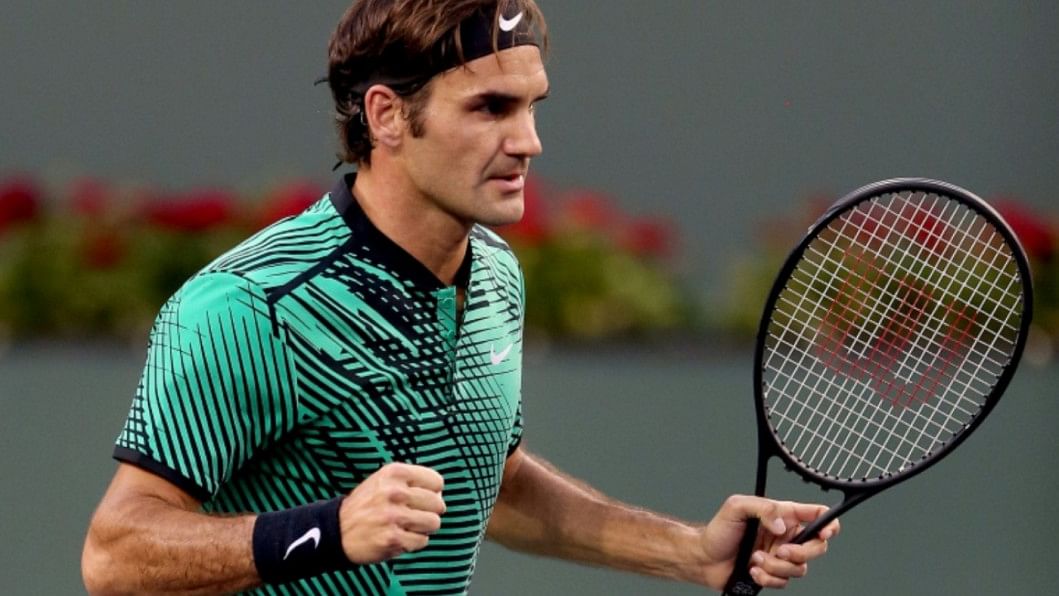 Rafael Nadal and Roger Federer booked a mouthwatering fourth-round clash at the ATP Indian Wells Masters on Tuesday, where five-time champion Novak Djokovic also advanced from the "group of death".
With the three superstars drawn in the same quarter, only one - at most - can make it to the semi-finals.
The weeding out will start in earnest on Wednesday, when Federer meets Nadal in the round of 16 in a reprise of the Australian Open final in January that saw the Swiss star claim an 18th Grand Slam crown.
"I think it's a great thing for tennis, and it's exciting for Rafa and me," said Federer, a four-time Indian Wells winner. "It's a tough draw, but rankings are not the priority for both of us.
"Anything else but a finals, it almost doesn't matter which round it would be," he added of what will be the 36th meeting between the two -- their first before the quarter-finals since they launched their rivalry in 2004.
Three-time Indian Wells champion Nadal was the first through, defeating fellow Spaniard Fernando Verdasco 6-3, 7-5.
Despite two "horrible" games, Nadal was pleased with his overall effort against Verdasco, a left-hander like himself who has pushed him in the past.
"I played a good match -- very aggressive with my serve, serving well, hitting good forehands, good backhands.
"I think I played much better today than the first day. I played two horrible games, terrible. That's it. For the rest of the match I think I played very well."
The blip came after Nadal had broken for a 2-1 lead in the second set. He was promptly broken to love himself, then Verdasco held with a love game.
But Nadal gained the break he needed for a 6-5 lead in a game Verdasco book-ended with double faults, and served it out without a hitch.
Federer edged American Steve Johnson 7-6 (7/3), 7-6 (7/4) in a match in which neither player was able to break.
Federer failed to convert his four break chances, but was pleased enough at not facing a break point himself.
"I was very happy how I played because I thought he played a really good match," said Federer, who gave up just six points on his first serve in the encounter.
Djokovic downs del Potro
Djokovic made it past dangerous Argentine Juan Martin del Potro, who shocked the Serb star in the first round of the Rio de Janeiro Olympics last year en route to singles silver.
Djokovic eked out the first set despite going down an early break, but couldn't do the same in the second.
In the third, however, he raced away with it, winning the last five games with what he called "probably the best tennis I've played this year".
"Obviously against delPo, who has a big serve, to be able to break him two times in a set was great and I'm just hoping I can carry this confidence level, especially on the return, to the next match," added Djokovic, whose reward for beating former US Open winner del Potro is a meeting with 21-year-old Australian Nick Kyrgios, who stunned the Serb star in their first ever meeting this month in Acapulco.
Kyrgios defeated Germany's Alexander Zverev 6-3, 6-4 in a battle of two of the ATP Tour's most exciting young talents.
With the loaded bottom quarter the focus of attention, fourth-seeded Kei Nishikori of Japan quietly advanced to the fourth round with a 6-2, 6-2 victory over Gilles Muller of Luxembourg.
Nishikori booked a date with unseeded American Donald Young, who ousted 14th-seeded Lucas Pouille of France 6-4, 1-6, 6-3.
American Jack Sock saved four match points in a 3-6, 6-3, 7-6 (9/7) win over Bulgarian Grigor Dimitrov. Sock, winner of ATP titles in Auckland and Delray Beach this year, next faces Tunisia's Malek Jaziri, a 6-4, 3-6, 6-3 winner over 19-year-old American Taylor Fritz.