BFF Four-Year Plan
Former booters skeptical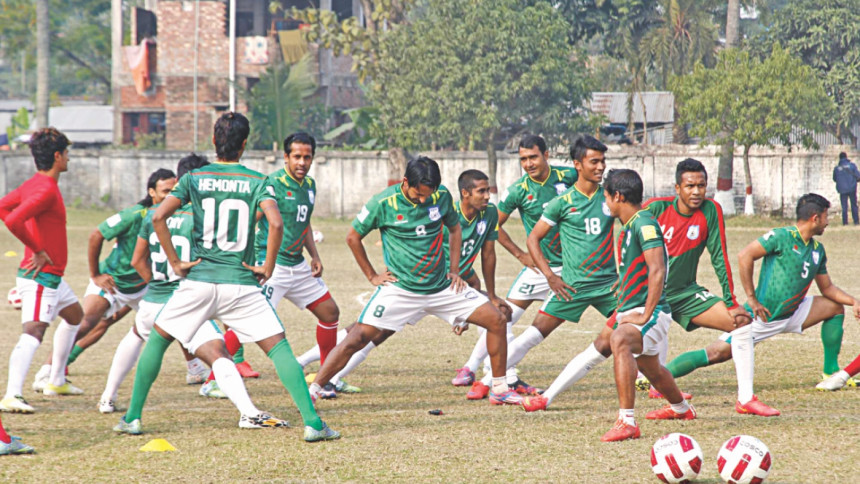 Former national footballers expressed reservations over the four-year football plan which was revealed by the Bangladesh Football Federation (BFF) on Saturday.
BFF president Kazi Salahuddin revealed a 71-page plan -- termed the third phase of the continuation of football development -- which elaborated on the activities of his first two terms, the current situation and future plans.
Although none of the former footballers have gone through the details of the plan, they made their comments based on the information from print and electronic media.
"Let them start and wait for what they do," former national player and coach Golam Sarwar Tipu said simply. "The good thing is that they have realised they will have to involve all stakeholders, something that was missing in their previous activities," added Tipu, although he believes there are some limitations to implementing all the programmes.
"We have to admit that there are some limitations such as the lack of venues, the mentality of the District Football Association's officials and club officials as well as the political situation. If he [Salahuddin] wants to work for development, there is nothing to say. We want something better to happen in football in the next four years," he concluded.
Former Bangladesh captain Jewel Rana went even further, saying that while it was easy to put things on paper, implementing so many programmes would be very tough.
"I think he [Salahuddin] made this calendar to lessen the pressure he is facing at the moment," said Jewel. "The specific dates of the programmes have not been mentioned and we will have to wait till the end of 2017 to see whether or not the plan is working, or even if the BFF has any intention to implement it."
The SAFF Games winning captain was also critical of the lack of importance given to district football and youth development.
"Our main problem is that promising players are not coming through the ranks but what programs have been included to produce promising players?" added Jewel.
Former national goalkeeper Aminul Haque said that there was nothing new to mention in the calendar.
"How is it possible that a person who could not succeed in the past nine years will do everything in three years?" said Aminul, who also believes that implementing all the programmes would not be possible.