Kuldeep four-for turns it around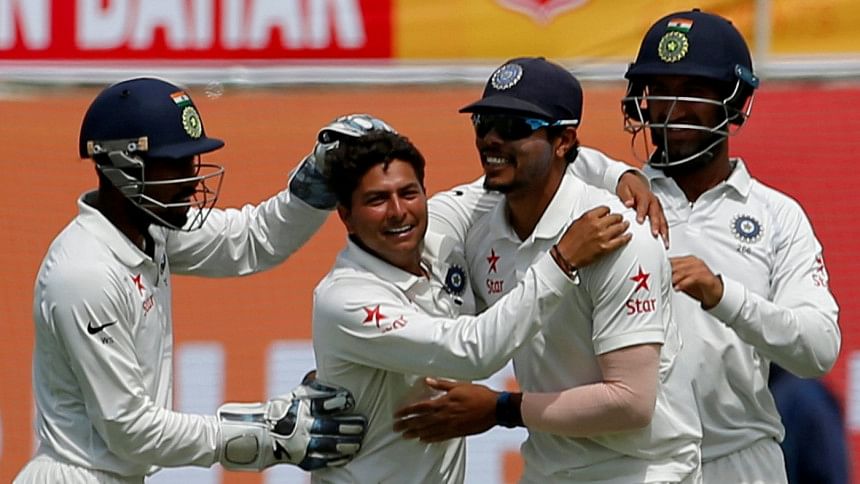 Wrist-spinner Kuldeep Yadav said it was a dream come true to grab four wickets on debut and spin India right back into the game after Steve Smith hit his third ton of the series on Saturday.
Kuldeep was informed on the morning of the series-deciding match that he would be handed his Test cap with skipper Virat Kohli having failed to recover from his shoulder injury. But the 22-year-old showed few signs of nervousness, bewitching the Aussie batsmen with his guile and unorthodox action to return with figures of 4-68.
"I am very happy. It's a dream come true for me. In a Test match I could not have asked for more than this," Kuldeep said after the first day's play.
He also revealed he had learnt some tricks of the trade from none other than Aussie spin legend Shane Warne, after scripting a memorable debut against Australia in Dharamsala.
"If you see the first wicket, it was not a chinaman, it was a flipper that I have learnt from Warne," said Yadav.  "It's fun to learn it for him and then dismiss batsmen from his own country. Warne is my idol and I have followed him since childhood, even now I watch his videos.
"It was a dream come true when I first met and talked to him [Warne]. I have continued to follow his advice. Now he has promised me to meet again and hold a training session with me."
The visitors squandered a promising start to be bowled out for 300 just minutes before the close of play after winning the toss and electing to bat first.
The Aussies owed their total to Smith who smashed 14 fours in his fine 111-run knock to become the first Australian skipper to hit three centuries in a Test series in India. The 27-year-old also became only the second visiting captain to achieve the feat after England's Alastair Cook.
The Aussie looked firmly in control, having cruised to 131-1 at lunch but Kuldeep's scintillating spell meant the tourists lost their remaining wickets in the last two sessions.
At stumps, India had played out one over without scoring any runs.
"Credit to the Indians for bowling well, we had to grind ourselves to get to 300," said wicketkeeper-batsman Matthew Wade, who made 57.
"It was good to get some runs but it's 1-1 in the series and we need to play really well tomorrow (Sunday)." 
SCORES IN BRIEF

AUSTRALIA: 300 all out (Warner 56, Smith 111, Wade 57; Kuldeep 4-68, Yadav 2-69)

INDIA: 0 for no loss (Rahul 0 not out, Vijay 0 not out)