'Players tend to follow Shakib more'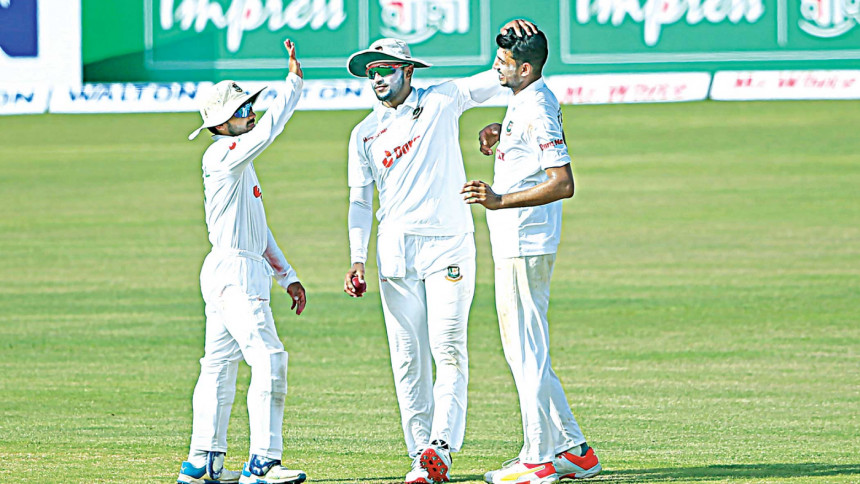 Bangladesh batting coach Jamie Siddons thought that Shakib Al Hasan's reappointment as the Test captain will be a positive move for the Bangladesh side as the cricketers usually tend to follow Shakib more than they probably did Mominul Haque.
According to Siddons, who spoke at the Sher-e-Bangla National Stadium in Mirpur on Saturday (June 4), Shakib will have extra confidence in his captaincy as the all-rounder has been in charge of the side earlier as well.  
"I think, it will be the confidence to captain [the side]," Siddons expressed what he thought would be the main difference between having Mominul and Shakib at the helm. 
"Shakib has done it [captaincy] before. He has got the trust and the players behind him. Not that Mominul did not have [any of these] but the players seem to follow a lot of work Shakib does. So, it will be fantastic to have him back in charge. And Mominul can now go and play his cricket," added Siddons. 
Shakib was made captain of Bangladesh's Test side for the third time and wicketkeeper-batter Liton Das was named his deputy following a board meeting last Thursday.
The decision to hand over the Test captaincy came after Mominul announced his intention to step down from the role to focus more on his batting after an extended lean patch with the bat.
Shakib has often given in to his penchant for skipping series and tours at the final hour in the past, putting the Bangladesh team management in a spot of bother. But surely that's not what Siddons meant when he talked about other cricketers more willing to follow 'Shakib's work'. 
In fact, Siddons believed that Shakib will be bringing in the type of leadership that the Tigers have been missing for a while. 
"When he is the captain, he will have to play. It's pretty hard to captain [a side] when not playing. I think he is excited about the prospect of being the captain again. I think we will get to see a great example of leadership that we may have been missing for a while," the Australian added.    
Shakib's first assignment as Test skipper will be the upcoming tour of the West Indies, which features two Tests, three ODIs and three T20Is. Coincidentally, the first time the all-rounder was put in charge of the Test side was in 2009, also on a tour of the West Indies, after then skipper Mashrafe Bin Mortaza suffered an injury. Siddons was also the head coach of the Bangladesh side back then.
Shakib continued as Test captain till 2011, leading Bangladesh in a total of nine Tests in his first stint. He was then reappointed for the role in 2017, replacing Mushfiqur Rahim and, interestingly, his first assignment was once again a tour to the West Indies in July 2018.
"I think there are two positives [of Shakib being reappointed as the captain]. Shakib's a very good captain and a very good thinker of the game. He is also a consistent performer. So, he will do a great job as a captain. Everyone follows him. So he will be a great leader. 
"The other good thing is that Mominul can now focus on his batting, in which he has been struggling a little bit. So, now he can focus 100 per cent on his batting. We need him performing. We know he is a good player and we need to get that back. It will be nice to see him without the weight of captaincy on his shoulders so that he can just a bit free with his cricket," Siddons concluded.