'Education keeps your head clear to produce quality results'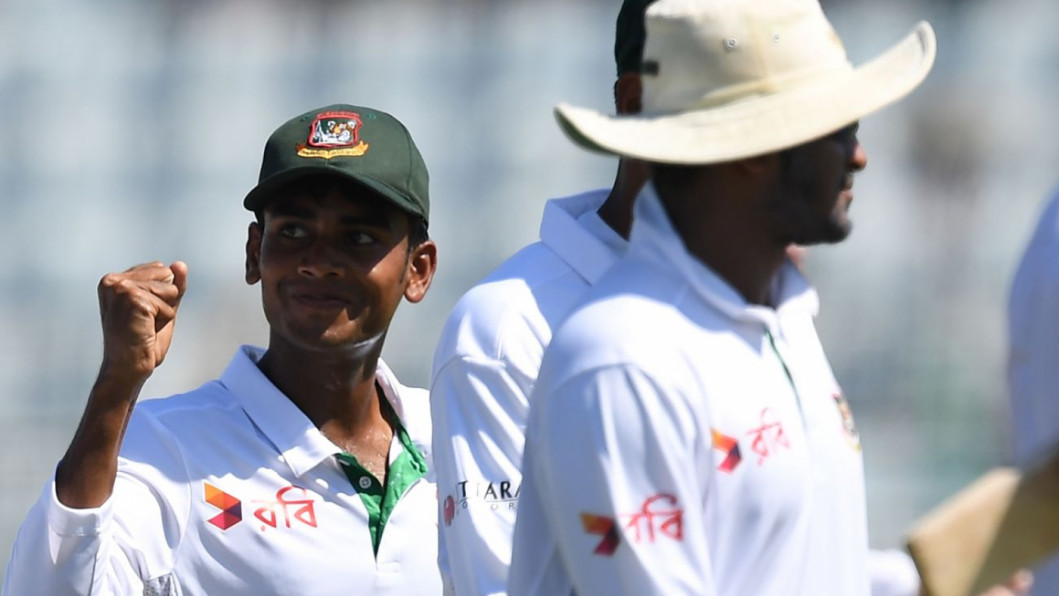 "If there is no struggle, there is no progress," 19th century author and orator Frederick Douglass had once said. While the line had nothing to do with either Bangladesh or cricket, it does sum up the country's latest spin sensation Mehedi Hasan Miraz's emergence.
In his younger days, Mehedi wasn't able to devote more time to his studies, he says. "I couldn't give enough time to my studies, as I spent most of my time practicing in the nets. But education is important for all, even cricketers. It keeps your head clear to produce quality results," said Mehedi, who will complete his Higher Secondary Certificate (HSC) programme in 2016-17, reports firstpost.com
The sun is shining on Mehedi; he became a national hero and is the talk of the town after his 19 wickets in the two-Test series, which also won him the man-of-the-series award.
His feat also caught the attention of Bangladesh Prime Minister Sheikh Hasina, who has promised him a house. These are the kind of rewards that will keep coming his way if he continues performing the way he did on Test debut.
Mehedi, who is set to receive a central contract from the Bangladesh Cricket Board (BCB) soon, spoke about his journey from Barisal to Khulna and into the national side.
He credited senior Bangladesh left-arm spinner Abdur Razzak as motivation for his impressive performance against England. "Our big brother Abdur Razzak had given me vital tips just before the match over a phone call. I was excited. He has been very supportive throughout my domestic career. He said, 'Try to bowl in the good areas and don't allow them to score freely, as it would create pressure.' I did the same, and by the grace of God, I succeeded," said a jubilant Mehedi, who claimed three six-wicket hauls in his debut series.
However, while his bowling was exceptional, he had a torrid time with the bat, scoring just five runs in four innings, at an average of 1.25.
Bowling dot balls is often looked upon as an art, one that can frankly be intimidating for any opposition. There are rules and a science, even behind delivering dot balls. Mehedi somehow held his line in his maiden series, and results came in his way.
Bangladesh have seen great ODI successes in their last couple of home series, and have now set a mark in Tests after running England close in Chittagong, before winning comfortably in Dhaka following Mehedi's heroic show.
Mehedi was the toast of the nation following this win, and it was his ability of landing the ball on the same spot 99 times out of 100 that pointed out the example of Bangladesh's ODI side and their meteoric rise under Mashrafe Bin Mortaza's leadership. It's now entirely in the hands of the team's youngsters to keep performing and converting results in their favour.
Better facilities and a revamped domestic structure will allow Bangladesh to rise in the ICC rankings, and it's only a matter of time before you see other teams like Afghanistan raise their standards accordingly.
Cricket has always been the most exciting thing for Mehedi, he says. In 2005, while watching television at his home in Khulna, then 10-year-old Mehedi had vowed to play for the national side, and emulate the feats of Mohammad Ashraful and Co, who had just earned a famous win over Australia at Cardiff during the NatWest series.
In 2010, Mehedi, during a break in practice sessions, was watching another match on TV — a Test between Bangladesh and England, and he vowed yet again to play cricket for his country.
During his struggling days, living in a three-room tin-shed in Khalishpur, Mehedi never stopped dreaming big, and spent six-odd hours playing cricket with his friends. It was tape-ball or tennis-ball cricket, something that isn't even considered serious sport, but it was all for fun and he only shaped up from there.
In fact, Mehedi started playing cricket at the age of nine, along with his elder brother in a village field. He was later backed by his first coach Al Mahmood, after he joined the latter's academy four years later. The academy experience in Kashipur during the Under-14 games groomed him to become an excellent all-rounder and also helped develop leadership qualities, which he later expressed during the U-19 World Cup.
"I got picked in the U-14 side, and that's what set me on my path with cricket — when I first smelled a leather ball in an academy under the tutelage of Al Mahmood on the insistence of Rasel and Sohel, my bowling coaches who are now working with the Bangladesh Cricket Board," Mehedi explained.
After earning a name and winning plenty of the awards as an all-rounder in U-14, U-16, U-17 and U-19 for the district-division and national teams, he continued challenging the competitors and grabbed opportunities with both hands to carry himself through the ranks.
Mehedi's performances in the age group categories earned him a call to the senior side. After starting his First Class career in 2015, he scored 51 runs and picked four wickets against Rajshahi. In the National Cricket League (NCL), Mehedi picked 13 wickets and scored 300-plus runs. "I don't consider myself the best, but it's the hard work that extracted the best from me. I had simple plans to work on and get results. I would like to continue with it in the overseas series against New Zealand in December this year," Mehedi said.
It's not possible for Mehedi to think about resting in his hometown Khulna, the third largest city in the country, as he is now gearing up for the Bangladesh Premier League. "I spent a few hours at home after our series ended. In the courtyard, there were neighbours and friends — from the known to unknown — to bid me farewell before I left for Jessore Airport. It was a proud moment, and to have my father patting my back was the icing on the cake," Mehedi said.
Mehedi, a familiar face in Bangladesh cricket ever since he lead his team to the semi-final of the 2016 U-19 Cricket World Cup, is outspoken while answering questions.
He captained Bangladesh in the U-19 World Cup twice, in 2014 and 2016, and was also adjudged player of the tournament after scoring 242 runs and picking 12 wickets. "My cricketing journey has been tough, but it's been so much fun. The U-19 World Cup was the learning curve. As big as the classroom you're put in, there's always a part of the lesson you want to learn," said Mehedi.
When asked how he became an off-spinner, he responded, "Did you know Ramesh Powar? An Indian cricketer — he was playing an IPL match in 2007, and I found his action and bowling pitch map interesting. I worked on it in the village fields where I used to go with my elder brother, and also in the nets."
"My family wasn't interested in cricket, and my father was very strict and didn't understand the game at all. He has beaten me often when I bunked classes in school," he recalls.
Other than Ramesh Powar, the other player who has inspired Mehedi has been Mushfiqur Rahim. "He's an inspiration. The way he led the team despite being quite young is very impressive and a map to work on — to make oneself better after every passing game. I'm spending hours in the nets to work on my batting as well, and I'm preparing myself for the BPL," Mehedi said.
The youngster remains humble despite going through a lot of hardship to get where he has. "As a professional athlete, I would give hundred percent to train myself harder with discipline. I want to be the part of national team in all formats for at least 10-15 years. My aim is to become the No 1 all-rounder in the next five years," he concluded.
Before throwing himself in a big classroom, Mehedi wants to create his own way out of his off-spinning arsenal, but he needs to work on his batting as well in order to survive as an all-rounder in the long run, just like Mortaza, who has completed 15 years in the field.
Mehedi is still only 19-years-old, but he had already made a mark and had made a habit of punching above his weight.