The smiling assassin
Mehedi is just half-bloomed; bowling mesmerising, batting not yet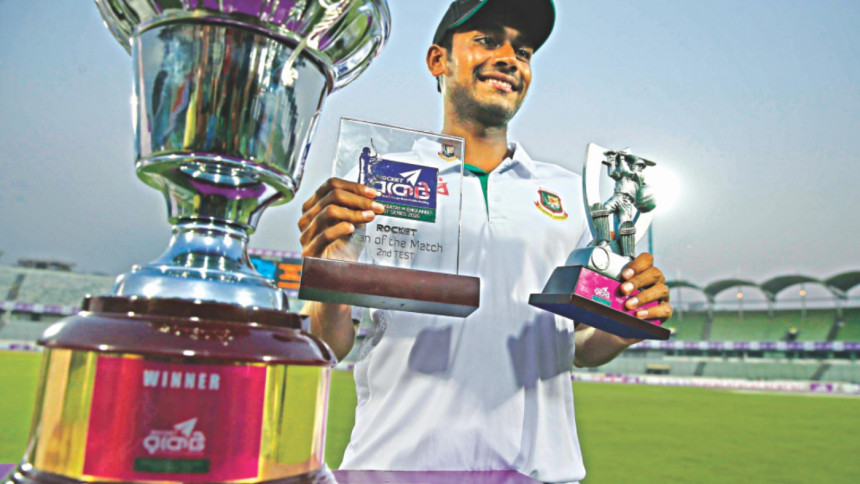 Veni, Vidi, Vici.
A 19-year old whose lean figure belies his robust determination, born in Barisal but brought up in Khulna, entered the world stage and removed a huge burden from the shoulders of a cricketing nation which was often criticised for not catching the big fish.
With an innocent smile that disguises the venom of his craft, Mehedi Hasan Miraz spun his country to their greatest victory in their cricketing history and thus stamped out the long-standing pain it had been enduring since being elevated to the highest level of the game in 2000.
Coming from a humble family, this young man overcame all adversities to become a cricketing hero and won a battle for his country that not only delighted his cricket-crazy countrymen but also silenced critics all over the world ever ready to raise questions about Bangladesh's credibility in Tests.
How pleasing it must be for fans to watch the Tigers knock down a top-ranked side for the first time, after beating Zimbabwe five times and a depleted West Indies twice – especially those fans who had gone through painful days when their beloved team surrendered one Test after the other meekly.
But a youngster who had to overcome many adversities in his childhood knows better than most how big it is to win under such circumstances. "Actually you can understand what is going through my mind. We have won our biggest moment and I could contribute for my team; nothing can be more pleasing for me," said an emotion-choked Mehedi.
"I know the whole country is excited but you know I was born in Barisal and brought up in Khulna. There has been a special feeling among the people, I believe. Many people supported me in my career and I want to thank everybody. Cricket can help me forget all of my pain," he continued. 
Understandably, praise was showered on the young man who finished the series with 19 scalps after taking a match-winning 12 wickets in the second Test but the hero was as humble as he always has been.
During the ICC Under-19 World Cup the fans saw how enthusiastic he was as a captain. Then, one of his mentors and Khulna Division captain Abdur Razzak identified that quality as a key factor behind his success and yesterday coach Chandika Haturusingha sang the same song.  Another aspect that everyone praises is his cricketing brain and his nagging accuracy to bowl at one spot consistently.
"He [Mehedi] is an exceptional talent. He is keen to do well, which is big for me. He has enthusiasm for the game. He is always sitting next to me or the other coaches in the dressing room, listening to every word that we are saying. He is very keen to learn," said Chandika while praising his team's youngest member.
Captain Mushfiqur Rahim was confident about more success from this young talent in future. "We knew the type of player he is. We wanted him to play against England rather than Afghanistan so that they [England] don't know anything about him. It is all his credit that he did so well. I didn't think he would do so well. There's a lot to learn from him, and I know he has the calibre to do well in future."
Mehedi has one target -- to contribute for the team with consistent performances.
"The other day what [after his five-for on debut on the first day of the first Test] I meant was that my aim is to perform consistently when I talked about average performance. I just always try to play for the team and give whatever I can for my team," said Mehedi. 
Regarding his dream and future plans, he said: "I never thought that I would be called for the national team… I just wanted to do well. No matter when they called me I wanted to be ready and be strong, that's all.
"Here, the wickets did help but the way I got help [from the wickets], I won't get wickets like that outside [the subcontinent]. So I have to be stronger mentally. I may not get that in foreign grounds. I have to practise more so that we can survive in any condition," he added.
With an apparently simple method Mehedi has achieved great success for the country and few will have doubts about his future successes to help establish Bangladesh as a strong cricketing nation on the world map.
What can we say except: Thank you Mehedi and wish you many more successes in the coming days.