5 Top Stories to Know Today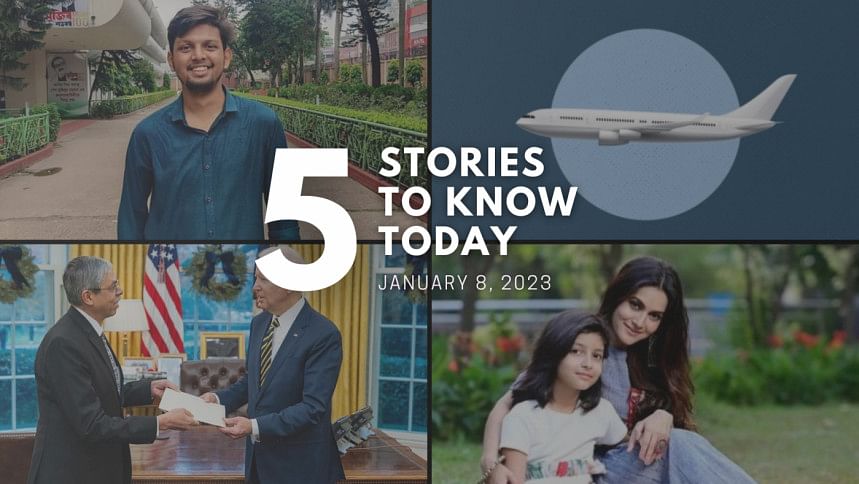 Happy Sunday. The much-anticipated Bangladesh-India Friendship Pipeline is likely to start by February, according to Indian officials. And here's all other important stories to get you up-to speed today. 
Amatullah Bushra, who was arrested following the death of Buet student Fardin Noor Parash, got bail today two months after she was arrested from the capital's Banasree area.
Bushra was sent to jail on November 16 last year after her bail plea was rejected following the completion of her five-day remand.
Fardin's body was recovered from Shitalakhya river in Narayanganj's Siddhirganj on November 7, three days after he went missing. After over a month of investigation, the Detective Branch of police and the Rapid Action Battalion (Rab) on December 11 last year said Fardin died by suicide after jumping off a bridge into the Shitalakkhya river.
There is no legal bar for BNP Secretary General Mirza Fakhrul Islam Alamgir and its Standing Committee Member Mirza Abbas to get released from jail in a case filed over Nayapaltan clashes, their lawyers told The Daily Star today.
The development came as the Appellate Division of the Supreme Court today upheld a High Court order that on January 3 granted six-month ad-interim bail in the case.
The apex court also withdrew its chamber judge's order that on January 3 asked the counsels for Fakhrul and Abbas not to furnish the bail bonds for them before the lower court concerned till January 8.
Bangladesh Road Transport Authority has started to collect fees at new rates from vehicle owners and drivers from today. It also started to collect a certain amount from vehicle owners for a to-be-made government fund for road accident victims.
The fee hike comes after the government issued the rules for Road Transport Act-2018, for which a gazette was published on December 27. Fees for 75 services, like registering vehicles and issuance of fitness certificate, route permit, and driving licence, would be increased by up to 233 percent.
Eight flights could not land at Hazrat Shahjalal International Airport due to thick fog today.
Seven of these flights were diverted to Kolkata airport and landed safely there. The other flight returned to Malaysia. Those flights started returning to the Dhaka airport after the fog conditions started improving after 8:30am.
Flight operations started disrupting since midnight due to dense fog.
Over 80 percent of the 7,713 road crash victims last year were aged between 18 and 65 years, the most productive segment of the population, Road Safety Foundation has said.
The loss to the workforce caused by road accidents across the country amounted to Tk 23,460 crore, and the figure would be more than 1.5 percent of the country's Gross Domestic Product (GDP) if the property damages are also taken into consideration, it said.
According to the organisation, the number of road crashes and deaths last year were 27.14 percent and 22.74 percent higher than that of the previous year.