BRTA starts collecting fees from vehicles at new rate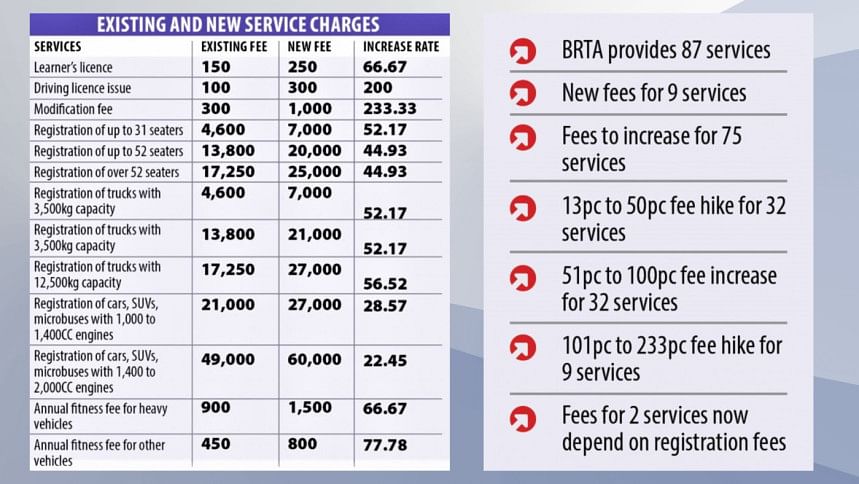 Bangladesh Road Transport Authority has started to collect fees at new rates from vehicle owners and drivers from today.
It also started to collect a certain amount from vehicle owners for a to-be-made government fund for road accident victims.
Sitangshu Shekhar Biswas, director (engineering) of BRTA, confirmed the development to The Daily Star today.
A vehicle owner, who went to BRTA's Mirpur office, said the authorities have already imposed the new rate from the morning.
The fee hike comes after the government issued the rules for Road Transport Act-2018, for which a gazette was published on December 27.
Fees for 75 services, like registering vehicles and issuance of fitness certificate, route permit, and driving licence, would be increased by up to 233 percent.
According to the rules, the owner of a bus, truck, lorry, and articulated lorry will pay Tk 1,500 a year to the fund. The amount will be Tk 750 for a minibus, minitruck, and pickup; Tk 500 for a car, SUV and microbus; and Tk 300 for a three-wheeler.
Registration of a three-wheeler, up to 100cc, will be Tk 1,000, from the current Tk 635. All three-wheelers above 100cc will require a flat Tk 1,800 registration fee instead of Tk 1,150.
Fees for registration of bikes of up to 100cc remain at Tk 2,000, bikes above 100cc still at Tk 3,000, and special vehicles for people with disabilities have been kept at Tk 25.
Driving schools will have to pay Tk 23,000 for a licence. They used to pay Tk 15,000. Instructor's licence will be Tk 2,000 instead of Tk 750.