Road accidents eat up over 1.5pc of GDP
Finds Road Safety Foundation; 80pc victims last year were earners; 79pc rise in road deaths in capital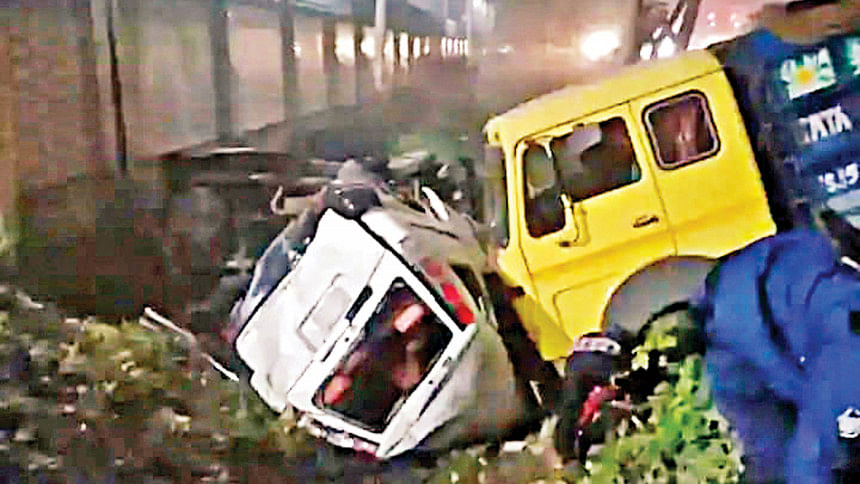 Over 80 percent of the 7,713 road crash victims last year were aged between 18 and 65 years, the most productive segment of the population, Road Safety Foundation said yesterday.
The loss to the workforce caused by road accidents across the country amounted to Tk 23,460 crore, and the figure would be more than 1.5 percent of the country's Gross Domestic Product (GDP) if the property damages are also taken into consideration, it said.
According to the organisation, the number of road crashes and deaths last year were 27.14 percent and 22.74 percent higher than that of the previous year.
Motorcycles were involved in 2,973 road crashes, which left 3,091 people dead last year. The figures were 43.53 percent and 40.07 percent of the total crashes and deaths that year, the foundation said.
Prof AI Mahbub Uddin Ahmed, chairman of the foundation which compiled the data from media reports, revealed the information at a press conference at the Dhaka Reporters' Unity yesterday.
Earlier, Bangladesh Jatri Kalyan Samity also said the number of road crashes and deaths increased last year. It said 9,951 people were killed in 6,749 road crashes last year.
Road Safety Foundation found 10 major reasons behind road accidents, including faulty vehicles, speeding, unskilled and unfit drivers, unfixed working hours for professional drivers, operation of slow-moving vehicles on highways, reckless bike driving by youths, poor traffic management, and extortion in the transport sector.
It also made 10 recommendations, including proper implementation of Road Transport Act-2018, fixing working hours for drivers, increasing the capacity of Bangladesh Road Transport Authority (BRTA), and halting operation of slow-moving vehicles on highways.
Such a grim picture indicates deteriorating road safety although a stringent road transport act was enacted in the wake of a massive students' movement in 2018 for safe roads.
The Road Safety Foundation said 7,713 people were killed and 12,615 injured in 6,829 road crashes last year.
Last year's figures were the highest since 2019, it added. The number of road crashes and deaths in 2021 were 6,284 and 5,371.
The organisation said the losses the country incurred in workforce last year due to road crashes is worth Tk 18,046 crores. However, the amount would be 30 percent higher as many road crashes went unreported, it said.
The platform used the method followed by International Road Assessment Programme (iRAP).
Mahbub said they could not assess the losses of property caused by road crashes as they did not get any information in this regard. But the actual losses would be three to four times higher than the media reported.
"Considering all these facts, the economic losses incurred last year may be more than 1.5 percent of the GDP," he said.
He said 6,276 people between 18 and 65, the productive segment of the population, were killed in road crashes last year. This was 81.36 percent of the victims who died.
BIKES THE MAIN CAUSE
Mahbub said the numbers of road crashes and deaths involving other vehicles remained almost unchanged in the last three years. Actually, the gradual rise in road crashes and deaths involving bikes is the main reason for the increase in the total number of road crashes and deaths, he added.
The foundation chairman said at least 3,091 people were killed in 2,973 bike-related road crashes last year. Of the dead, 76.41 percent were between 14 and 45 years old.
Head-on collisions between bikes and other vehicles caused 21.26 percent accidents while 32.22 percent accidents occurred after bikes fell into ditches as their drivers lost control and 44.87 percent accidents happened after other vehicles ran over bikes and 1.65 percent accidents occurred for other reasons.
Bike riders were solely responsible for 38.31 percent of the accidents, Mahbub said, adding that a large portion of bikers were youths who either don't know traffic rules or ignore them.
He said 1,627 pedestrians were killed last year. Of them, 479 were pedestrians aged between three and 11. They were killed on their way to and from school, playgrounds or while crossing roads near their homes, he added.
ACCIDENTS DOUBLED IN CAPITAL
At least 246 people were killed in 259 road crashes in the capital last year, which was 79.56 percent higher than that of 2021, the foundation said.
Of the victims, 60.53 percent were pedestrians.
In the absence of bypass, heavy vehicles ply streets of the capital after 10:00pm, resulting in high causalities at night (34.13 percent) and early morning (21.62 percent).
Lack of roads, operation of motorised and non-motorised vehicles simultaneously, occupation of footpaths by hawkers, and lack of awareness among road users were the main reasons behind the accidents.
Saidur Rahman, executive director, and Shahjahan Siddique, vice chairman, of the foundation also spoke at the programme.