Small vehicles shoot up, so do accidents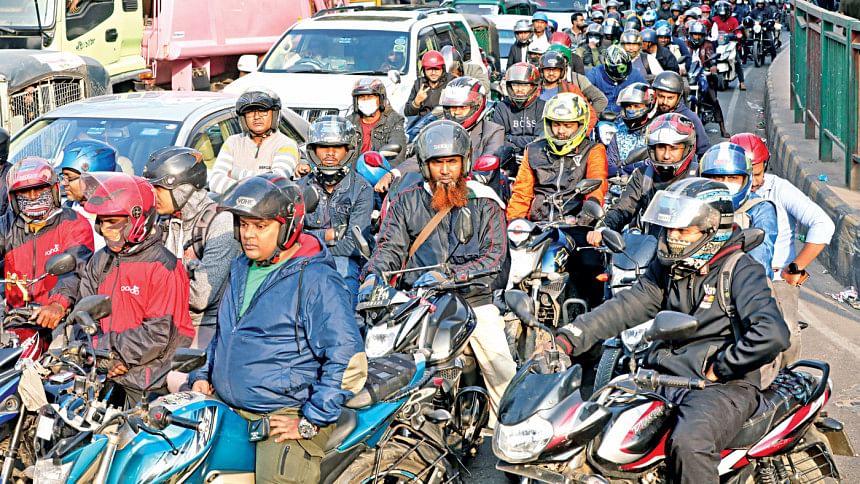 A sharp and unregulated growth of vehicles, especially motorcycles and three-wheelers, over the last few years has resulted in a spike in the numbers of road crashes and casualties.
A total of 5.78 lakh vehicles were registered with Bangladesh Road Transport Authority (BRTA) last year, the highest in a single year and 29.91 percent higher than that of 2021.
Astonishingly, around 88 percent of them were motorcycles.
According to Bangladesh Jatri Kalyan Samity, an NGO working on road safety, this increase in the number of vehicles contributed to around 10,000 people getting killed on roads last year, the highest in the last eight years.
Motorbikes and three-wheelers were involved in almost 55 percent of the 6,749 road crashes recorded last year.
"Unregulated growth in vehicle numbers, particularly motorcycles and three-wheelers, are directly linked to the rise in road crashes. However, this is not the single reason behind road crashes," said transport expert Prof Mizanur Rahman.
Such a grim picture indicates deteriorating road safety despite a stringent road transport act that was enacted in the wake of massive students' movement for safe roads in 2018.
Road Transport and Highways Division Secretary ABM Amin Ullah Nuri, however, said they don't believe 10,000 deaths on roads, as mentioned by Jatri Kalyan Samity, is correct.
Asked about the rising number of road crashes, he said the number of vehicles and length of roads in 2015 and now have to be compared to reach any conclusion as accidents increase with the increase of vehicles and roads.
They have intensified enforcement and awareness programmes to curb road crashes, he told The Daily Star last night.
He claimed that around 1 lakh cases were filed in November last year for traffic rules violations, resulting in a decrease in accident numbers.
RISE IN VEHICLE NUMBER
With the 5.78 lakh vehicles registered last year, the official number of registered vehicles since independence is now 55.92 lakh, according to the BRTA.
Of them, 40.07 lakh, or 71.67 percent of the total, are motorcycles. Many motorbikes are not registered in the country.
Cars come in second at 3.98 lakh, or 7.13 percent.
Only 79,993, or 1.43 percent, of the registered vehicles are buses and minibuses, the main mode of public transport.
Interestingly, 28.12 lakh vehicles got registered since 2017, which is higher than all the vehicles registered between independence and 2017 -- 27.79 lakh. The number of bikes registered in the last six years is 23.14 lakh.
The number of three-wheelers, especially easy-bikes and locally-made Nosimon and Korimon, started to swell since early last decade and the authorities had to ban three-wheelers on 22 major highways in August 2015 as they were involved in a large number of crashes.
Yet, these vehicles continue to ply the highways and their numbers increased to such a point that some bus routes had to be cancelled. People often prefer these vehicles as they do not have to wait too long for a ride.
Transport sector insiders believe there are 30-40 lakh three-wheelers in the country.
RISE IN CRASHES, DEATHS
The numbers of crashes and deaths last year are highest since 2015 and 19.89 percent and 27.43 percent, respectively, higher than those of 2021, said Mozammel Hoque Chowdhury, secretary general of Jatri Kalyan Samity.
The Samity revealed the data, prepared from media reports, at a press conference at the Dhaka Reporter's Unity yesterday.
Of those who died last year, 3,090 were drivers, 1,503 pedestrians, 742 transport workers, 885 students, 132 teachers, 283 law enforcers, 44 journalists, 31 physicians, 29 engineers, 18 freedom fighters, and 168 were political activists.
Out of 9,616 vehicles involved in road crashes, 13.95 percent were buses, 24.5 percent trucks, pickups, and lorries, 6.95 percent cars, SUVs and microbuses, 28.59 percent were bikes and 25.96 percent were different kinds of three-wheelers, read the report.
Motorbikes' involvement increased by 3 percent last year compared to that of the previous year, it read.
Mozammel said the number of motorcycles and easy-bikes went up manifold over the last eight years and these ply national highways, despite government bans.
Instead of introducing a safe and modern public transport system, the country is heading towards a system dependent on bikes and easy-bikes, which increases the number of crashes, he added.
The organisation identified 20 reasons behind the road crashes and made 13 recommendations to prevent crashes and casualties.
Prof Mizanur Rahman, also a former director of Accident Research Institute of Buet, said the communication system in Bangladesh is one-dimensional, over dependent on roads.
The number of vehicles is higher than the capacity of country's road network, which results in crashes, he told The Daily Star yesterday.
Besides, recklessness of drivers and road users are also responsible for high number of crashes, he added.
The country saw a sharp rise in motorcycles over the last few years and it is a major reason behind the rise in road crashes, he said, adding that the authority should take initiatives to rein in the number of bikes.
In July last year, the BRTA announced it would not issue registration for motorcycles after September 15 if the owner did not have a driver's licence.
But the authorities were forced to defer the date twice following pressure from bike manufactures and importers.
Secretary Nuri said bike manufactures and importers bring in a lot of revenue and the government cannot go tough on them overnight.
Experts and road safety campaigners said economic growth and the lack of public transport contributes to the rise in vehicles, particularly bikes and cars, but the authorities, particularly the BRTA and police, do not have the manpower to regulate and monitor these vehicles and enforce the laws.